Brick adds more than a traditional feel to projects; its ability to update for modern trends keeps it ahead of the game in any context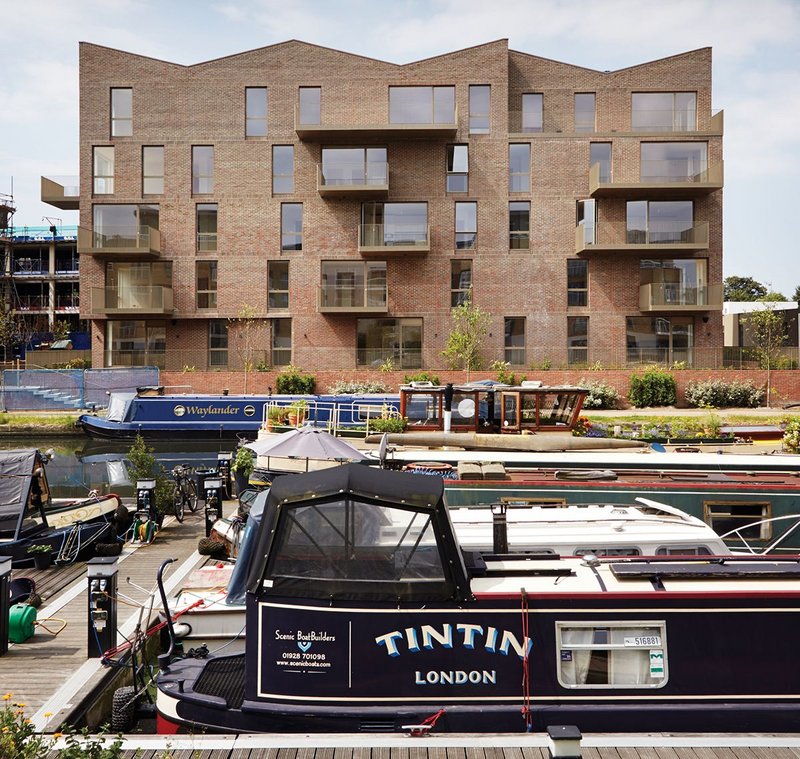 The popularity of brick for the new architecture regenerating England's towns and cities is no surprise. Brick helps to stitch back together the fraying fabric of our urban environments, particularly those where heritage – whether cherished or neglected – demands sensitivity in design.
This has provided opportunities to tap into brick's creative potential, with explorations in colour, pattern, texture and detail. That trend looks set to continue, judging by some of the major new residential and mixed use regeneration schemes in London and other cities.
Duggan Morris Architects' apartment buildings at Brentford Lock West, in west London, include brick elevations that change from red to grey in colour. 'We've been showcasing colour on projects for four or five years. That project is in some ways a continuation of what we've been doing,' says director Joe Morris.
The architect is now applying a similar approach – but with texture rather than colour - to a retirement community development, Hampstead Green, in north London, for client PegasusLife. The design's brick skin modulates in texture as its blocks increase in height.
For Morris, brick's value in urban regeneration projects goes beyond helping a new building fit into its context. 'There is something about the methodology of brick that has a strong narrative,' he says. 'We like to think about the juxtaposition of historic and contemporary methods of construction – how you combine traditional and new.'
Brick's design potential gives it the capability to transform and reinforce urban environments, helping buildings to stand out from the crowd or blend quietly into their surroundings. At Elephant & Castle's Elephant Park, brick is integral to setting the tone for the Heygate Estate's replacement. Maidenhead-based brickwork contractor, Lee Marley, is working on the initial phases of Elephant Park, and is both helping to deliver and witnessing the transformation. 'The new buildings are giving the area a calmer feel,' says Lee Marley, managing director with the firm. That's a quality that is beneficial to many regeneration areas.
The contractor has more than 40 brickwork projects on its books, its workload being driven not only by a healthy housing market in London and the South East, but also by the continuing appetite for brickwork, says Marley. 'Architects are using brick to make standard buildings appear individual, and more 'solid', which has led to greater use of brick soffits and reveal details, indentations, toothing and feature brick panels,' he says. 'Brick is now being used almost as an artwork.'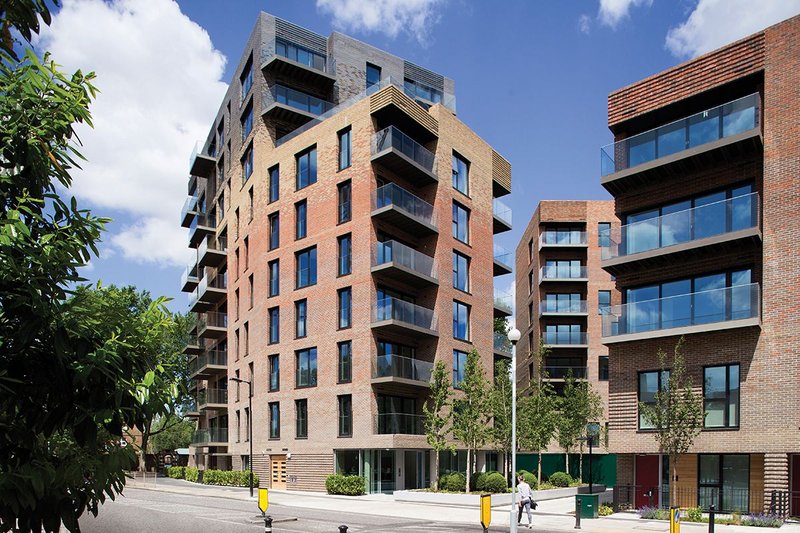 Trafalgar Place, Elephant & Castle, London
Regeneration of the south London's Heygate Estate has been a long-running story, but now the first phase of Lendlease's Elephant Park masterplan is in place. That is Trafalgar Place, which comprises 235 homes in a mix of mini-towers, apartment buildings and townhouses.
Trafalgar Place's brickwork establishes the new development's relationship with its context, marks a departure from the concrete of the Heygate, and conveys a sense of optimism with its rainbow colouring. The scheme features eight types of brick, which provide visual links to neighbouring buildings.
Colour banded brickwork along the principal frontage – spanning from grey/brown through to light blue via reds, purples and yellows – is intended to mirror a facing Victorian building.
There is also a wealth of brick detailing to animate the facades. Deep recesses alternate between brick courses, while brick clad parapets and deep window reveals give a sense of depth. At junctions between varying brickwork colours, keyed-in corners refer to traditional brickworking methods.
Credits
Architect dRMM
Client and main contractor Lendlease
Structural engineer Robert Bird Group
Landscape architect (concept) Grant Associates
---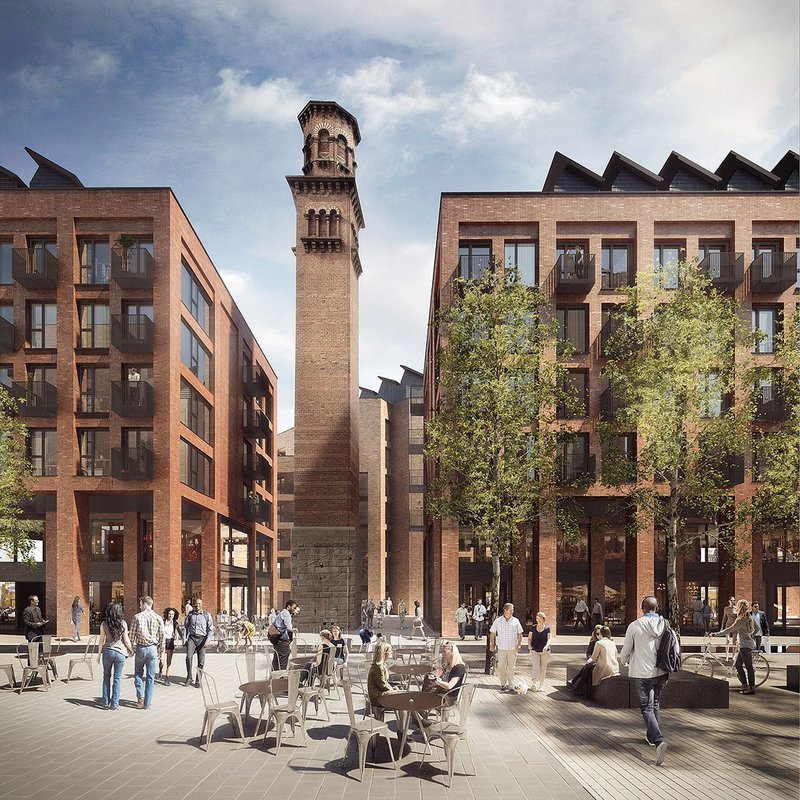 Tower Works, Holbeck, Leeds
A Victorian industrial context, including a trio of listed towers, has dictated the choice of materials for the mixed use Tower Works development in Leeds. 'Brick was an obvious choice, given where this sits, in the middle of Leeds' industrial heritage,' says Alex Gordon, associate director with architect Jestico + Whiles, which is working on the project with a team led by Carillion Developments. 'We had detailed negotiations with the planners and they were very supportive of the use of brick, cobble, slate and glass'.
Tower Works is a key site in the Holbeck conservation area, and derives its name from its three listed Italianate brick towers: the largest and most ornate based on Giotto's Campanile in Florence, a smaller version styled after Verona's Torre dei Lamberti, and a third echoing a Tuscan tower house.
The mixed use scheme, which won planning consent earlier this year, includes restoration of the site's grade 2 listed Engine House and the development of 10 buildings, primarily housing and offices with other uses at ground floor levels. The new buildings will incorporate such brick details as recessing, splays, projections and corbels.
The bricks have not yet been specified for the project. 'With as much brick as this, the choice is very important,' says Gordon. 'We're using three main bricks for variety. They'll be chosen for the Leeds local context and to pick up the bond context. We're after bricks that, while being new, will give an old, industrial look.'
Credits
Development partner: Carillion Developments, working with the Homes and Communities Agency and Leeds City Council
Architect Jestico + Whiles
Multi-disciplinary consultancy WSP
Landscape architect Oobe
---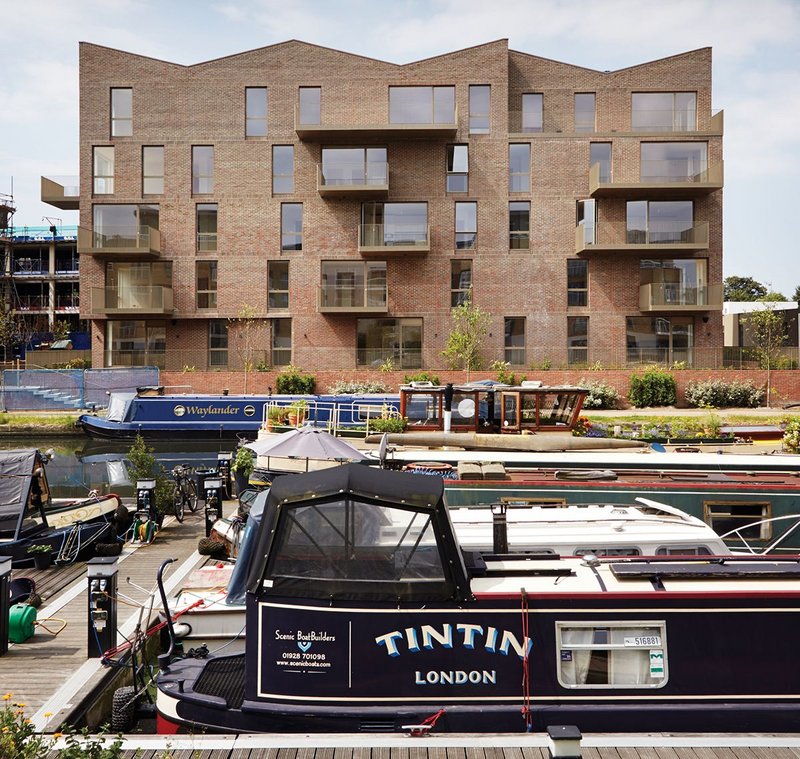 The Halyards, Brentford Lock West, London
Duggan Morris' two brick apartment buildings fronting the Grand Union Canal evoke waterside warehouses, with their inverted pitched roof profiles. 'They're a response to the context, to the historic warehouses of this location. The design speaks to a vernacular that people can relate to,' says Joe Morris, director of the practice.
The scheme, by developer ISIS Waterside Regeneration, is part of Brentford Lock West and comprises 46 apartments. The two buildings are brick faced – from plinths to soffits and cantilevers – with their brickwork changing in colour from predominantly red at the base to greyer tones higher up. Windows are loosely distributed. 'We wanted the buildings to have a sculptural presence,' says Morris.
Local authority Hillingdon Council was keen to see an exemplar development for the site. Morris says the architect was careful to demonstrate the brick pattern, texture and mortar colour to explain the design to the council. 'It was an important regeneration scheme for the local authority so there was a rigorous process,' he adds.
Credits
Client Isis Waterside Regeneration
Architect Duggan Morris Architects
Structural engineer Expedition
Contractor Willmott Dixon
Landscape Camlins
---
Join Morris, Marley and Gordon at the BDA's Urban Regeneration day Friday 20 May 2016. Arup, 8 Fitzroy St, London W1T 4BJ. Also speaking are Peter Murray (NLA), head of planning for Barratt Homes East Counties, Andrew Taylor and Arup's Alexis Harrison. For more information see www.brick.org.uk
or call 0207 323 7030.
---