A combination of energy efficiency measures and smaller batteries could halve emissions from excavators, which produce 50% of global construction emissions, study finds
Current diesel powered excavators are only 30% efficient, the new report states.

Credit: Danfoss
Construction machines emit 400MT of carbon dioxide per year worldwide, equivalent to emissions from international aviation, and 50% of that comes from excavators.
A white paper by equipment maker Danfoss claims that, with high energy demands and extended periods of operation preventing larger machines from making a switch to electrification, more rapid progress can be made through a combination of more efficient operation and the use of smaller batteries.
Small electric machines weighing up to three tons already work in city-centre locations, but, says the study, to make a substantial impact on emissions in the sector it is necessary to address machines of over 10 tons, which contribute 92% of CO2 emissions.
According to Domenico Traverso, a division president at Danfoss Power Solutions, the complex demands of construction are preventing the rapid electrification of excavators: 'Excavators need to work much harder and for much longer between charges than passenger cars, meaning that they need extremely large batteries to match the productivity of the diesel equivalent – which has a cost implication. Meanwhile, appropriate charging infrastructure is needed to ensure that the work site can support a fleet of electrically powered construction vehicles.'
Current excavators are only 30% efficient, meaning that 70% of the energy the engine produces is wasted instead of helping the excavator bucket to move any earth.
Key to decarbonising these machines, the report notes, are energy efficient technologies that cut diesel use and address some of the challenges for electrification, which in turn will reduce the size of batteries and the amount of charging power required.
'Electrification is not a question of all or nothing,' says Traverso. 'For some vehicles that cannot yet be fully electrified it is possible to downsize the diesel engine and electrify critical components of the machine, creating a significant benefit from the increased efficiency of an electric system.'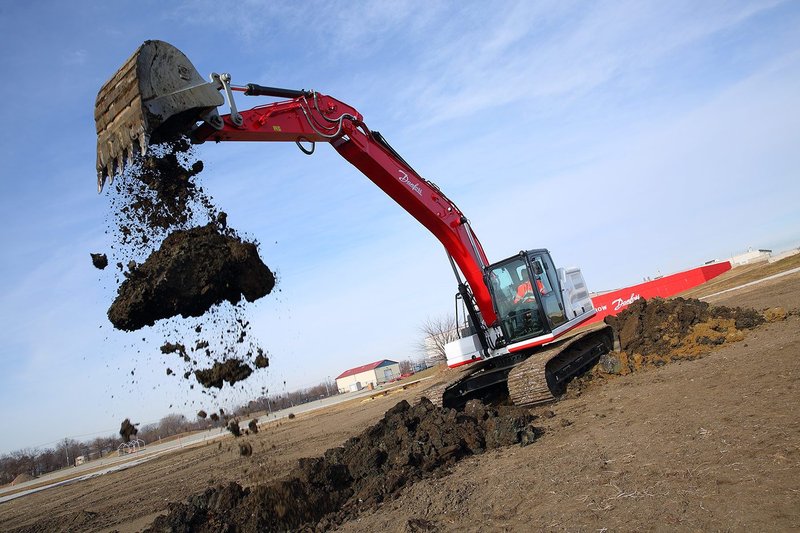 While waiting for smaller batteries, energy efficiency can produce 15-30% cuts in operational carbon

Credit: Danfoss
Energy consumption can be reduced 'significantly' when the vehicle is not operating, notes the study, through solutions such as variable displacement pumps, digital displacement, variable speed pumps, and decentralised drives.
Furthermore, losses on hydraulic systems used in many off-highway vehicles can be reduced significantly with existing technologies, and energy recovery systems can recycle energy in the system.
Danfoss claims that measures like these could enable excavators to deliver more work with a smaller engine and less fuel, reducing the capacity of the battery needed to electrify them by up to 24.8%.
Energy efficiency solutions can already enable fuel savings of 15-30% in excavators over 15 tons, and according to the study, it will soon be possible to apply the technology on all sizes of excavators, making fuel savings of up to 50% possible.
'The scale of global construction activity is set to increase significantly in the decades to come, and decarbonizing heavy-duty vehicles such as excavators will be critical if cities are to curb their greenhouse gas emissions,' Traverso concludes.