Europe's tallest CLT building tops out in London's Hackney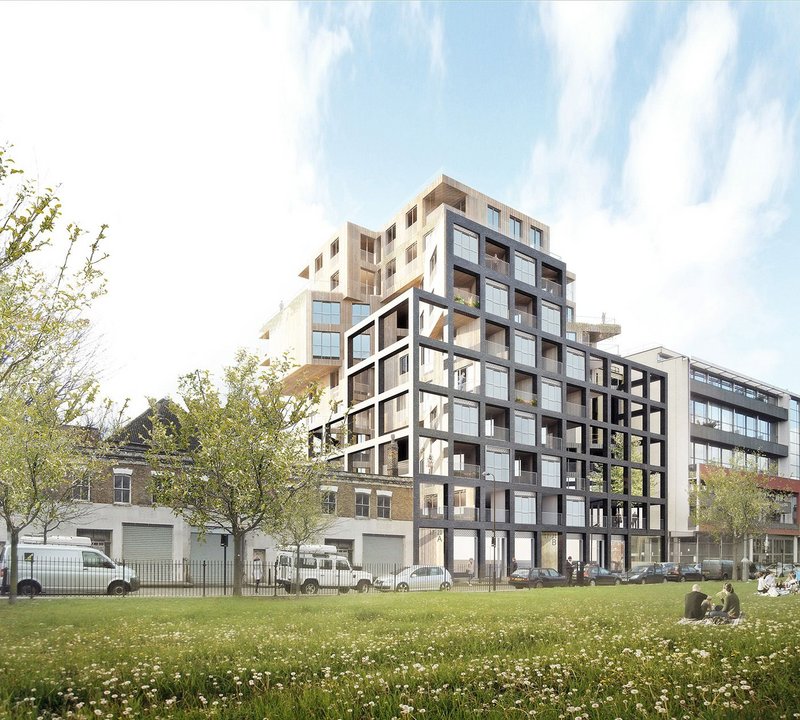 What looks set to become Europe's tallest cross-laminated timber building, at an impressive 10 storeys high, has topped out in Hackney, north London.
The 6,750m2 Banyan Wharf office and apartment block on Wenlock Road, designed by Hawkins\Brown for client Regal Homes, is supported on a hybrid structural frame of off-site manufactured CLT panels and a reduced number of steel elements designed to maximise structural efficiency and sustainability.
The frame was fabricated and installed by UK specialist B+K Structures and when the project is completed next year it will match the height of the world's tallest CLT project to date, a 10-storey residential block in Melbourne built by developer Lend Lease.
The Bayan Wharf scheme features 50 apartments and twists a traditional cruciform plan at 45 degrees to maximise light and views for apartments as well as create east and west facing terraces and a generous open terrace for residents at first floor level.
The CLT elevations will be clad in slatted larch, while the Wenlock Road elevation, which forms the edge of a conservation area, will feature a perforated dark brick screen extending the full length of the street facade.
The market for CLT in the UK is expanding rapidly, particularly in response to the booming residential market, as developers recognise its sustainable credentials and suitability as a robust and cleaner alternative to steel or concrete.
B+K Structure's managing director Nick Milestone recently said the firm expects to sell 11,000m3 of CLT during 2014, up from 8,000m3 last year and 4,000m3 in 2012. B+K's turnover has increased from £14m in 2012 to £24m today, with most of this impressive growth fuelled by CLT, which accounts for 50% of its turnover, compared to just 20% three years ago.
---