The annual two-day event for architects, designers and specifiers features products and innovations from around the world and a packed programme of expert speakers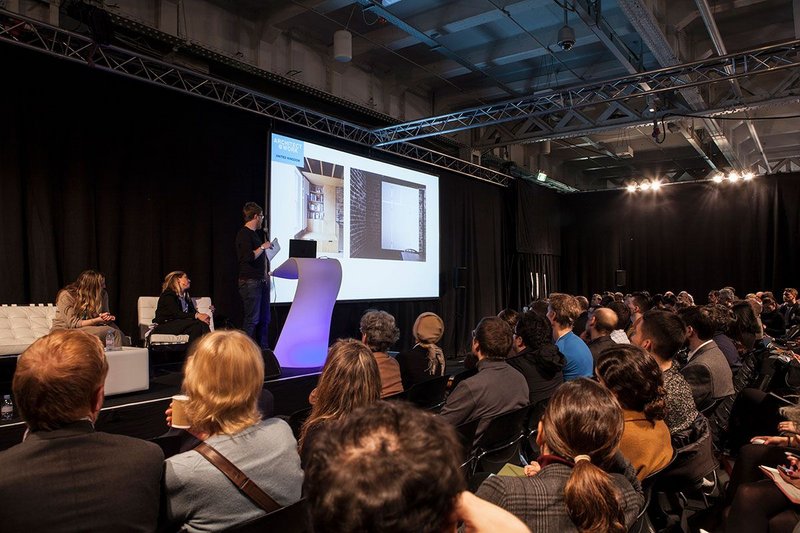 A talk at the Architect@Work 2018 event.
Architect@Work, the annual two-day trade event aimed at architects, interior designers and specifiers, will move to Old Truman Brewery in Shoreditch for the seventh London edition on 30 to 31 January 2019. The two days include free admission for registered trade visitors and complimentary catering throughout, which encourages networking and downtime, as well as deal-making opportunities.
Leading international architectural suppliers will showcase over 200 innovative products and offer the latest innovations in surface solutions and lighting technology, as well as interior and exterior fixtures and fittings. All exhibitors go through a rigorous selection process, overseen by an external judging panel, to ensure that this is one of the UK's most highly respected trade shows of its kind.
The theme for Architect@Work UK 2019 is future-proof. Other show features include an exhibition by MaterialDriven, a project wall by world-architects.com, RIBA's Pop-Up Book Shop for Architects and Designers, and art by Tichelaar. See below for the event's talks programme and how to register for the event.
ARCHITECT@WORK UK 2019 TALKS PROGRAMME
Wednesday 30 January
3pm Modern methods
Offsite construction and prefabrication are bringing about a revolution. A series of high-profile case studies will demonstrate how modern construction methods are changing design. Speakers include Hazel Rounding, Shedkm; Dave Lomax, Waugh Thistleton Architects; Kevin Gray, Be First Regeneration; Mark Rintoul, Rogers Stirk Harbour & Partners.
4.15pm Sarah Wigglesworth in conversation
Architect Sarah Wigglesworth has been championing sustainable design for decades and has created projects that foster social wellbeing, while retaining her environmental credentials. She will reveal the key projects that have shaped the practice and discuss upcoming work.
5.30pm Back to the future
The truly sustainable approach for the city is one that renovates and re-imagines rather than demolishing the old to build the new. The panel will look at a range of case studies, from homes to offices, galleries to exhibition centres. Speakers include Catarina Kohut, Jonathan Tuckey Design; Trevor Morris, SPPARC; Nicola Rutt, Hawkins\Brown; industrial designer Alexander Lervik.
---
Thursday 31 January
1pm Eco is not a dirty word
Sustainability is integral to the future, but few companies are creating truly innovative projects. The panel will explain the power of green design with small boutique projects, mega structures and sustainable strategies for healthy city development. Speakers include Jerry Tate, Tate Harmer; Cany Ash, Ash Sakula Architects; Piers Taylor, Invisible Studio.
4.15pm Zero carbon cities
The technology to make our cities carbon neutral exists, but we need good design coupled with developers and local government to make it a reality. This panel will prove that zero carbon isn't science fiction, it's happening and it's achievable. Speakers include Linda Thiel, White Arkitekter; Bill Dunster, ZEDfactory; Clare Murray, Levitt Bernstein; Becci Taylor, Arup.
5.30pm Brave new world
Cutting-edge technologies and radical forms encourage us to look ahead, but in recent years restrained and rational projects have become fashionable. This talk features the brave souls creating the places and spaces of the future, including Aleksa Rizova, ALEKSA studio; Adam Nathaniel Furman; Daniel Blaker, Nulty; Stefano Dal Piva, ACME.
Architect@Work UK runs from 1pm to 8pm, 30 to 31 January 2019 at London's Old Truman Brewery. Register here using code 2170
---