A showcase of Lazenby's recent commercial projects shows why polished concrete creates a wow factor every time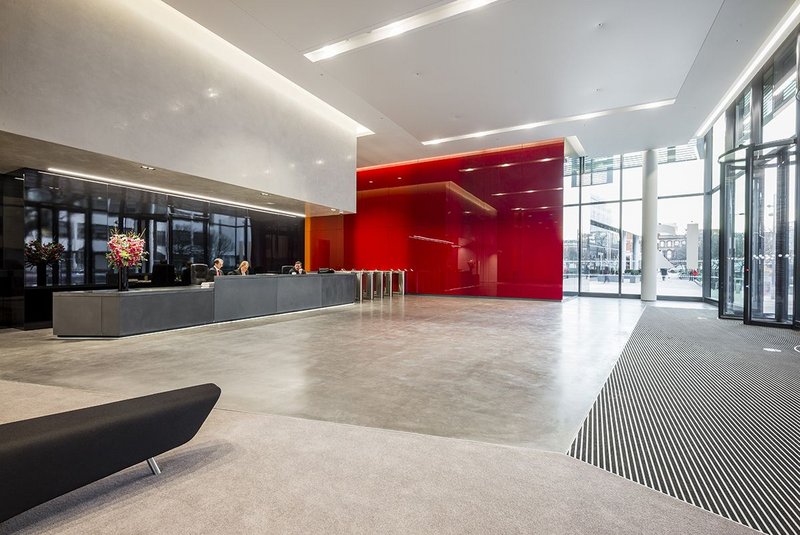 12 Hammersmith Grove, Hammersmith designed by Flanagan Lawrence
In only a few seconds, a single, well considered architectural feature can transform, mesmerise and inspire. In this fleeting moment, a first and lasting impression is created. Get the architectural 'welcome' right in a commercial reception area and clients and international guests will love to visit. Get that first impression wrong and an opportunity to 'wow' visitors is lost.
Architects, interior designers and specifiers regularly commission Lazenby's polished concrete floors, precast concrete tiles and GFC (glass fibre concrete) furniture to create that lasting impression. Lazenby's tried and trusted master craftsmanship and superior quality is consistently delivering outstanding installations.
12 Hammersmith Grove, Hammersmith
Designed by Flanagan Lawrence, 12 Hammersmith Grove features 276m² of Lazenby's Basalt satin polished concrete floor in its ground floor reception space, as well as Lazenby's impressive Azure Grey GFC reception desk to complement the Basalt. Registration brings the visitor directly to Lazenby's 8m wide GFC reception desk with its elegant 3mm shadow. The look and feel of the concrete colours is transformative.
Two Kingdom Street, Paddington
At Two Kingdom Street in Paddington, architect Kohn Pedersen Fox has specified Lazenby's Basalt satin polished concrete floor for 280m² of the ground floor reception area. International business visitors are welcomed by a runway strip of glazing blocks and exposed aggregate concrete floor panels. Lazenby's polished concrete flooring is 100mm deep over an existing sub-base. The prime objective was to maintain the streamlined effect. Lazenby's joint layout for crack inducement joints were more complex due to the intrusion created by the existing elements of the floor.
The Bower, Old Street
AHMM's careful selection of Lazenby's Light Natural satin polished concrete floor was precision installed between wooden inset strips at The Bower in Old Street. The retro effect was used for 300m2 of its glorious new reception area. Wood insets strips were added by the main contractor once Lazenby's floor had been sealed and fully cured. Crack inducement joints were unnecessary because the wooden strips created a natural joint. The original 1960s Old Street concrete structure can now proudly welcome 21st century visitors.
The Zig Zag Building, Victoria
Lynch Architects commissioned 1,089 unique handmade Lazenby precast Ebony concrete tiles to perfectly complement its architectural reception area at The Zig Zag Building in Victoria, London. Zig Zag by name and Zig Zag by nature, this commercial building boasts Lazenby's precast concrete tiles in 26 different sizes. From 400-1047mm by 531-1124mm, 30mm deep for the entrance and lift lobbies and 24mm deep for the threshold and lift car stones. Over 1000m2 of Ebony tiles were laid over an existing concrete slab. The tiles took 55 days to cast and seal with 28 days to cure each tile. Lazenby's precious cargo was dispatched in batches, with deliveries staggered to allow for installation on site by the main contractor.
For more information and technical support visit: www.lazenby.co.uk
Contact:
01935 700306
---