Saint-Gobain Weber's external wall insulation enhances the profile of a stunning new home in Somerset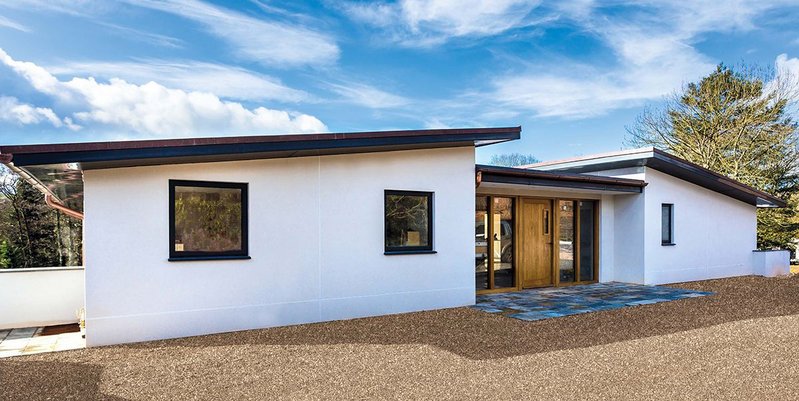 External wall insulation (EWI) by Saint-Gobain Weber has been specified for a contemporary-style new build in a conservation area in South West England. The revolutionary webertherm XP system has been used on the walls of the property while weberpral M through-coloured render has been used extensively to long runs of concrete walling.
The term 'conservation area' all too often results in unimaginative new build designs mimicking the surrounding aesthetics rather than offering creative architecture that enhances the area. This stunning new home in Somerset, designed by Jackson Architects of Taunton, illustrates perfectly how architectural flare and modern building techniques are fused to deliver a property that contributes greatly to the local environment.
The 430m2 private residence has extensive glazing to capture the glorious rural views as well as maximum natural light. Sleek expanses of webertherm XP EWI with webertherm M1 through-coloured render enhance the profile of the house from all aspects.
Matching the dramatic visual appeal of this unique property is the construction formula and advanced thermal efficiency that has been achieved. The external walls are constructed as a single skin formed with 215mm thermal blocks that are protected by webertherm XP EWI using 50mm of high performance phenolic insulation. webertherm M1, an advanced one-coat, polymer modified, mineral render, is factory batched and designed for spray application to reduce on-site labour time and access costs and has been used in White. A decorative scraped texture finish has been applied to the White render which catches and holds the light.
For more information and technical support visit www.netweber.co.uk.
Contact
08703 330 070