The watchmaker's new Shanghai storefront made of recycled glass combines beauty with the desire to reuse materials in its construction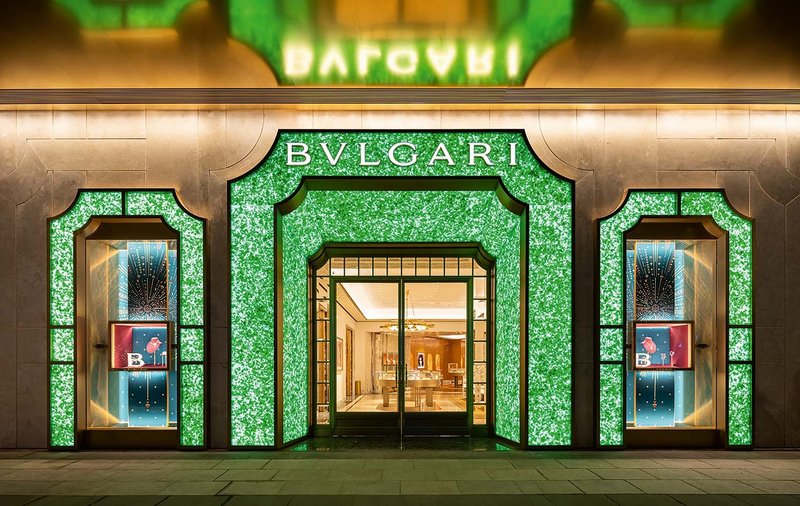 The sintering process, fusing fragments of recycled glass together, gave the green colour a particular richness and depth when backlit by LEDs.

Credit: MVRDV / Rich Honour / Studio Sclavi
What Recycled glass panels
Where Bulgari, Shanghai
'There might be a few champagne bottles in there,' says MVRDV founding partner Jacob van Rijs of the spectacular recycled glass front created by the Dutch practice for Bulgari's Shanghai flagship store. It would be appropriate, given the luxury nature of the Italian jewellery brand. So too is the jade-like appearance of the glass and its use in an art deco-inspired composition that chimes with both Bulgari's vintage collections and Shanghai's 1930s architecture.
The project is the third storefront by MVRDV for Bulgari, all inspired by the distinctive portals and cornices of the long-established brand's first store on Via dei Condotti in Rome. Unlike those in Bangkok and Kuala Lumpur, the Shanghai store offered a largely windowless façade, which at 22.5m high and 274m² in area, was very much like a giant billboard, giving plenty of scope for strong graphic treatment.
After experimenting with resin and terrazzo, MVRDV settled on recycled glass. It works well when backlit with LEDs to give impact after dark as well as during the day. Architect and client were also drawn to using a material that is both recycled and recyclable given the longevity of Bulgari's own pieces, which are often passed down generations. The 'edgy' solution also appealed to a shared client-architect interest in material innovation, adds van Rijs.
The architect conceived the project as a piece of jewellery on a facade-like scale. It realised the concept through a collaboration with Magna Glaskeramik, a German manufacturer with expertise in creating a building and interior design panel material from recycled glass. It was unusual in scale for Magna, whose products are often used for counters and tabletops.
The design comprises an arrangement of 172 different shaped panels, each trimmed with brass and with a maximum size of 1150mm by 3150mm. Architect and manufacturer experimented on their optimum thickness to achieve the desired luminosity, testing the samples with backlighting to simulate the final effect. While Magna's typical Glaskeramik panels are usually 15-20mm thick, weight and lighting considerations led to the final thickness of 12mm being chosen for the Bulgari project.
The panels were created using several shades of green and clear recycled glass to give variety and a depth of appearance. 'We wanted a material with translucency and which resembled jade with its natural effect, and didn't want any two pieces to be the same,' says MVRDV associate director Aser Giménez Ortega.
During manufacture, the fragments of glass are not melted but heated to a carefully controlled temperature in a sintering process. This distorts and fuses them together, and gives a ­ceramic-like strength when cooled. The result is a vibrant green that required no additional pigments. A top layer of laminated glass gives the panels the necessary level of safety.
Each panel was made in Germany and transported to Shanghai for assembly in situ. All are mounted on a steel substructure attached to the store's concrete façade. The gap between the panels and the 225mm steel and insulation ranges from 25-300mm as a result of a layered arrangement. This gives a variety of depth that enhances the appearance of the façade. Brass capping on the steel substructure frames the panels to complete the composition. At ground level, the glass panels frame the main entrance and the two flanking windows.
The overall effect certainly achieves MVRDV's aim of standing out from the crowd. Jacob van Rijs is also pleased that the project has been able to up­cycle the glass in a way that is not only sustainable but 'sexy and slick'. Both the glass and the steel structure could be dismantled and recycled again.
MVRDV is now working on further projects with Bulgari.
Credits
Architect MVRDV
Glass manufacture Magna Glaskeramik GmbH
Contractor Rich Honour International Design Co Ltd