Biophilic glazing system with distinctive polygon patterns found in nature marks out new Royal College of Physicians' northern headquarters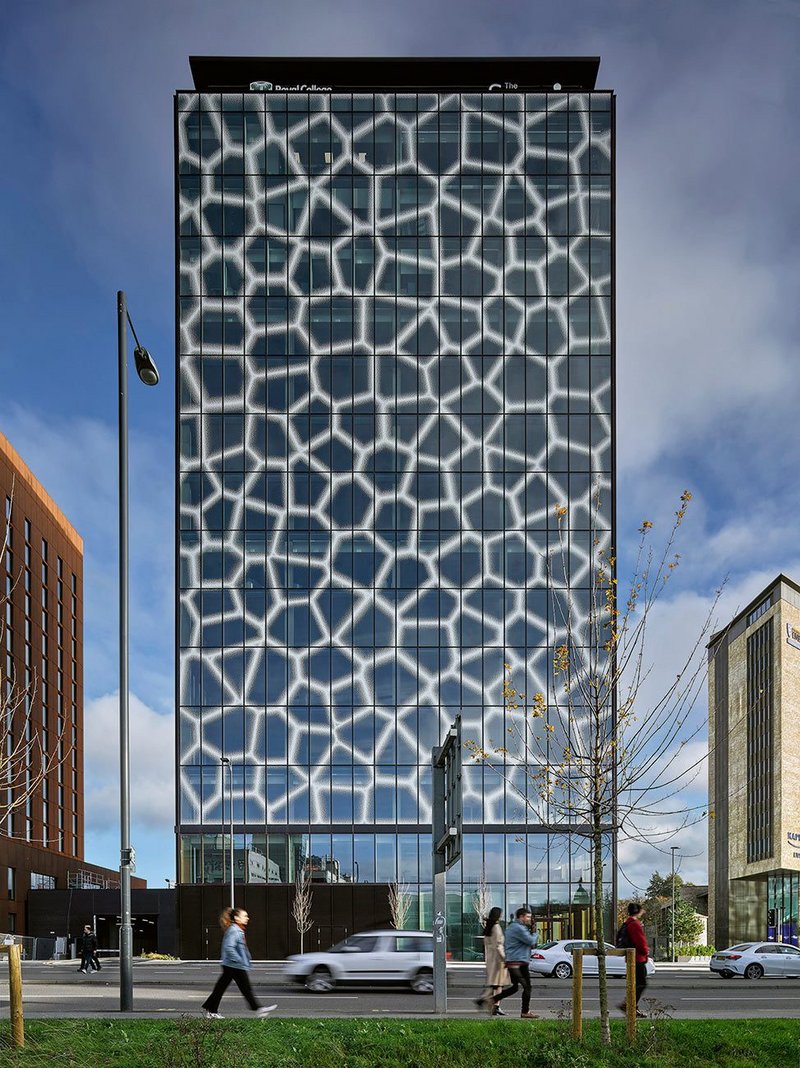 Exterior view of The Spine building for the Royal College of Physicians. Locals have already named it The Giraffe.

Credit: Daniel Hopkinson
What Voronoi facade cladding
Where The Spine, Liverpool
Fourteen storeys tall and at nearly 14,900m2, The Spine by architect AHR is the new northern headquarters for the Royal College of Physicians (RCP), part of Liverpool's new £1bn 'Knowledge Quarter'. Under the RCP's strict biophilic brief, the building was designed to ensure its users left it healthier than when they entered. Part of this approach, says AHR director and head of sustainability Robert Hopkins, was the use of MERV 13 filters to deal with air filtration and purification - and Coronavirus - as well as air quality monitors throughout the building to give real time updates on PM1, 2.5 & 10, NO2, VOCs and CO2 – which has helped it gain its WELL Standard Platinum accreditation. But the most obvious expression of The Spines' 'salutogenic' (wellness) ethos is in the design of its highly distinctive Voronoi glazing system.
Based on planar polygon diagrams first expounded by 19th century Ukrainian Russian mathematician Georgy Voronoy, the patterns already exist in nature in things like fruit peel, giraffe fur and human skin - which was the inspiration here. Most of the 1500, 4.2m by 1.5m argon-filled, double glazed panels have been coated in a Voronoi pattern made up of 23 million polygons. The bespoke frit was developed using an algorithm applied in Grasshopper that responded to inputs on heat gain and internal environment quality.
Some inputs are simple: one basic rule was that there would only be 25 per cent coverage of glass on the north side, 32 per cent on the east and west and 39 per cent on the south face of the building. Then these were applied to MEP engineer Arup's dynamic environmental and energy performance model to ascertain what the effect would be on the architect's pattern design. 'Factors affecting this were also steel framing to glass ratios and glass performance itself,' explains Hopkins. 'We had to play with all the ratios until we hit a sweet spot.' This was only achieved after more than 20 iterations of the facade design, each taking around eight hours just to run the modelling software. Choosing the final design was much easier - decided by members at Lasdun's London RCP HQ, using full-height 1:1 paper prints of key panels.
We had to play with all the ratios until we hit a sweet spot
Procured as a D&B project, Hopkins says developments in liquid ceramic ink-jet application techniques meant contractor Morgan Sindall was not phased by the idea of creating the panels, each of which is unique; it merely involved AHR to ensure it had the correct digital information. This included identifying each completed panel with a barcode to ensure correct positioning on the facade. Subcontractor FK Group prototyped and printed the glass in Spain. Panels were made up of 13.5mm Saint-Gobain Planidur Planiclear PVB laminated glass, a 16mm cavity and 10mm toughened glass inner layer.
Hopkins argues that the facade is not just about generating a novel, heat-gain mitigating facade; there are significant user benefits. 'When the sun shines it creates amazing shadows that pass across the building's interior, much like Japanese shinrin-yoku forest bathing and light through a forest canopy,' he explains. 'The light's dynamic and changing nature has a positive impact on cognitive function. It keeps the mind subconsciously alert and active.'
And Hopkins claims to have seen its effects evidenced. 'I was in one of the double height spaces when the sun broke through and everyone went quiet - the shadows are small but you can actually see them moving across your desk. It's really quite mesmerising'.