Ecoled's ZEP 6 Eyeconic Trimless luminaire is a discreet, high performing and fully customisable downlight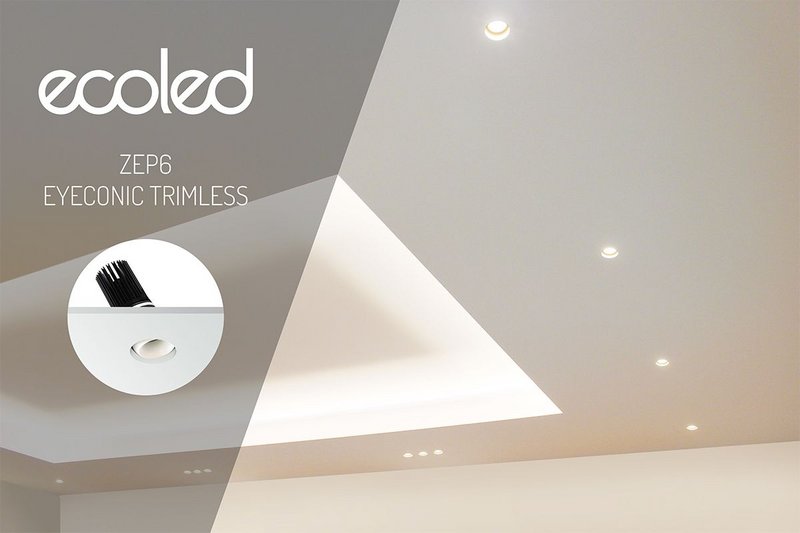 Ecoled's parent company's 130 year heritage has given it a deep understanding of metals, engineering, architecture and great design. It has built its lighting technology on the back of this knowledge and a passion to create beautifully engineered, aesthetically crafted luminaires.
Technically brilliant, Ecoled's products are acclaimed as miniature, modular and powerful lights with a personality to suit all environments and applications. These have been designed specifically to create spaces where light can be used as the fourth dimension of architecture.
So what is it?
The ZEP 6 Eyeconic Trimless luminaire is a powerful, precision engineered yet incredibly discreet LED light (46mm diameter) which is recessed into a patented trimless module, offering full 360 degree angle adjustment as well as being water resistant (IP65) and fire certified. The most unique feature, however, is that the engineered design of the ZEP6 luminaire allows the spring clip free light engine to be inserted or fully retracted from the front, with a custom tool, for post decorative fit or service!
A better fitting deserves a better finish
Ecoled prides itself on knowing how to make metal look great. It believes product innovation is merely the start. Its heritage of shaping metals for over a century means the company can do it all when it comes to finishes. As these are machined in the UK, they use the highest quality aluminium available to allow users to customise their bezels in a range of anodised and plating finishes.
Light Builder
Personalise your fitting down to the very last detail with Ecoled's online Light Builder tool.