Choosing the right façade can make all the difference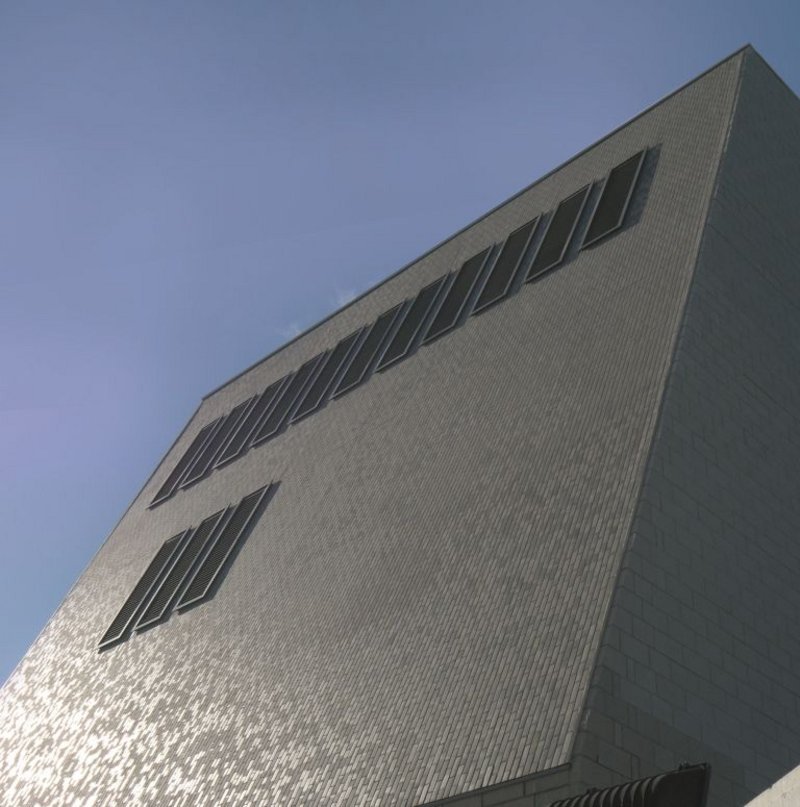 Corium brick cladding fixed in a vertical orientation and on a pitched angle
Local context was key to the design of the façade at Exeter University's Research Innovation Learning Development Centre (RILD).
The building sits on the site of a former quarry. Architect PM Devereux picked up on the stone reference, designing the RILD to look like a stone rising from the earth. Rough at the base, as it moves up, the stone becomes more polished and clean, as though carved out of the unfinished boulder. Even some of the larger boulders that existed on the site before have been kept, to help give a greater sense of stone as a raw material.
Although the quarry was known for its red stone, the architect decided to match the colour and texture of the materials used to those in the town. It wanted something that would match the memory and history of the buildings around it. John Wissinger, principal designer at PM Devereux, gained inspiration by walking around Exeter, and looking at the local buildings to see how much stone played a part in them.
To find the right cladding material, PM Devereux met with Taylor Maxwell (TM), to discuss what it wanted to achieve and what materials would help it do this.TM was dedicated to finding the right materials within the budget of the project. They met in the TM showroom, where the architect could touch the materials and see how the colours of product worked together. Wissinger says: 'It was like a children's toy room for architects.'
From there they took samples to the site and held them against existing buildings on the university campus and houses in the area. 'We probably got some weird looks for the residents,' laughs Wissinger.
They also tested how the colour of the material would change, when it got wet, to ensure that the desired effect could be achieved throughout the life of the building. In the end Taylor Maxwell helped PM Devereux settle on the Forticrete line of stone as the preferred method to achieve the different textures that were needed for the lower part of the part of the building.
The upper part of the building needed something that would provide a sharp edge to help define it from the Forticrete base, while matching the desired context. Taylor Maxwell provided the solution with the Corium brick cladding product – whose darker colour gave the impression that the top half had been sheared off.
CORIUM also offers a vertical option as well as a standard horizontal brick finish. In addition to this, the design required the façade to be pitched at an angle. Both these design characteristics were achievable using the CORIUM system, which comprises genuine brick tiles, specially designed to fix mechanically to a HPS200 galvanised steel backing section. These sections are mounted onto the vertical or horizontal backing structure and the brick tiles are then clipped into place. As well as being mounted on an angle CORIUM was used overhead to create soffits and ceilings around the balcony areas.
Corium installation sequence

Rows of profiled steel sections are fixed to the vertical support structure. The brick tiles are then clipped into place prior to the application of mortar