Wellness, sustainability and reuse are primary considerations for office design – along with the social importance of the washrooms
Large windows and an extra storey on the roof turn the Weaving Works into an asset on Belfast's streets.

Credit: Todd Watson
Most of us know how important communication is in contemporary workspaces, but have you ever thought about the communication that happens in and near to the toilets? Lynne Clapham-Carter from leading sanitaryware provider' Geberit has. Speaking at the PIP seminar on office development in April, she described the increasing popularity of 'superloos' which contain washbasins as well as WCs and so can be gender-neutral. Conversations therefore take place on the way there, and not within a single-sex environment. And careful positioning within the office can assist interaction. 'Steve Jobs recognised the ability to engineer staff relations by the position of wash rooms,' Clapham-Carter said.
Wellness is a primary concern in offices today, and much of her presentation was about it. This included creating a relaxing environment, dealing with sounds by using asymmetric pans and white noise, and eliminating smell. And Nicola Gillen of AECOM, lead author of the practice's book Future Office, published by RIBA, identified millennials, those born in 1997 and after and just entering the workplace, as the group most concerned with wellbeing. Given that their work style is 'autonomous and opportunity driven' and that their work style is 'anywhere, virtual' it does beg the question, what is the office – wellbeing or not – for?
One of the answers is as a destination, a place for experiences, which millennials value over physical possessions. But there is a way to go. Research by AECOM, admittedly in 2011, found that '75% of workers say an energizing workplace is important, yet think their workplace is boring'.
Buildings of the future should be sustainable and adaptable, according to the AECOM book. Designing new buildings today that can adapt in the future is important, but so is adapting the buildings of the past to satisfy today's needs. Cartwright Pickard adapted the four disused red-brick warehouses of Albert Works in Sheffield to create a headquarters building for brand and marketing agency Jaywing.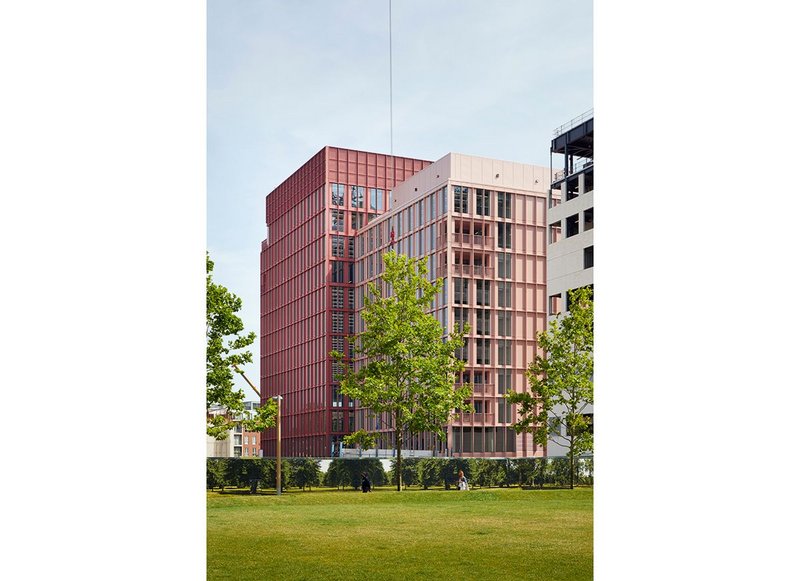 At the R7building in London's King's Cross, Morris + Company used loggias to connect users to the city.

Credit: Jack Hobhouse
This put the company at the heart of the city's cultural quarter, moving it from a conversion on the outskirts that visitors could only reach by walking past a string of sex shops. Three bays have been opened into one large impressive single studio space, with raised walkways to either side, and there are more intimate areas, set in and above containers.
New-build elements that support the open space are expressed externally with bronze-finished aluminium cladding, indicating that there is something new inside. What is most impressive about this project is the reaction of Jaywing's creative director, who not only talks about the wow factor but also says that the building has changed the way people work and has helped to win new business.
Re-using old buildings is fundamental to Belfast based RMI ('Respond Make Inspire'). Partner Rob Jennings talked about a project where the practice applied this philosophy, the Weaving Works in Belfast. This was a former government-owned building that had stood derelict for 20 years. Despite a fascinating history (it was the first reinforced concrete building in Belfast), it looked pretty depressing.
Jennings however saw the potential of the large windows and the location in an area on the brink of a renaissance. He has made the ground floor into a retail space plus a snazzy reception and put a lid on the building, a glulam structure that includes a terrace for chilling out and to benefit from fabulous views that were previously seen from a hideous flat roof. 'The building looked as if it had been lobotomised,' he said.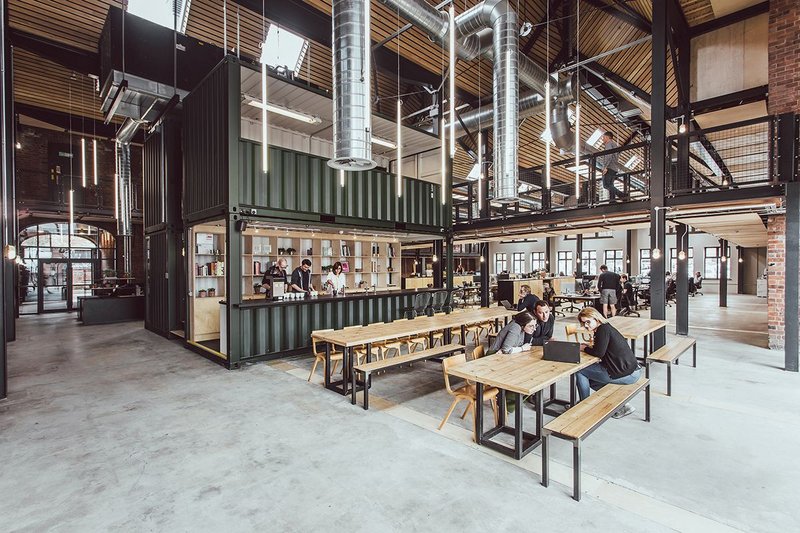 AECOM created a large studio space out of three bays at Albert Works in Sheffield for marketing agency Jaywing.

Credit: Tom Kahler
Joe Morris of Morris + Company expertly shared the way in which his practice designed the R7 building in London's King's Cross. With two blocks effectively slipping past each other, the main achievement was the creation of outdoor space with loggias on every floor. So although its users are raised above the city, they are within it.
This wellness approach was also a concern of Ben Hancock, director of Oscar Acoustics. 'Poor acoustics can be stressful,' he said. His company's products are mostly sprayed recycled paper, with good sustainability credentials and low emissions. They come in a range of surfaces, from pretty rough to smooth, suiting different aesthetics and budgets.
Because they are spray applied, they can follow complex contours, allowing the design of the office to remain as intended. As office life becomes more social, with impromptu discussions and video conferencing, so the role of acoustics becomes more critical. Wellbeing in offices is about much more than ergonomic chairs and sit-stand desks. We need to get everything right, including the acoustics, to ensure people want to continue to work there. This is a real challenge for the profession.
---
Find out more from our partners
www.oscar-acoustics.co.uk