The MA module can be used for creative homeworking or as a break-out extension of office space. A version commissioned by Fiandre features antiviral ceramic surfaces with built-in automation sensors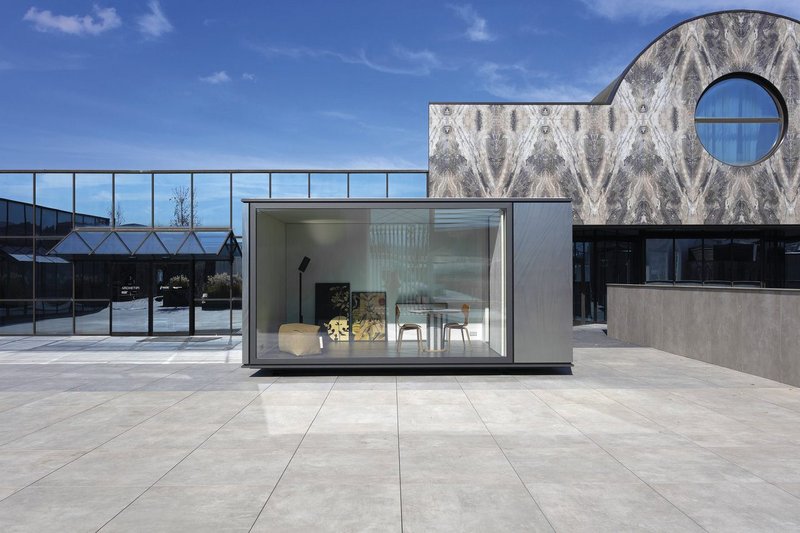 The MA pod was created by Austrian start-up ConceptMA. This special version was commissioned by Fiandre Architectural Services.

Credit: Luca Lumaca
Fiandre Architectural Surfaces has commissioned an innovative home office module for its headquarters in Castellarano, Italy.
The MA pod was designed by ConceptMA, an Austrian start-up founded by architect Gregor Pils and partners Fabian Weidinger and Erwin Stricker.
It was conceived as a complete home office solution for companies - for owners and employees who want to work in a concentrated and balanced way in a productive, dedicated space.
The module can provide a physical, stimulating environment where new ideas can be developed. It is named after the Japanese concept of MA, the interpretation of empty space - of emptiness that is not empty.
When existing living or working spaces are not enough, say its developers, MA becomes an extension focusing on wellbeing, concentration, creative stimuli and relaxation.
The special MA pod commissioned by Fiandre has an internal living area with large windows, a wardrobe for clothes and belongings and a mini kitchen area with a washbasin, fridge and tea-making equipment.
It features Luce ceramic surfaces designed by fashion designer Guillermo Mariotto for the Iris Ceramica Group.
An electronic control system called Hypertouch is another feature. It is a concealed capacitive technology applied to ceramic surfaces that enables home automation without the need for switches and external cover plates.
Hypertouch automatic sensors are activated by lightly touching the ceramic surfaces. These can switch lighting on and off and activate audio-video systems, windows and temperature controls.
Hypertouch was created by the Iris Ceramica Group and is applicable to Fiandre ceramic slabs.
The pod's wardrobe and mini-break area, including the washbasin, are made with Fiandre Active Surfaces.
These are photo-catalytic, antibacterial, antiviral and anti-pollution ceramic surfaces that can also eliminate 94 per cent of the SARS-CoV-2 virus after just four hours of exposure to natural light or conventional low-intensity bulbs.
Find more on this case study at granitfiandre.com/case-study
For more information and technical support, visit granitifiandre.com
Contact:
Iris Ceramica Group, London
020 3642 1141
---