Latitudes-winning scheme proposes to use Brazil's sun to retrofit slums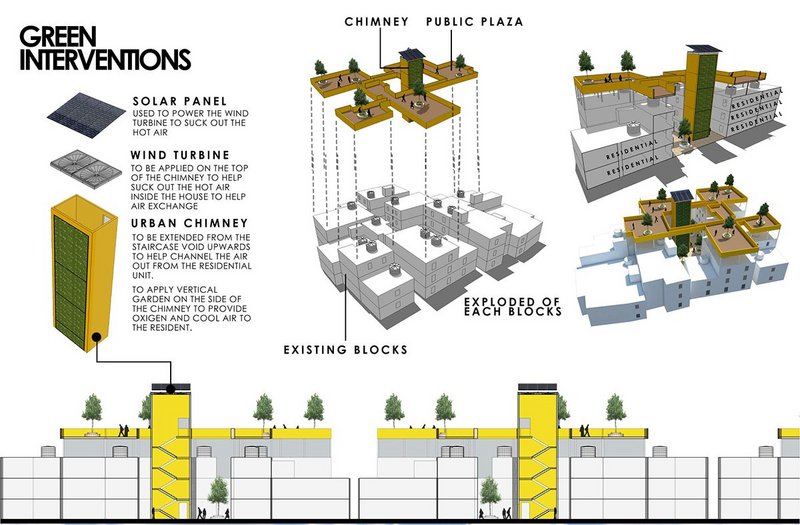 A project to retrofit urban slums in Sao Paulo, Brazil, with solar-powered 'urban chimneys' has won the first ever Latitudes International Design Challenge, run by the University of Westminster.
Students from Universiti Teknologi MARA in Malaysia beat 60 teams from seven different countries to take top prize. Their proposal involved installing a series of environmental towers on existing stair cores positioned between the thousands of blocks in Sao Paulo's Paraisópolis Favela.
Wind turbines positioned over the tops of the towers, powered by photovoltaic panels above, would improve air exchange from existing residential units, which are characterised by compact spaces and small windows.
An estimated population of between 80,000 and 100,000 people live in the sprawling favela in about 20,000 households.
The Malaysian team, made up of students Nur Deena Binti Ruslan, Mohamad Syaifuladli Bin Mohamad Zaki and Ahmad Azlan Bin Aziz, also proposed enhancements to a series of urban plazas and walkways located on the favela roofs where residents already meet informally and where festivals are hosted.
The design is innovative in the way it brings soft and adequate interventions to the existing territory
Praise for the design's sensitivity to the existing context came from an international judging panel that included University of Westminster vice-chancellor Professor Geoffrey Petts, Darshana Gothi Chauhan, senior urban designer for the London Borough of Hackney and Joel Samper Lopez, architect and design lecturer at Universidad Jorge Lozano. They said: 'The design is innovative in the way it brings soft and adequate interventions to the existing territory. In other words, the team found a balance between the need for new structures and the kindness expected of interventions in such consolidated and specific settlements, as it is in the Paraisópolis Favela.'

According to the students' design submission, key aims were to maintain the physical character of the favela built environment, create a design that will blend in, and make the environment more comfortable and livable without having to create a new megastructure.
The Latitudes International Design Challenge was set up to connect architecture students across the globe to help improve understanding of climate change in different geographical regions and co-produce solutions through environmental design.
'Smart rooms' fitted with HD videoconferencing technology were set up in each partner university to enable students and staff to communicate in real time in different countries. The 2016 winners will go on a learning exchange trip to Sao Paulo in October.
---