The new recommended care solution from FILA for large and extra-large format porcelain and ceramics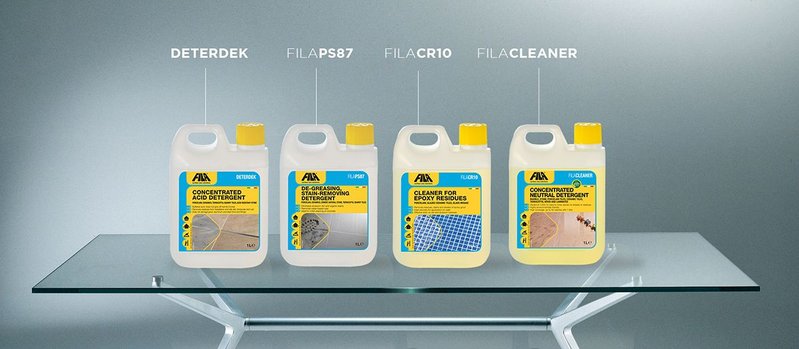 In response to the latest tile trends, FILA has introduced a new recommended care solution for large and extra-large format porcelain and ceramics. The new programme includes FILA products for a surface Builder's Clean – and for cleaning of the tile back, to remove possible suction cup marks – as well as treatments for ongoing maintenance.
The new programme, which ensures a pristine installation and easy ongoing maintenance, is carried out using Deterdek and/or FILA CR10; FILA PS87 and FILA Cleaner. Deterdek is a safe and fumeless acid solution that's free from hydrochloric acid; it removes cementitious deposits and building site dirt. As well as cleaning the face of the tile after grouting, FILA also recommends using Deterdek to pre-clean the back of the tile before installation, to remove impurities and ensure good adhesion. After installation, Deterdek is used to remove adhesive and cementitious grout residues or FILA CR10 to safely and effectively remove epoxy residues, whilst FILA PS87 – an alkaline-based deep cleaner – removes possible marks left by suction cups.
For ongoing maintenance, concentrated FILA Cleaner can be used diluted for a no-rinse clean or at a lower dilution for a deep clean. The pH-neutral detergent leaves no residue and does not contain a 'maintainer', which can attract dirt and make ongoing maintenance difficult. FILA PS87 can also be used for periodic cleans, to remove organic dirt, stubborn stains and wax.