Visitors to Ecobuild can find out more about a pioneering Austrian summer university programme, which provides world-leading insight into sustainable architecture and the built environment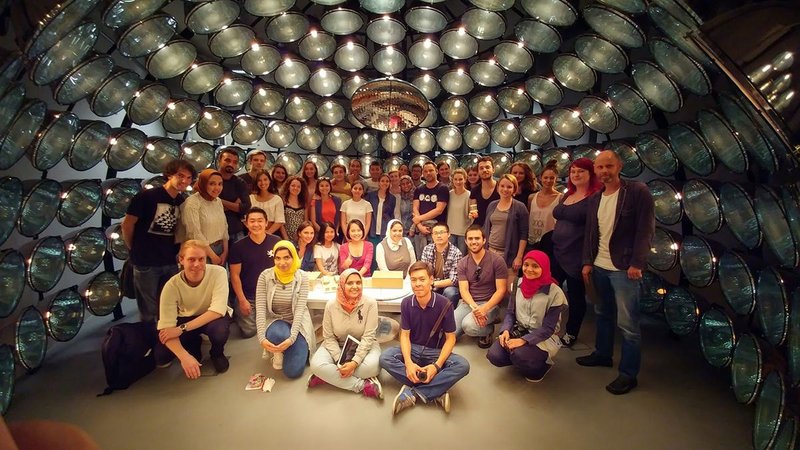 Participants from the 2016 GBS programme
Green.Building.Solutions. (GBS) takes place in Vienna, the capital of energy efficient construction in the summer.
Representatives from the OeAD-Housing Office will be on hand at Ecobuild from the 7 to 9 March to discuss the course, from their base located within the Advantage Austria pavilion, on stand number A189.
The programme provides a unique opportunity for professionals and students in the fields of architecture and construction to strengthen their knowledge and gain a career advantage in the field of sustainability – an area of increasing global significance.
Organised by the OeAD-Housing Office, which offers passive house accommodation for students across Austria, together with the BOKU University of Natural Resources and Life Sciences, Vienna, the course advocates the use of natural resources by connecting natural, engineering and economic sciences.
The three-week programme's lectures and all associated social activities are carried out in English and the course is of appeal to - but not limited to - those working in and studying architecture, construction management, project management, building and energy engineering and surveying.
It concludes with a collaborative project, where participants work together to bring their learning and experiences from the course to design a 'green' building. Student participants are entitled to seven ECTS points after successful completion.
The GBS summer university takes place from July 22 to August 13, 2017.
The cost of the course is €2,490 for professionals and €2,000 for students. This price includes all social activities as well as accommodation in OeAD's passive house student properties in Vienna. The cost also includes accommodation for participants for almost a week after the programme, enabling them to explore the city at leisure.
Günther Jedliczka, CEO of the OeAD-Housing Office, said: "Austria is world-renowned as a pioneer in sustainable construction and GBS offers professionals and students from the UK and Ireland the opportunity to broaden their perspective and build a network of useful contacts across Europe and beyond.
"We offer a truly international atmosphere, with 38 participants from 20 nations successfully completing the programme last year covering topics including Sustainability in Building and Urban Planning, Principles of Passive House Planning and Renewable Energies and Business Concepts.
"Everyone wanting to find out more is warmly welcomed to come to our stand at Ecobuild, where we will be able to provide more details."
The OeAD-Housing Office – which won the Austrian Climate Protection Award in 2013 and the Environmental Award of the City of Vienna in March 2015 – operates the Green Building Solutions course under a not-for-profit arrangement.
As well as GBS, OeAD also runs the Alternative Economic and Monetary Systems programme (AEMS), which analyses how economic, political, monetary and environmental factors need to change to be more sustainable – from the 26 July July until 11 August, 2017.
More details about GBS and AEMS can be found at www.summer-university.net