It needs a fundamental overhaul of the construction industry's approach to fire safety to prevent another Grenfell, Kingspan seminar told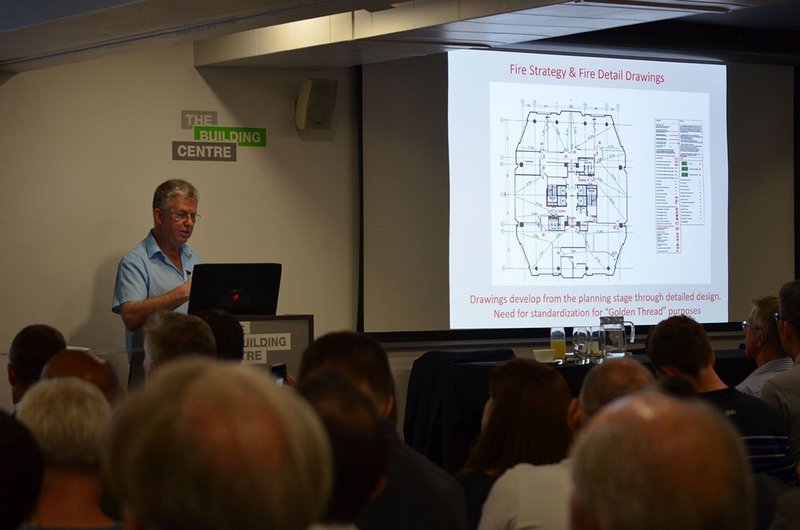 AHMM's Paul Bussey talks through his 'golden thread of responsibility'.

Credit: Charlotte Collins
As he launched the Grenfell Inquiry in June, Richard Millett QC warned against 'a merry-go-round of buck-passing' about which agency was responsible for the conditions that led to the inferno.
But to pass the buck, one has to know what one's responsibilities actually are and how they fit into an overall plan. 'Ensuring Fire Safety Throughout Design and Construction', a RIBAJ seminar in association with Kingspan Insulation in July, illustrated the continuing lack of clarity throughout a still reeling construction industry as to what exactly went wrong and how to fix it.
The current system was designed to be fit for purpose by professionals in government, the civil service and the industry. So how can we be sure that even a new regime adopted in full from Dame Judith Hackitt's recommendations – including a new regulatory framework, clear allocation of responsibilities, three inspection 'gateways', more rigorous enforcement and all the rest of it would prevent another tragedy?
Searching for answers
Chair Paul Bussey, CDM fire access lead at AHMM, said the experts, government and authorities 'don't have all the answers.' He maintained that architects need to understand fire better, and that the current guidance is 'not designed to help people who design buildings'.
He wanted to collate feedback from the packed room and look at how to help embed a 'golden thread of responsibility' for fire safety through the RIBA Plan of Work – a starting point, if too brief on fire issues.
He showed pictures of incorrectly installed fire-protection elements, some with gaps, and others where flammable materials had been used to plug holes, calling for architects to work more closely with the industry to understand more clearly how these elements should work. 'We need to get a feel for what good looks like,' he said.
Deep down, few who have been around the industry for long could have been surprised at his images.
Notably, the insulation material type made very little difference, whether it was 'combustible' or 'non-combustible
Some, who understood the implications of the current regime of product testing, construction management and Building Control, were prepared to say 'I told you so,' including Niall Rowan, CEO of the Association for Specialist Fire Protection. Southwark's 2009 Lakanal House fire, in which six people died and 20 were injured, was 'the wake-up call that should have stopped Grenfell.' Back then, the coroner said the guidance on exterior cladding was inadequate and needed updating, he told us.
'The ASFP has been calling for a review of Approved Document B (ADB) for nine years and successive governments have ignored us,' he said, blaming the government's lack of motivation to review the guidance – despite repeated warnings that construction is changing – on the fact that deaths from fire have more than halved.
'ADB is designed not for designers but to show a means of escape and for authorities to prosecute you,' Bussey added, calling for a simpler ADB. 'The design process through the regulations is mixed up and backwards' – B5, B4, B1, B3, B2.
Complex issues
Roy Weghorst, head of regulatory affairs (fire) at Kingspan, balked at the idea of over-simplification: 'Fire safety is a complex matter. You can try to have an easy, fool-proof guideline especially in a holistic building design; I do not believe it is possible to make a complex matter into an easy guideline and still be sure it is safe. Look at the codes in the US, is the UK's less complex?'
He showed pictures of fires caused when aluminium composite material (ACM) cladding with a polyethylene (PE) core , such as that used at Grenfell, had erupted in flames over the past decade, including Hotel Grozny in Russia, the Address Hotel, Dubai and the Polat Tower in Istanbul.
'How could an aluminium composite panel with a polyethylene core end up on a building?' Weghorst asked. 'Because it wasn't new, and it was already clear for many years and previous high-rise fires that this product is not fit for use on high-rise.'
Kingspan had carried out tests comparing well controlled burns of a 2.4m² high facade constructed with nine 779m by 508mm ACM panels . The test with 4. 5m² ACM PE cladding such as that used at Grenfell gave off the heat of 'two couches burning down after just four minutes – 16 times more heat than Alpolic A2 limited-combustibility cladding and Alpolic/fr-RF fire retardant cladding tested in the same way. Notably, the insulation material type made very little difference, whether it was 'combustible' or 'non-combustible'.
When asked what does make a difference, Weghorst said it was the behaviour of the cladding panel in the context of the whole system. 'How does the system, as it is, perform in a fire?' he queried, maintaining that this can be ascertained only through system testing, not product classifications.
His view was echoed by Russell Clinton, chartered fire safety engineer and director of Tenos, who defended test BS 8414 Fire performance of external cladding systems.
'Polymers are combustible and cannot be treated to achieve limited combustibility,' he said, continuing, 'Combustible external wall and cladding systems tested to BS 8414 can be safe as long as they are specified, installed and maintained correctly.'
Even a fire on highly flammable expanded polystyrene could be kept under control with the addition of mineral fibre cavity barriers to absorb the molten material and prevent fire-spread.
A couple of thousand' high rise towers would fail inspection under ADB of the Building Regulations
Clinton was surely right when he said: 'Industry is faced with a stark choice: there will need to be complete step change in how things are done or there will be an outright ban on combustible materials, wood included, which would not be proportional.'
The question is how will we know when it's right?
And while 'a culture of change' is being effected, how many potential Grenfells still stand? Andrew Mellor, partner at PRP Architects, has been involved in many cladding investigations. He thought 'a couple of thousand' high rise towers would fail inspection under ADB and other risky details such as 'high-pressure laminate boards and render systems.'
That's more than four times the government's estimate of 470 of those clad using ACM systems.
Complacency
Dr Debbie Smith, director BRE Global, pointed out that there has been practically no government funding into research of new materials and methods over the past 15 years, alongside complacency over guidance. 'Innovation needs to be underpinned by research' she said.
Perhaps complexity itself is to blame for the confusion, suggested Smith. One way of managing the complexity of today's buildings is through the use of BIM – as the Hackitt Report pointed out – and Smith lamented its irregular use.
Mellor agreed. 'We recognise that the contractor is the barrier to implementation of BIM. Not many of them use it… It stops at the design stage and can't be taken forward'.
If there was one major agreement from the many distinguished experts, it was this: that just considering the fire performance of the cladding and insulation used in a project is essentially meaningless. It is the system that must be tested or modelled, which includes elements such as vapour barriers, the amount of glue used and cavity barriers.
It is clear that there is an appetite for change, a desire to do things better. Perhaps it's time to stop passing the buck, and to work towards making Hackitt's model happen. As Dame Judith herself said 'An outcomes-based framework requires people who are part of the system to be competent, to think for themselves rather than blindly following guidance, and to understand their responsibilities to deliver and maintain safety and integrity throughout the life cycle of a building.'