As safety climbs back up the political agenda, the issues – and some solutions – were discussed at a RIBAJ/Hilti conference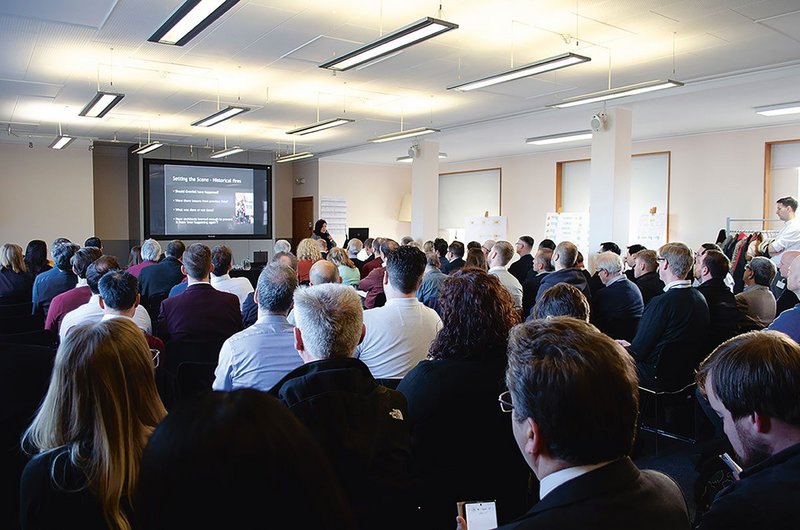 Jane Duncan opened proceedings with her presentation 'The role of the architect after Grenfell.

Credit: Charlotte Collins
Safety in buildings has been put firmly back on the policy agenda. In last October's Queen's Speech, the government confirmed it would implement the recommendations of Dame Judith Hackitt's review with the introduction of a building safety bill for England. The background briefing note issued by the prime minister's office alongside the Queen's Speech made clear its objectives. These include 'providing clearer accountability for, and stronger duties on, those responsible for the safety of high-rise buildings throughout the building's design, construction and occupation, with clear competence requirements to maintain high standards'.
The RIBA and its expert advisory group have been working towards these objectives through measures such as the planned fire safety overlay to the RIBA Plan of Work, and improved fire safety training for both practising and student architects.Past RIBA president Jane Duncan, director of her own practice and chair of the RIBA fire safety expert advisory group, has urged architects to take on the principal designer role. Speaking at the conference 'Raising the bar in passive fire protection: The evolving role of architects post-Grenfell' late last year, which was hosted by RIBA Journal in association with Hilti, she said: 'If architects are acting as lead designers, then we need to step up.'
Working with layers
Such occurrences have put the spotlight on the fundamentals of design and installation of passive fire protection, particularly when using offsite construction systems. Manufacturer Hilti has worked with timber system manufacturers and Marriott's Moxy hotel brand to improve protection for cross laminated timber (CLT) construction. 'Timber is a very predictable material in fire, but the layers in CLT can give variation in the amount of timber lost in a fire, the char rate,' says Alastair Brockett, firestop engineer with Hilti. 'Generally, research has shown that the multi-layer systems, with their thinner layers, have greater average char rates. The number of layers may make a difference to the char rate of 0.6mm per minute or 0.7mm per minute, which doesn't sound much, but that becomes important over the duration of a fire.'
Intumescent sealants are conventionally used to fill services openings in timber systems to prevent spread of smoke and fire, but Hilti came up with a solution that is as pre-fabricated as the timber system itself, as Brockett explains. 'It seemed crazy to bring in wet materials for a dry construction method, so this is a dry-fit firestopping using intumescent blocks, which doesn't depend on adhesive or installer skill and can be checked visually to ensure it has been correctly fitted.
Passive protection
Until recently, firestopping has typically been something of an afterthought during design and construction. 'When it comes to buying and specifying fire safety products, we're not experts. We need to skill procurement,' Niall Rowan, chief executive officer of the Association for Specialist Fire Protection (ASFP), told the audience. Hilti's Brockett meanwhile says passive fire protection is receiving greater attention. 'Architects coming to our CPD seminars tell us that their university training didn't cover firestopping but now, particularly in the light of Grenfell, there is a focus on fire protection. For me, firestopping is a basic minimum requirement for all buildings.'

With insurers also putting a greater focus on fire safety, as noted by one of the conference attendees, there is added impetus to act now. As Richard Hull, conference chair and professor of chemistry and fire science at the School of Physical Sciences and Computing, University of Central Lancashire, stressed, 'While we are waiting for the Ministry of Housing, Communities and Local Government's actions to come into force, architects can show solidarity and say we can do better.'