The home of pioneering sustainability engineer Max Fordham has been certified as a net zero carbon first for the UK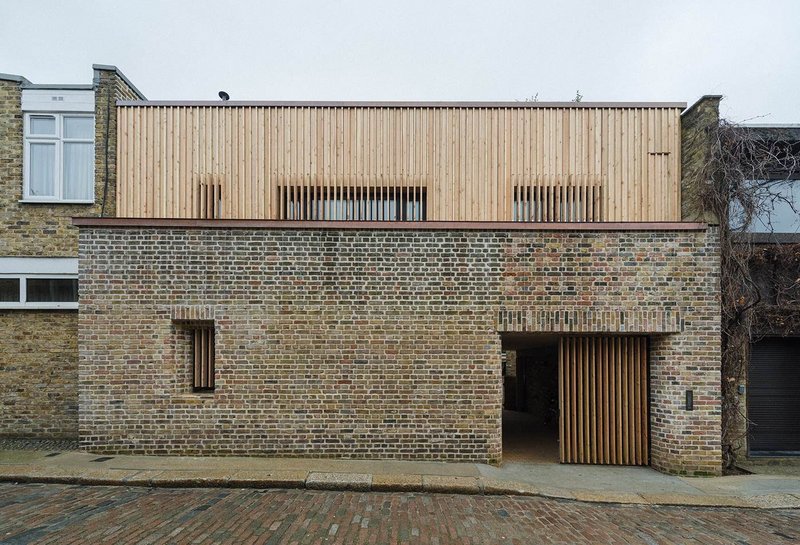 Max Fordham's home in Camden is the first in the UK to be verified as net zero carbon across the full building lifecycle.

Credit: Tim Crocker
The late Max Fordham's home in London has become the first in the UK to be verified as net zero carbon across the full building lifecycle, although embodied carbon proved a challenge that had to be countered through offsets.
Designed by Fordham's engineering consultancy in collaboration with bere:architects, the RIBA award-winning house in Camden was certified in line with the UK Green Building Council's Net Zero Carbon Buildings Framework.
The assessment, by third party auditor Circular Ecology, covers operational verification, based on one year's in-use energy data, and construction verification, based on analysis of embodied carbon emissions associated with building materials.
The achievement provides an important benchmark for other newbuilds, said Hareth Pochee, senior engineer at Max Fordham and author of the net zero carbon report on the home: 'It shows it is possible for newbuild projects to reach very high standards: very low energy consumption, 100% renewable supply energy and limited embodied carbon. Currently these types of projects are being carried out by a few pioneers. What is needed is for all newbuild projects to be of similar standards. Not in 2050, but very soon, within five years.'
The home was optimised to use as little energy in operation as possible. The certified Passivhaus design incorporates high levels of insulation and draught proofing with triple-glazed windows positioned to eliminate the need for electric lighting during the day and featuring insulating shutters that prevent heat loss at night.
No fossil fuels are used to power any aspect of the building. Hot water is generated using a two-stage high temperature air source heat pump heating an internal hot water cylinder. Space heating is provided via a small in-duct electric heater and the building is cooled passively.
A 22m2 roof-mounted PV array provides around 25% energy demand, with the remaining electricity supplied by a 100% renewable energy tariff, which is recognised by the UKGBC as a High-Quality Green Tariff.
As a result, energy consumption, measured between January 2020 and January 2021, was 48kWh/m2/yr, 20% lower than the limit required to achieve net zero carbon status.
Efforts to cut embodied carbon include the re-use of existing structures, although the home is predominantly newbuild, and the use of concrete piles, ground beams, floor slabs and columns incorporating 50% GGBS. Timber was used for the roof structure, window frames and facade, alongside woodfibre internal insulation and cork flooring.
Total construction carbon emissions, calculated based on a whole life carbon assessment, were 102 tCO₂e. That works out at 609kgCO₂e/m², below LETI's project-specific net zero carbon compatible target of 640kgCO₂e/m² for residential buildings designed in 2016 (when this project was designed).
Carbon offsetting credits had to be purchased to counter these emissions at a cost of £70/tonne of carbon, a rate more expensive than the market rate, but recommended by the UKGBC. One reason for this is to help accelerate the funding of schemes aligned with zero carbon and encourage building owners to invest in cutting carbon emissions before offsetting.
The need to pay for offsets goes to show 'how much of a big deal embodied carbon is', said Pochee, adding that many other projects of the same size 'would have had significantly higher emissions'.
According to Pochee, construction emissions could have been reduced if the project had used a simpler type of single stage heat pump (not available at the time of design) or used a lightweight timber construction rather than concrete to 'significantly lower embodied carbon in the super structure and foundations'. However, this would have required the addition of an active cooling system to prevent the building from overheating in the summer.
'It should be remembered that this project was designed in 2016 and completed in early 2019,' said Pochee. 'The climate emergency was not recognised/declared by most organisations and councils until mid-2019. Materials, approaches, technologies and expert knowledge has moved on significantly, particularly in the last 18 months.'
Simultaneous to this announcement, all Max Fordham offices were verified as net zero carbon for operational energy in line with the UKGBC framework, another first for the UK.