After a successful preview at Clerkenwell Design Week of its Anima Select and Fabula ranges, Ceramiche Caesar invites entries for the Cross Design Contest 2017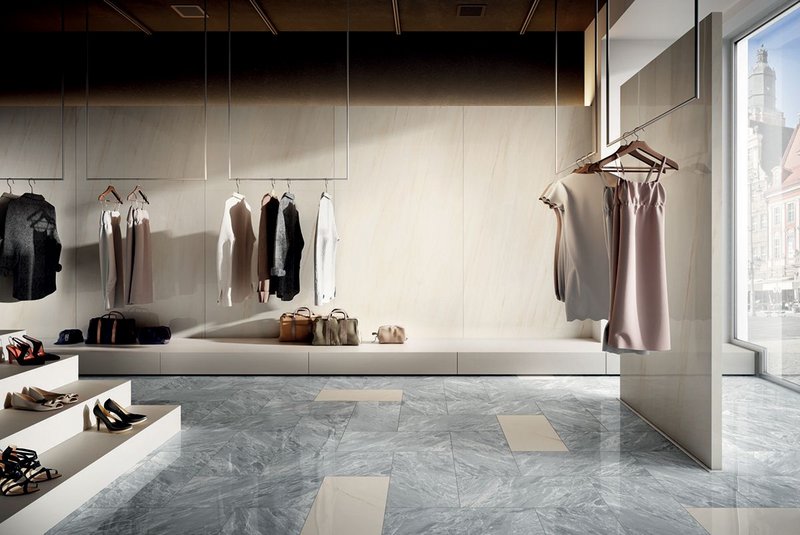 Boutique with Anima Select Bianco Alpino walls and Anima Select Grigio Boreale and Bianco Alpino floor
Italian stoneware manufacturer Ceramiche Caesar recently presented the European preview of two brand new porcelain stoneware collections at Clerkenwell Design Week.
The natural, visual and tactile appeal of marble and the intense flavour of natural wood are explored in the Anima Select and Fabula tile ranges which blend technological performance with aesthetic functionality.
The Anima Select collection of marble-effect ceramic slabs has a range of sizes and colours which creates beautiful, nature-inspired interiors. The large size tiles create prestigious commercial and residential environments in which the product is enhanced and its beauty amplified. The Bianco Arabesco option is also offered with an elegant bookmatching pattern.
The Fabula collection of wood-effect porcelain tiles faithfully reporduces five different types of precious wood, and is ideal for instilling warmth and natural elegance to the most diverse architectural contexts.
The preview formed part of an international product research and development project for Ceramiche Caesar, who has launched the Cross Design Contest 2017 for architects, interior designers and students, providing materials and trend setting research for the realisation of an architectural project that will be exhibited in the new Caesar Gallery in Italy.
Entries for the Cross Design Contest close on 15 July.
For more information and technical support visit www.caesar.it and contest.caesar.it
Contact:
020 7836 4662
---