Acoustic separation was key to the floor design at Brixton House, which combines two theatres with studios and creative spaces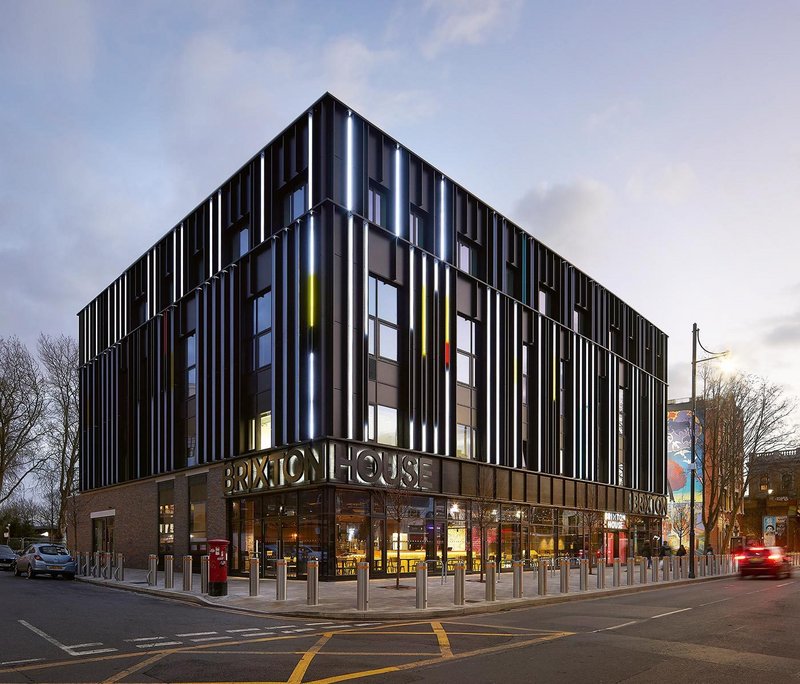 Brixton House combines a new home for Ovalhouse Theatre with studios and two storeys of office space.

Credit: Hufton + Crow
To say there is a new theatre in Brixton, south London, is perhaps to underplay its qualities. Brixton House, a substantial new building designed by Foster Wilson Size, is rather more: a collection of two performing spaces, seven studios, two floors of creative workspace, an extensive public foyer and a whole basement level of affordable recording studios – the latter still to come.
This means that when it came to designing the floors, it was essential to ensure acoustic separation between this large number of studio spaces.
The theatre is also a very important civic building for Brixton, particularly given the prospect on a nearby site of Adjaye Associates' high-rise office tower, a highly controversial proposal that many locals fear could fuel a new wave of gentrification if it is given the go-ahead by London mayor Sadiq Khan.
Brixton House promises to be a different kettle of fish altogether. It is the £18 million new home of the long-established Ovalhouse Theatre, which has relocated down the road from Kennington with the help of co-client Lambeth Council. Located on Coldharbour Lane, the new development is not far from the location of a Frank Matcham-designed theatre which was bombed in the Second World War. With the closure of another theatrical venue a few decades later, Brixton has long been without its own theatre.
The new 4,850m2 corner building has an assertive presence on the busy street, as perhaps it needs to have in response to the challenging context.
The former surface car park site is close to overground railway lines and London Underground tunnels and is also opposite the powerful barrier block of the Somerleyton Road estate – built in anticipation of a motorway that never came – and is part of an ongoing adjacent major housing development. Another consideration was the neighbouring Carlton Mansions, a rundown building and local landmark due to the Nuclear Dawn mural (1981) on its flanking wall.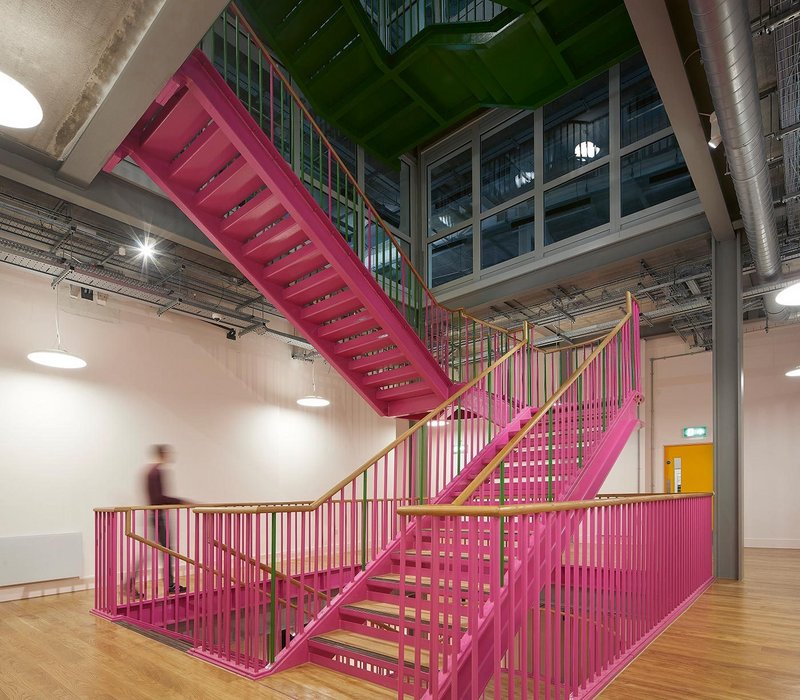 The staircase is teamed with oak flooring in the upper circulation levels. It transitions to green on the two office floors.

Credit: Hufton + Crow
Foster Wilson Size opted for a steel-framed building with a robust facade of lightweight anodised aluminium above ground floor level, modulated by vertical black fins that hide programmable LEDs to give a variety of lighting effects. The choice of a moody dark metal cladding followed extensive research around London.
'We wanted a material presence with a bit of weight about it and a sense of atmosphere,' says Foster Wilson Size partner Edmund Wilson, adding that it felt appropriate that a public building should be 'a genuine contrast' to the light brick of nearby buildings.
Brixton House joins up with Carlton Mansions at the rear while pulling away from it on Coldharbour Lane to create a public space in front of the restored mural. That building has also been refurbished – by Zac Monro Architects – and incorporated into the Brixton House project, with the new venue managing the revamped workspace.
The architects wanted the building to feel approachable, somewhere that the local community would feel they could spend time in even if they didn't see a performance. This led to the inclusion of full-height glazing on the ground floor.
'The idea is to have as few barriers as possible between street and theatre. So it's as if it's just a piece of street enclosed by glass,' says Wilson.
And thanks to the glazing, there's certainly no missing the bright pink cantilevered staircase rising up from the foyer. The love-it-or-hate-it pop of colour also draws attention to a second mural, designed by Damilola Odusote. The distinctive touch of pink contrasts with the no-nonsense industrial warehouse aesthetic, which deliberately avoids hard-to-maintain finishes. The hope it to create a lively, creative atmosphere that is none too precious – this is after all a working building that needs to be able to stand up to hard use.
The decision to specify a poured concrete screed on the floor follows on from this idea of the foyer as a continuation of the street. 'We wanted it to be as grounded, accessible and open as possible,' says Wilson. Rather than polished, this power float mix from Tarmac was trowelled smooth on top and treated with a Lithofin stain stop sealant. Beneath, in between the screed and the floor slab, is a 100mm-thick continuous resilient layer of Regupol E48 acoustic insulation to stop sound travelling to the basement recording studios. The concrete floor is teamed with a wide, copper-topped foyer bar with oak timber slats.
Acoustics were a key consideration throughout. Not only was it essential to ensure acoustic separation between these, but from both the inside of the building out, and from the outside in.
'One of the key challenges of the project,' says Wilson, 'is to ensure adequate sound separation between a large number of studio spaces that sit in close proximity to one another, in which loud performances and rehearsals can be taking place at the same time.'
The two main performing spaces (120 and 220 capacity) are both on the ground floor, and are designed with the flexibility for different seating and performance layouts – they can even be merged for promenade performances. Four high-volume (4.5m-high) studio spaces radiate out from the central staircase on the second floor, followed by two floors of workspace for creative industries above. Three further studios of single height are on the ground and first floor.
Foster Wilson Size worked with Gillieron Scott Acoustic Design to get the sound separation between all these spaces right, with each room modelled acoustically in the consultant's ambisonics studio. The key to this was treating each of the rehearsal and performing theatres as individual acoustic boxes supported off the floor structure. Acoustically insulating the curtain wall was a particular challenge.
'All studios are acoustically isolated boxes with sprung suspended ceilings and sprung floors,' says Gillieron Scott director Lucie Zalberg.
The flooring played an important role in achieving acoustic isolation from 75db in adjacent spaces. So what kind of boards will these performers be treading? Both theatres have particle cement board floating floors from Christie & Grey, with a build-up of Studflex rubber pad 53mm/18mm plywood/24mm cement particleboard. These are topped by 6mm of hardboard.
The three smaller studios have the same build-up but with different finishes: Studio 1 has oak boards while 2 and 3 use Harlequin Studio floor vinyl, a hard-wearing surface favoured for dance and rehearsals. This is also used in the double-height studios of 4, 5 and 7, but with a floating floor of 50mm box section and 2x 14mm packers/24mm cement particleboard.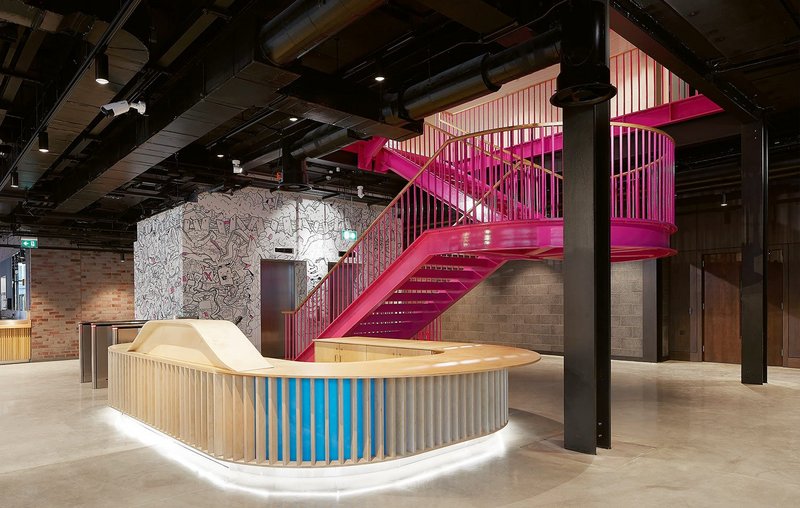 A bright pink staircase contrasts with the warehouse aesthetic of the ground-floor foyer.

Credit: Hufton + Crow
A different flooring solution was required for Studio 6, whose location directly over Theatre 2 required very high sound separation requirements. It has an acoustic floating floor system with a 100mm-thick, in-situ concrete slab supplied by Farrat Isolevel. The build up, which also includes CineFLOOR PRO Isolator and a polythene membrane, has a 28mm Boen Boflex Stadium birch finish.
The building's other main type of floor covering is European rustic solid oak from Havwoods, specified in 130mm-wide planks with an Osmo Polyx-Oil finish. This is used on the staircase and surrounding circulation space above the ground floor. Solid oak was specified for its appropriateness to a public building and, says Wilson, because 'it could take a battering'.
For both architect and client, the new theatre has been something of a labour of love, dating back to 2012 when Ovalhouse first started exploring options for modernisation. The result is that Brixton, finally, has a theatre again – but of a very different character to the Matcham venue of the past. Rather than seeking to compete with West End venues, Brixton House aspires to be the best and most accessible studio theatre in London and, above all, a place where locals will feel at home. And with the prospect of the Adjaye tower ever looming, that will be more important than ever.'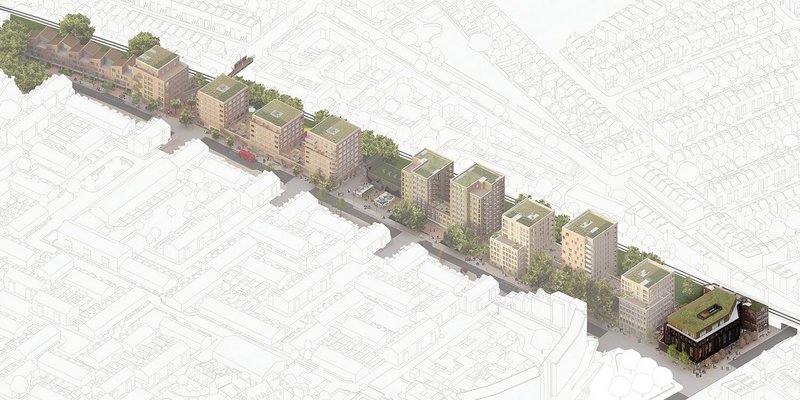 Formerly a car park, the venue is part of the Somerleyton Road Development Project, which includes 300 new homes.

Credit: Metropolitan Workshop
Credits
Architect Foster Wilson Size
Structural engineer Conisbee
Service engineer Peter Brett Associates
Quantity surveyor Currie & Brown
Landscape consultant Hyland Edgar Driver
Acoustic consultant Gillieron Scott Acoustic Design
Theatre design consultant Charcoal Blue
Graphics and branding D237
Main contractor Galliford Try


Suppliers
Sprung sports floor Boen
Floating floors Christie & Grey
Acoustic floating floor Farrat Isolevel
Vinyl flooring Harlequin Floors
Oak flooring Havwoods
Stain protection Lithofin
Acoustic insulation Regupol
Power float concrete Tarmac