Polo Farm Sports Club installed Gerflor Taraflex Sport M Performance flooring two years ago and is delighted with the result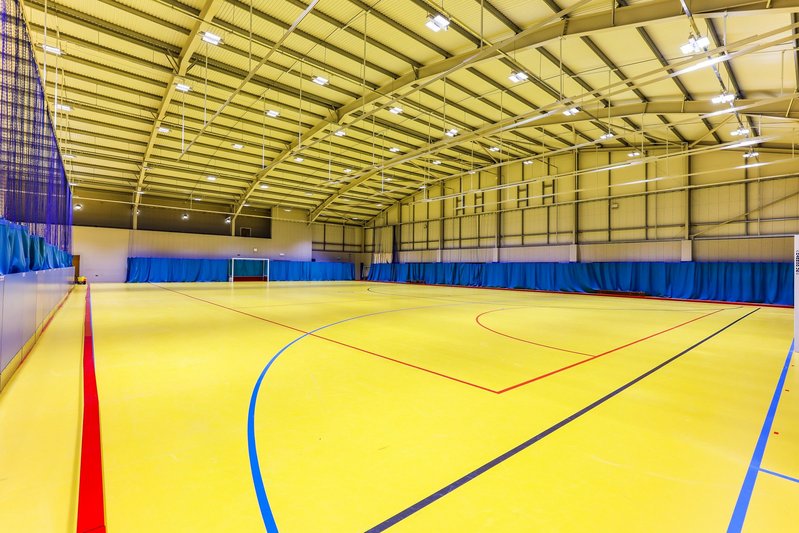 Gerflor Taraflex flooring at Polo Farm Sports Club in Canterbury.
International flooring specialist Gerflor has installed Taraflex Sport M Performance flooring at Polo Farm, a private sports club in Canterbury, Kent.
The centre was developed in 1977 on the site of an overgrown orchard, igniting a sporting dream which now welcomes nearly 2000 members. Today, Polo Farm's facilities have expanded to become a premier sporting venue that regularly hosts sports teams from local schools to regional and university clubs in hockey, tennis, cricket and croquet.
In 2015 the club embarked on an ambitious programme to build a new multi-sport indoor centre. A sports surface that could provide world class performance, versatility as well as bright colours, wood effects and be future-proof was top of Polo Farm's agenda. With measurements of 50m by 40m, the new surface had to be able to accommodate both indoor hockey and cricket to professional sports standards.
Jayne Scott-Kilvert, manager at Polo Farm Sports Club commented: 'The Taraflex Sport M Performance floor has now been down for more than years and we are extremely pleased with it. It runs very true for hockey, enabling a high calibre of matches to be played. Our cricketers have been amazed with the surface with both England and Kent players commenting on the perfect bounce. Not having to put down mats is a huge bonus for them.'
Taraflex vinyl sports flooring has been used in many international and local sporting events, and is available in 17 colours and three wood-effect designs. The Sport M Performance product offers a P2 category shock absorbency 35% to 45%. It is recognised for providing durability, safety and comfort without impairing performance.