Biogel, a new type of tiling adhesive from Kerakoll, bonds the impossible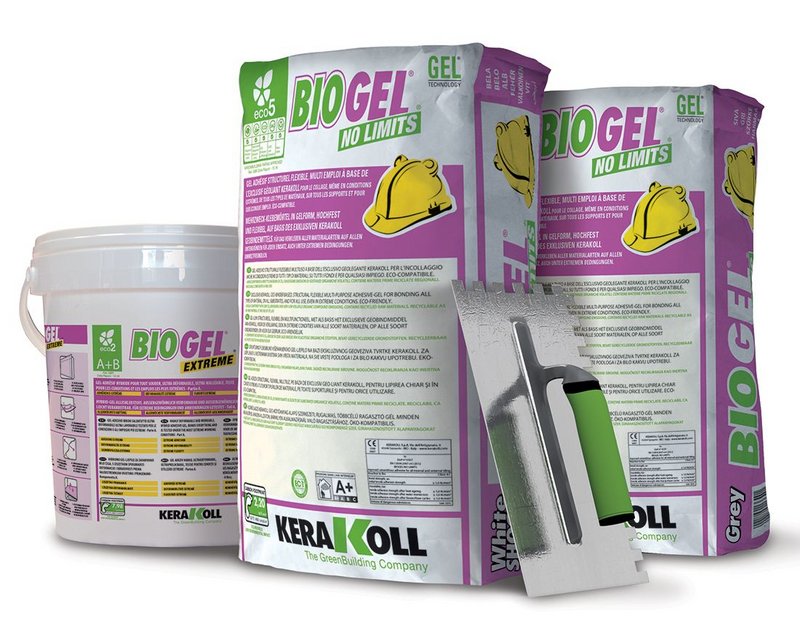 Kerakoll has launched a new type of tiling adhesive as part of its comprehensive range of high performance flooring adhesives for wood, vinyl and ceramic, all of which have been developed to be as friendly to the environment and human health as possible.
The new gel adhesives put an end to all of the different formulations for different substrates and tile types that exist: with Biogel adhesives there are only two choices that have to be made – powder-form Biogel No Limits or reactive resin Biogel Extreme. Both of these are suitable for internal and external use on any substrate, even deformable ones.
Biogel No Limits has many advantages: the adhesive doesn't thicken even after a long period in the bucket. The mix doesn't shrink, so you can make it the right consistency for the job and it's smoother and easier to work with. The consistency means that it wets the entire tile as well as the substrate, giving an excellent bond and superior performance. It is high-grab and no slip even on walls. The icing on the cake is that the exclusive Geo-binder used has a low environmental impact, giving Biogel No Limits a GreenBuilding Rating of 5. BioGel No Limits is available in grey or White Shock: a white so pure it makes other white adhesives look grey beside it.
Biogel Extreme contains a new natural resin giving it a high shear strength which means it can be used on the most deformable substrates.
For more information and technical support visit: www.kerakoll.co.uk
Contact:
01527 578000
---