Lazenby decorative diamond polished concrete floor completes redesign for Jamie's Italian in Covent Garden by Martin Brudnizki Design Studio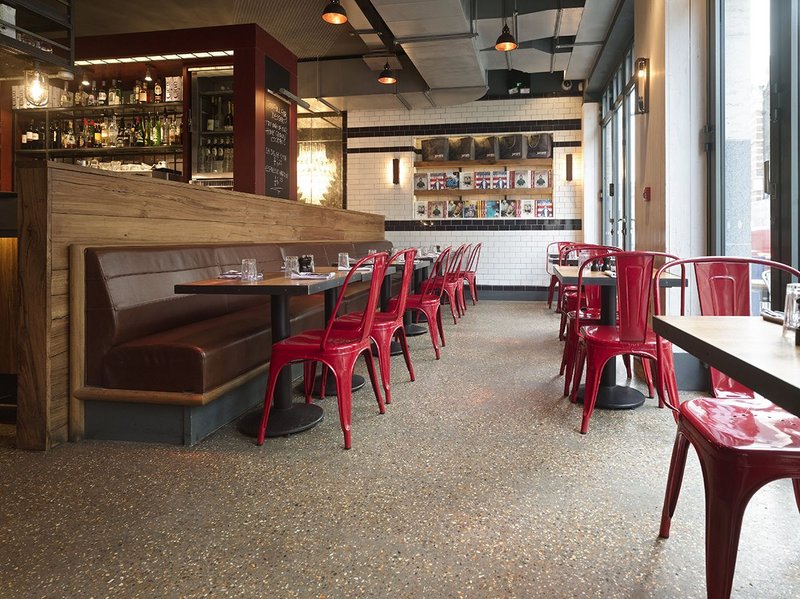 Diamond polished concrete in Jamie's Italian in Covent Garden, London.

Credit: Jeremy Phillips
Lazenby's diamond polished concrete floor is a transformative and exciting feature in this Martin Brudnizki Design Studio (MBDS) interior of Jamie's Italian in Covent Garden. Exposed aggregate is easy to specify; Lazenby's diamond polished concrete floor and diamond polished concrete tile NBS specifications are now available on RIBA's NBS-PLUS and RIBA Product Selector.
Interior designers MBDS specified Covent Garden's local 10mm buff gravel aggregate, with a satin polished finish. With exposed aggregate concrete, there are limitations to the look of the concrete based on the project's geographical location. All concrete it locally sourced which means that aggregate and sand plays a big part in the final colouring of the concrete. Installation is an organic process and it is not possible to control where the aggregate ends up. Some areas may have a high density of aggregate and others more sparse; creating even more variation within the floor. Lazenby is able to add colour to the concrete; however, it is only possible to make the concrete darker than its natural colour, not lighter.
Lazenby's durable, practical and cost-effective diamond polished concrete floors have light, medium or heavy diamond polishing options, to give matt (satin), medium shine and gloss finishes. The required exposed aggregate concrete finishes are achieved using planetary diamond grinders and single head machines incorporating metal bond and resin diamonds. Lazenby's standard is a medium exposure 1500 grit finish.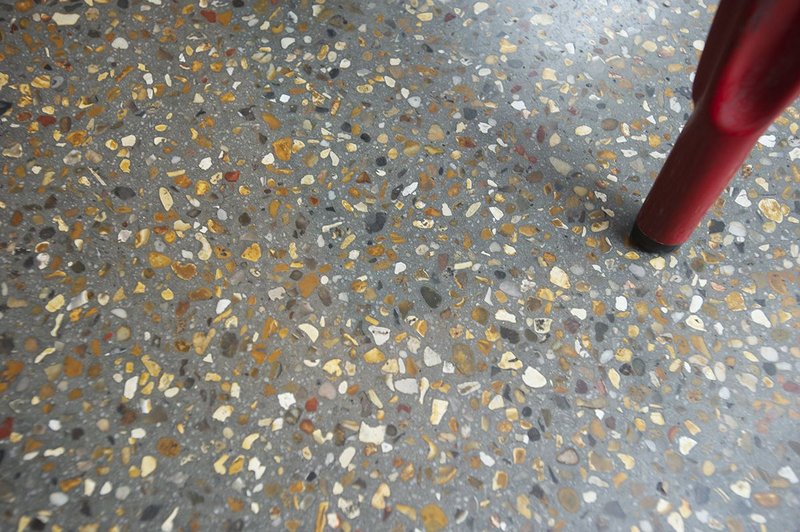 Light, medium or heavy diamond polishing gives matt (satin), medium shine or glossy finishes.

Credit: Jeremy Phillips
Jamie's Italian features 186m2 of Lazenby's diamond polished floor, retrofit onto an existing concrete slab, using unbonded C40 concrete screed to a depth of 100mm. The concrete mix was pumped over A252 reinforcing over the ground bearing concrete subbase. Crack inducement points were carefully planned, especially for the heavy-traffic anticipated in Jamie's Italian. The installation process involved an initial four days, with a return visit one week later to grind the floor. Once the floor was ground, to expose the required amount of aggregate, the floor surface was treated, diamond polished, and finally, a stain-stop coating applied.
Lazenby can create bespoke concrete floor samples once any order has been received, so that the desired finish is agreed and approved before installation. See how Lazenby's case study for Jamie's Italian Restaurant - with the help of MBDS, RIBA and Jamie's Italian food in this case - will inspire your own creativity.
For more information and technical support visit: www.lazenby.co.uk
Contact: 01935 700306
---