John Robertson Architects specifies Lazenby polished concrete for a feature stair at its Cannon Green office refurbishment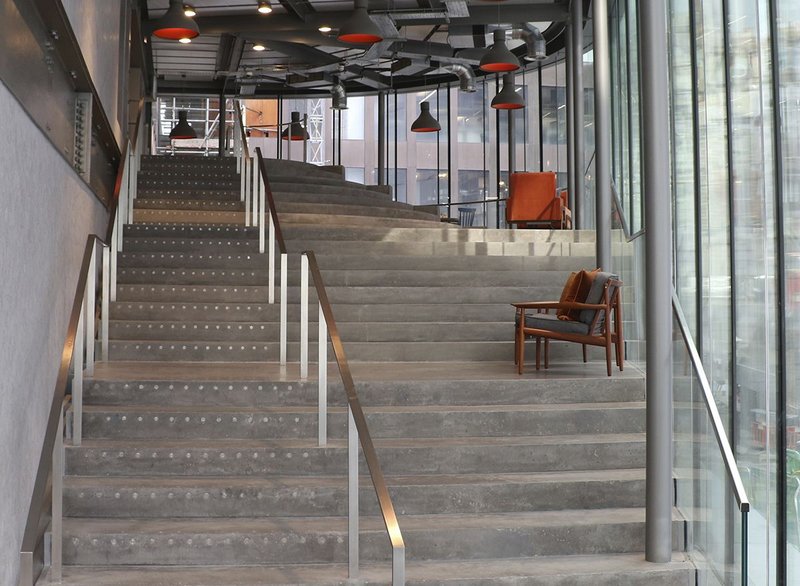 Credit: Seveer Media
Lazenby has been installed at a remodelled office building by John Robertson Architects (JRA) in the City of London. Named Cannon Green, the project incorporates a new entrance pavilion with a 4m-tall self-supporting feature amphitheatre staircase to create an inviting reception.
Self-supporting staircase in 12 weeks
The staircase, which has been specified on behalf of the client Ocubis, is 21m long, 7.5m wide at the top, was cast in-situ using Lazenby's Pewter polished concrete and installed by eight craftsmen. Design by JRA and structural engineering by Civic Engineers, incorporating BIM modelling due of the intricacies of the reinforcement design. This self-supporting staircase is tied into the structure with a steel stringer to convert the loads and moments down through the steel columns.
Traditional formwork, RC and DDA studs
Lazenby installed traditional formwork to create the stepped soffit that leads up to the inverted amphitheatre steps. Lazenby then installed a false work system enabling the formworkers to create the radius former inverted amphitheatre undercarriage that is visible from the restaurant. Reinforcement was then added to the soffit and steps; carpenters added the formers and attached nearly 700 DDA studs to the formwork prior to the casting of concrete.
RC detail
A C32/40 concrete was supplied by London Concrete to form the Lazenby Polished Concrete staircase. The project used approximately 24m3 of concrete and 6 tonnes of steel reinforcement. Ground floor to the top landing features 24 shallow risers and three functional landings. The first 3m wide step widens to a 7.5m inverted amphitheatre style landing featuring single and double height steps.