Lazenby's pre-cast concrete tiles provide a flexible solution for prestige offices in Victoria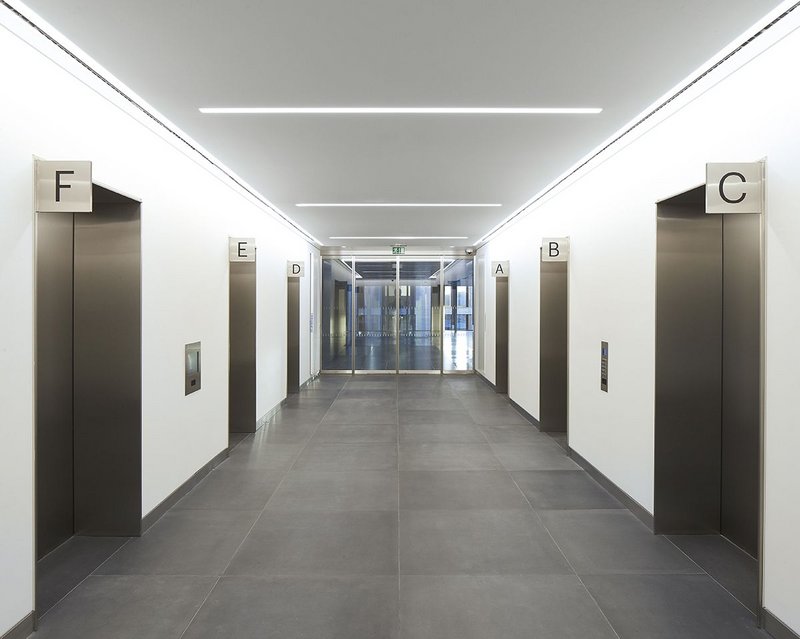 Credit: Hufton+Crow
Lazenby's Ebony pre-cast concrete floor tiles, in 26 different sizes, were specified for the Zig Zag Building in Victoria, London. This masterpiece by Lynch Architects features Lazenby's bespoke tiles in sizes from 400-1047mm by 531-1124mm; 30mm deep for the entrance and lift lobbies and 24mm deep for the threshold and lift car tiles.
The lift car tiles were professionally laid onto a honeycomb backing material. At 24mm, these tiles were deliberately cast thinner to reduce weight while maintaining their core strength. Over 1000m2 of concrete tiles, each weighing approximately 90kg, were laid over an existing concrete slab for the floor. A matching coloured mastic grout completed the finished floor and lift cars.
Lazenby's Ebony pre-cast concrete colour is achieved by thoroughly mixing it into the wet concrete. The 26 mould sizes were made with a combination of timber, melamine ply and rubber. The concrete stayed in the mould for 24 hours before the tiles were turned out and checked for colour consistency, flatness and depth. Tiles were then set aside to cure for 28 days.
Manufacturing 1089 individually handmade pre-cast concrete tiles (plus spares) took 55 days to pre-cast and seal and were dispatched in batches over a three-month period. Deliveries were staggered to allow for installation on site by the main contractor. Off-site storage was set up and carefully managed. Complex challenges and opportunities like the Zig Zag Building require robust systems, process and version control of paperwork. Lazenby's Yeovil manufacturing centre ensured that precise quantities, in the 26 different sizes, were made to the company's exacting standards.
For more information and technical support visit: www.lazenby.co.uk
Contact
01935 700306
---