Polyflor's Expona Bevel Line features new contemporary wood and stone effects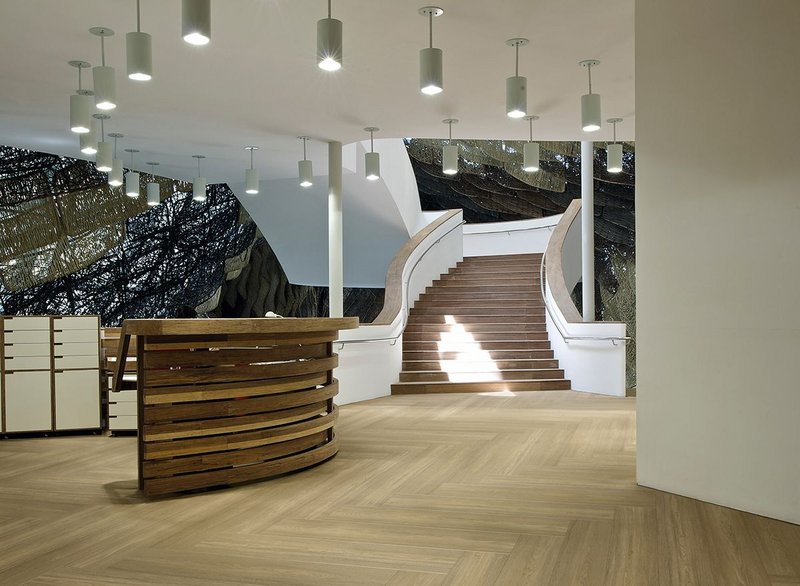 Expona Bevel Line luxury vinyl tiles in English Brushed Oak.
The latest addition to Polyflor's renowned Expona family of high design and high performance commercial luxury vinyl tile products is the updated Bevel Line collection, now rebranded as Expona Bevel Line and featuring new contemporary wood and stone effect designs.
The Expona Bevel Line PUR range includes a total of 27 designs which incorporate the latest architectural trends and are ideal for heavy footfall commercial interiors.
Key design features such as colour variation, pattern formations and complementary surface textures help Expona Bevel Line beautifully replicate natural flooring materials and achieve a high specification finish. Designs in the wood collection feature intricate details and unique characteristics that you would expect to see in real timber flooring, including on-trend grey toned woods and rustic elements which are becoming more popular for commercial interior projects. Both slim plank and wide format designs are available, and Polyflor has added Enriched Variety Oak and Boardwalk Variety Oak to the collection, which include a mixture of different sized planks within each box to create the look of a recycled wood floor.
Sophisticated marble effects and weathered stone designs have also been added to the collection, with square and oblong tiles as well as long, slim plank styles on offer.
The Expona Bevel Line collection has a 2.5mm gauge, 0.55mm wear layer and features a bevel around the edge of each plank and tile for extra definition when laid. Expona Bevel Line LVT can also be used with a variety of inlay strips for further creative layout possibilities. These luxury vinyl tiles are enhanced with Polyflor PUR, Polyflor's exclusive and robust polyurethane reinforcement which is cross linked and UV cured to provide superior cleaning benefits and a cost effective maintenance regime.
For more information and technical support visit www.polyflor.com
Contact
0161 767 1111