Focus, the legendary French fireplace company, expands in the UK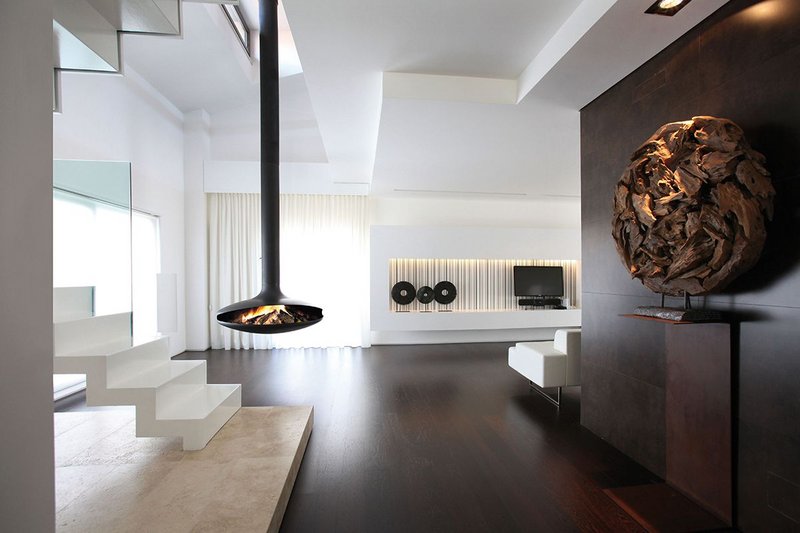 The Gyrofocus, a suspended, rotating fireplace was voted 'World's most beautiful object' in Italy's 2009 Pulchra design competition
With a reputation for designing and manufacturing state-of-the-art fireplaces, Focus, a household name in France, is now establishing itself in the UK. Focus is known as much for its engineering as its innovative styles and distinctive shapes. The revolutionary Gyrofocus was the first suspended 360º pivoting fireplace designed by Focus's founder Dominique Imbert and remains the best selling model to this day.
From built-in, wall-mounted and wall-glazed to suspended and sculptural options, Focus has featured in some of the world's most prestigious museums including the Guggenheim, New York and the Museum of Modern Art, Stockholm, as well as in projects by Chris Dyson Architects, Foster & Partners, Snøhetta, and Theis & Khan. Finally these award-winning architectural fires and chimneys are readily available in the UK.
Many of the leading models have been adapted for outdoor use such as the pivoting, suspended Ergofocus and the Emifocus, with an anti-corrosion coating and a resistant black paint or hematite rust that develops a beautiful patina over time.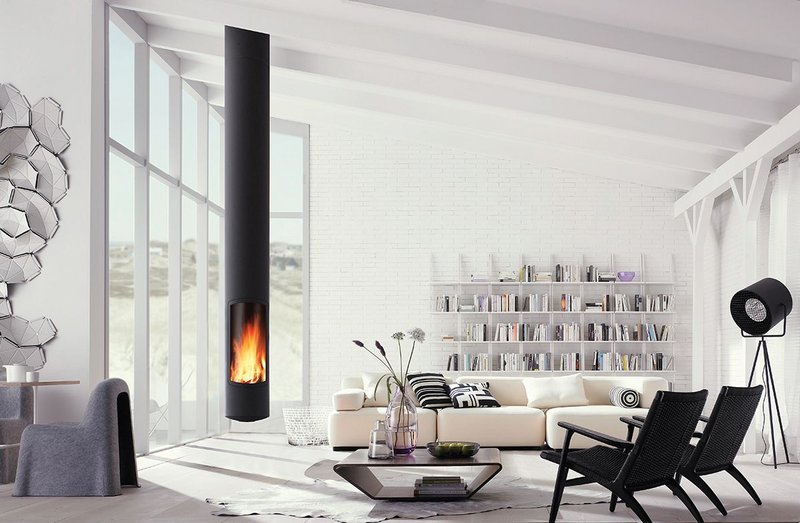 The Slimfocus, a suspended, fixed or pivoting fireplace
Focus was founded in 1967 by self-taught sculptor-designer Dominique Imbert. Even now, with a team of more than one hundred people plus a new R&D department, Focus still takes an intuitive approach to design. The fireplaces combine function and form, resulting in a range of 65 designs suitable for interior and exterior projects.'For me, design is the expression of tension between poetry and utility, between art and functionality, between emotion and rationality,' says Imbert.
With over 50% of its products sold overseas to markets including Japan, Australia, Russia, the Americas, Western and Eastern Europe, Imbert felt the time was right for Focus to be fully represented in Britain. 'We have increased our offering from one supplier in the South West to seven across the country due to a growing demand, and are expanding further with representation all over the territory including in London showrooms in the coming months,' he adds.
Focus models are all made in France, with the option of open and closed, wood-burning or gas versions. Most of the fireplaces are highly energy-efficient and all have undergone extensive testing in European laboratories. The gas fires are equipped with a remote control and are easily adjustable, while the wood fires with a thermal efficiency of 70% or more are an excellent way to use renewable energies. Focus also offers an augmented reality app, so that clients can visualise a Focus fireplace in their own home.