Focus fires now has numerous awards and a DEFRA approval under its belt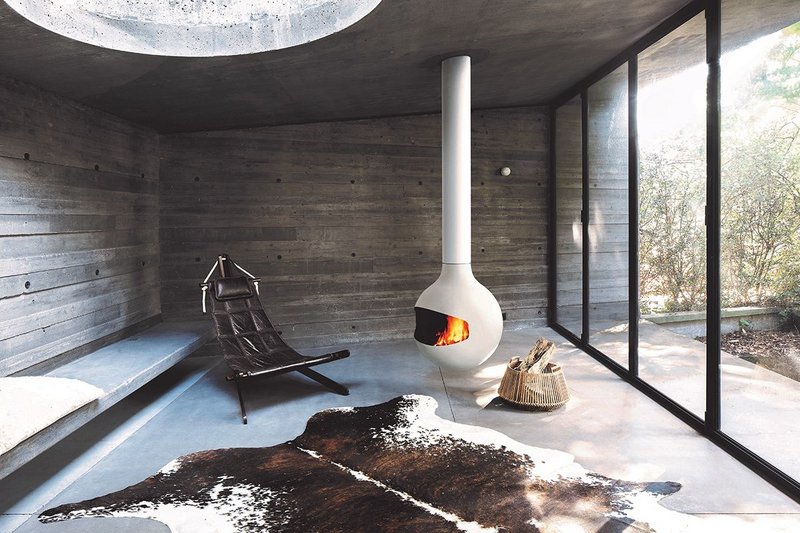 Focus has launched a new range of white fires.
Now with an established foothold in the UK, Focus, the legendary French fireplace company has launched a new range of iconic white metal fires and chimneys. Selecting four of its classic models from its extensive collection, Focus has transformed the award-winning Gyrofocus, Domofocus, Ergofocus and Bathyscafocus with a dramatic white satin finish. The light surface is an eye-catching feature, offering a delicate contrast against the roaring flames within, providing architects and designers with a fresh and exciting option for projects and interior schemes.
Founder and creative brains behind Focus, Dominique Imbert, explains how the white colour gives the model a totally different look, "The play of light and shadow that is reflected on the white surface brings lightness to the metal body and transforms it into a luminous sculpture whether the fire is on or off."
The satin white surface of the fireplace is easy to maintain and clients can choose from 360° pivoting or fixed, wood burning models for a sensational centrepiece in residential or commercial projects (both urban and rural).
Focus installed a bespoke Paxfocus chimney in a central London residential project designed by Chris Dyson Architects. The contemporary chimney has a 3.5m triple height flue which contrasts against the original brick wall, creating a monumental centrepiece. This Clerkenwell house was recently awarded a RIBA London Award.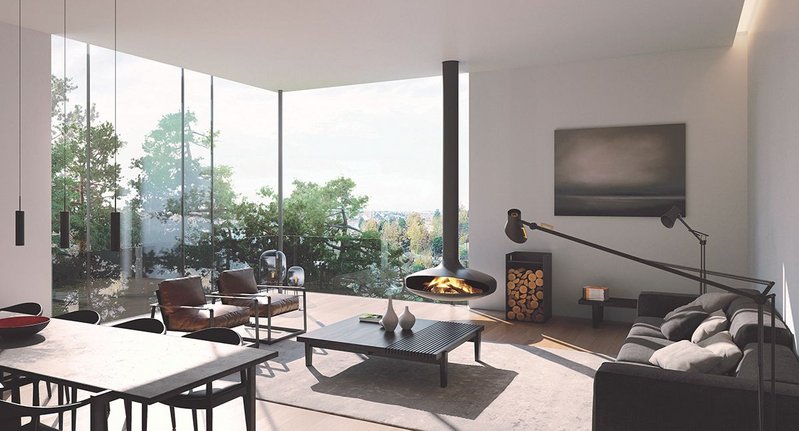 The company has three awards and a DEFRA approved design under its belt.
Suitable for low-energy buildings, the newest DEFRA approved Slimfocus is the first suspended wood burning fireplace with a sealed fire appliance which draws air for combustion through a balanced flue system. It also benefits from an open flue system which can be installed in traditional or rural homes. As with other Focus models Slimfocus can be suspended or standing, fixed or pivoted and gas or wood-burning. Revolutionary in its streamlined profile, the steel periscope of flames takes up little space, whether positioned centrally in a room, near a wall or in a corner, "the inspiration for Slimfocus came from the idea of beauty in the most minimalist of shapes," says Dominique Imbert, "how 'much' less can be so much more."
Having created the first suspended 360° pivoting fireplace in 1967, Focus's innovative creations continue to win awards. For example, the German Design Award 2017, SBID International Design Award 2016 and Ecogîte 2015, to name three recent accolades.
Focus was founded in 1967 by self-taught sculptor-designer Dominique Imbert and continues to take an intuitive approach to design. Combining function and form, Focus fireplaces are renowned for their exemplary design, manufacture and engineering. With a range of 65 designs suitable for interior and exterior projects, Focus fireplaces have featured in some of the world's most prestigious museums including the Guggenheim, New York and the Museum of Modern Art, Stockholm, as well as in a range of commercial, retail and residential projects by Foster & Partners, Snøhetta, and Theis & Khan.
Focus chimney and fireplace collections are readily available throughout the UK.
For further information and technical support visit:
Contact: 00 33 (0)4 67 55 01 93
---