A new Ecodesign Ready version helps protect the environment while retaining the panache of an iconic original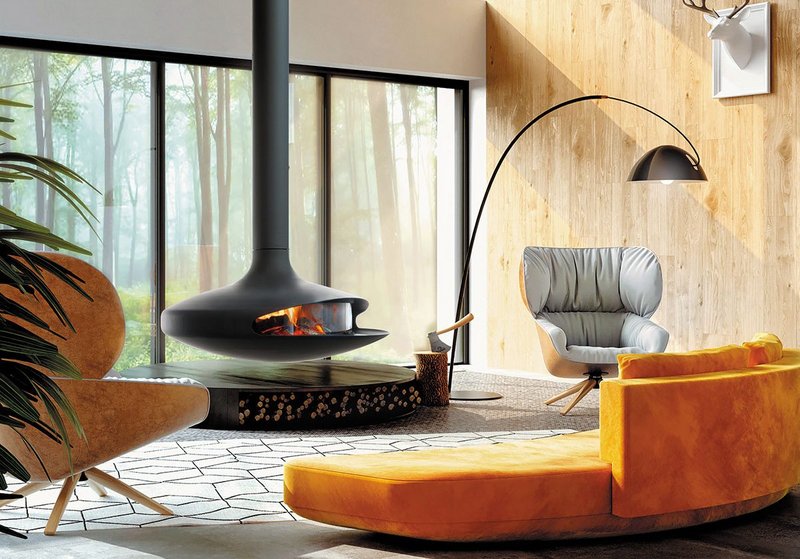 The legendary Gyrofocus fireplace from French manufacturer Focus is now available with an Ecodesign Ready closed hearth, making it fully compliant with regulations on woodburning appliances that come into force on 1 January 2022.
The new model has a discreet curved glass window that protects the environment without altering the original design.
The frameless sliding glass fits seamlessly into the hearth, providing all the advantages of a real fire with the added benefit of energy efficiency and without the risk of flying sparks.
The Glazed Gyrofocus is straightforward to use. Thanks to the regulation of the air supply at the base of the opening, it is easy to adjust the power of the fire and choose low or high intensity options. A key positioned on the duct helps conserve the fireplace's energy and maintains heat in the room.
Focus developed the Glazed Gyrofocus following more than 12 months of research and development, alongside extensive testing. A key concern was to retain the original design, including the fireplace's ability to pivot at 360°.
The company continually innovates in order to convert its designs to the latest and most advanced standards while respecting the aesthetics of its models.
Focus products have always complied to the highest environmental standards, including a four-star rating in Italian environmental regulations - some of the most demanding in the world.
The original Gyrofocus was created in 1968 and has become an international classic. It has been exhibited at the Guggenheim Museum in New York and, in 2009, was voted the world's most beautiful object in Italy's Pulchra design competition.
To find out more about the Glazed Gyrofocus, go to focus-fireplaces.com/glazed-gyrofocus
For more information and technical support, visit focus-fireplaces.com
Contact:
00 334 67 55 01 93
---