Thanks to innovative technological advances, the celebrated Focus brand can now offer architects impressive energy efficiency and functionality - as well as a classic silhouette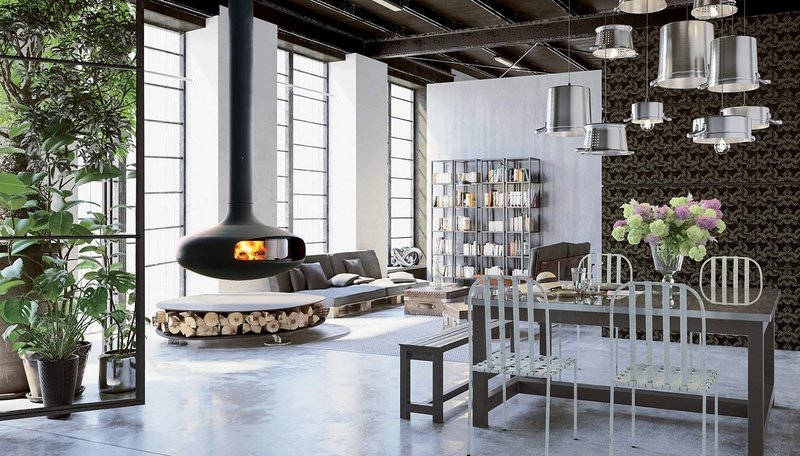 The Glazed Domofocus: Distinguished from the Gyrofocus by its more compact form.
French fireplace designer Focus has expanded its range of eco-efficient suspended, pivoting sculptural fireplaces that conform to the latest regulations.
The iconic Gyrofocus is now available in a glazed version in addition to the Domofocus and Ergofocus models. Alongside these glazed woodburners, Focus also has an extensive range of gas-powered and outdoor ranges.
Beyond design: energy performance
The glazed versions retain their 360° swivel action and have all the qualities of the original design without the risk of sparks flying, thanks to an ingenious frameless sliding glass window that fits seamlessly into the hearth.
This allows for a perfect view of the woodburning fire with its flickering flames with the added benefit of energy efficiency.
Beyond design: technology
Focus is the only company in the sector to constrain the combustion chamber of its fireplaces to the design. This was not easy given the organic shape of the models and an already difficult challenge became more complex with the decision to close the fireplaces to improve energy performance.
Focus began a dedicated transformation of its industrial process 10 years ago by creating an R&D department and investing more than 6 million Euros in it.
To speed up and streamline the certification process, Focus installed a test bench identical to that used by the European laboratories that award Ecodesign approval.
The new glazed models are compliant with all new legislation on woodburning appliances that came into force early in 2022.
The firm has implemented the strictest regulations complying to the highest environmental levels, including a 4-star 4 Stelle rating in Italian environmental regulations, one of the most stringent in the world.
Improving energy efficiency
The new Glazed Gyrofocus, Domofocus and Ergofocus remain extremely straightforward to use. Thanks to the regulation of the air supply at the base of the opening, it is easy to adjust the power of the fires and choose low or high intensity options.
A key positioned on the duct also helps conserve energy and maintain heat in the room.
Focus has been designing and manufacturing its innovative sculptural fireplaces for over 50 years, specifying them on projects all around the world.
It has worked with many leading international architects from Bjarke Ingels, Chris Dyson Architects, Foster & Partners and Isay Weinfeld to Marcio Kogan, Renzo Piano and Snøhetta.
Based in the south of France, Focus has nearly 120 employees over two sites and is proud of its Made In France credentials. Focus is the recipient of multiple awards for its design and technical innovation.
Focus fireplaces are readily available throughout the UK and Ireland via a network of approved resellers.
To find the nearest reseller in your region, visit focus-fireplaces.com/where-to-buy
---