A new Ecodesign Ready, next generation series is helping protect the environment while retaining the architectural form of the original designs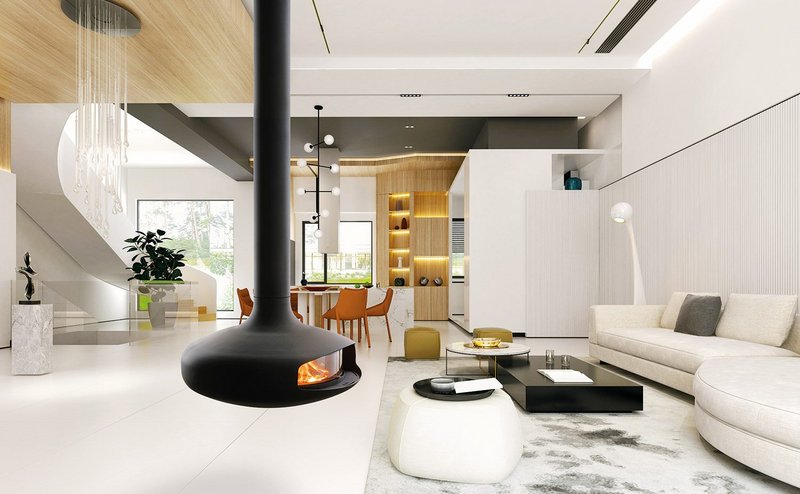 French fireplace designer Focus is expanding its range of eco-efficient models with glazed versions of the Gyrofocus, Domofocus and Ergofocus.
The company has been working to transform its woodburning fireplaces by improving energy performance and eco responsibility without altering the iconic curving designs of the original models.
Beyond design: energy performance
These three glazed designs are all Ecodesign certified and fully compliant with UK and European regulations.
The original designs of Ergofocus, with its pure ergonomic shape, and Domofocus, which features sculptured curves, remain intact - as does their 360-degree swivel action.
As with the updated Gyrofocus, an ingenious sliding glass window provides a perfect view of the flames without the risk of sparks flying.
Beyond design: technological challenges
Focus is the only company in the sector to constrain the combustion chamber of its fireplaces in order to retain the form and silhouette of the original organic designs.
Improving energy performance and eco-efficiency by closing off the fireplaces with glass panels proved to be an additional challenge.
Focus began a dedicated transformation of its industrial process ten years ago by creating and investing more than 6 million euros in an R&D department.
To speed up and streamline the certification process, the company installed a test bench identical to that used by the European laboratories that award Ecodesign approval.
The resulting curved glass windows protect the environment without altering the original designs.
Improving energy efficiency
The new Glazed Gyrofocus, Domofocus and Ergofocus remain extremely straightforward to use. Thanks to the regulation of the air supply at the base of the opening, it is easy to adjust the power of the fires and choose low or high intensity options.
A key positioned on the duct also helps conserve energy and maintain heat in the room.
Gyrofocus and Domofocus energy performance
Yield = 81 per cent
CO at 13 per cent of O2 = 1102 mg/Nm3 (ie 0.09 per cent)
Dust emissions = 19 mg/Nm3
VOC (OGC) at 13 per cent O2 ​​= 34 mg/Nm3
NOx at 13 per cent O2 ​​= 151 mg/Nm3
Ergofocus energy performance will be available soon.
Focus fireplaces are readily available throughout the UK and Ireland.
To find the nearest reseller in your region, visit focus-fireplaces.com/where-to-buy
---