To minimise the environmental impact of buildings, specifiers need suppliers and manufacturers to validate green claims for products with transparent data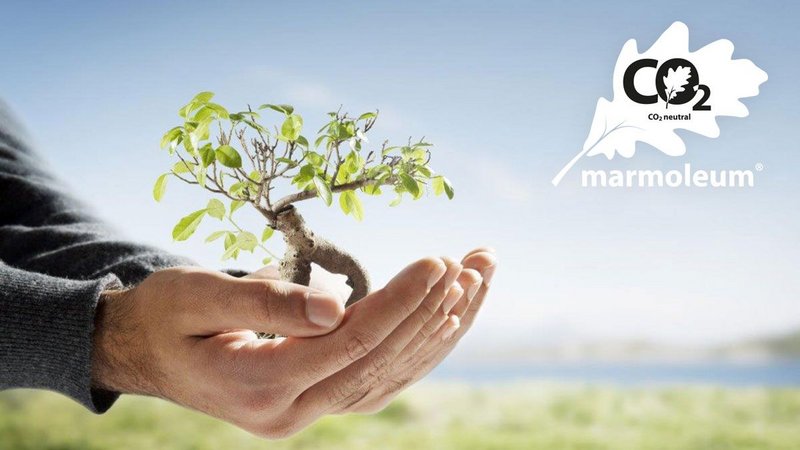 Forbo Marmoleum 2.5mm natural flooring: independently EPD-confirmed as manufactured carbon neutral, without the need for carbon offsetting.
With most nations having signed up to the Paris Agreement, including the UK, many companies are implementing carbon offsetting schemes or aiming to manufacture CO2 neutral products. But what does this actually mean and how can more companies and specifiers reduce their carbon footprint?
In recent years, the UK has experienced droughts and flash flooding caused by torrential downpours and, while many revelled in the long, hot summer of 2018, these weather extremities are stark warnings of the effects of global warming.
More companies are now striving to become CO2 neutral or are implementing carbon offsetting schemes. While this approach may not seem like drastic action in terms of tackling climate change, if the industry continues to make improvements both internally and throughout their supply chains, they will contribute positively to the reduction of the UK's carbon footprint.
But it is important to understand the difference between CO2 neutral products and carbon offsetting. The carbon produced during the manufacturing process of a CO2 neutral product is sequestered by a similar amount, resulting in an overall neutral balance. Carbon offset schemes offset the CO2 generated in the production or life of a product by investing in renewable energy technologies, for example.
Before CO2 neutral or carbon offsetting schemes are put in place, companies need to measure the size of their carbon footprint in order to ensure the correct solution is adopted to deliver the results required.
Architects and specifiers can also make a positive environmental difference by taking careful decisions when it comes to choosing products for a project. It is important that they liaise closely with a supplier who can, in turn, prove the validity of any environmental claims. One way to do this is to look for manufacturers that are backed by an independent Environmental Product Declaration (EPD). An EPD is an independently verified and registered document that communicates transparent and comparable information about the life-cycle environmental impact of a product.
Forbo is one manufacturer that is striving to reduce its carbon footprint. It recently confirmed that its Marmoleum 2.5mm natural flooring product is independently EPD-confirmed as manufactured CO2 neutral, without the need for carbon offsetting.
The independent EPD documents the life-cycle process of Marmoleum and shows that the CO2 produced in the extraction, transportation and manufacturing process of 2.5mm Marmoleum is balanced out by the removal of CO2 through the growing of its natural ingredients, such as flax, jute and rosin tapped from pine trees.
For specifiers who want to minimise the environmental impact of buildings, Marmoleum is a go-to product. For example, if Marmoleum 2.5mm natural flooring is used on a 10,000sqm project, it could typically equate to a 66,200kg saving of CO2 when compared to a PVC vinyl floor.
For more information and technical support, visit: forbo-flooring.co.uk
Contact:
01773 744121
---