Forbo Flooring Systems has launched a striking new design-led Step safety vinyl floor collection that is HSE compliant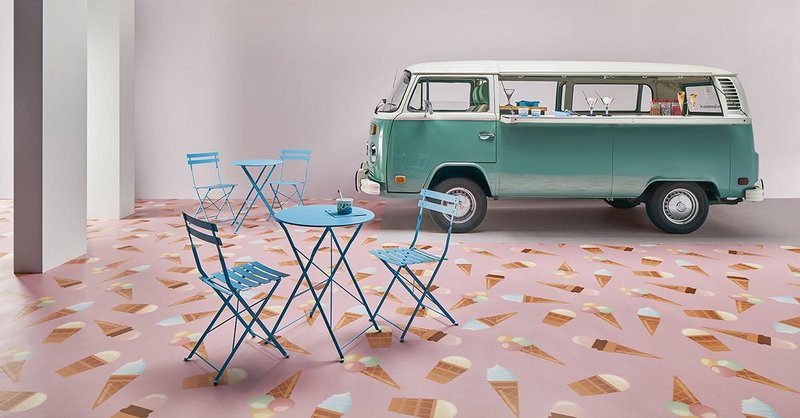 Forbo safety vinyl flooring can be specified in bold colours and patterns.
Recognised internationally as a trailblazer in safety flooring, Forbo Flooring Systems has pushed the boundaries of design with its striking new 2018 Step collection of HSE compliant, safety vinyl floor coverings.
Bringing to the sector a host of innovative and daring new visuals, surface textures and contemporary colourways alongside the exciting introduction of bespoke, digitally printed safety vinyl, Forbo is rethinking the concept of safety flooring and challenging widely held perceptions that contemporary design and inspirational styling have to be compromised for the sake of slip resistance.
'True' safety flooring
The Step collection offers flooring solutions with slip ratings to meet all requirements, from general purpose and wetroom areas through to food prep and industrial settings. All have been tested using the HSE's preferred TRRL Pendulum test and provide durable slip resistance throughout their guaranteed life, in compliance with BS EN 13845. In many of the ranges this is achieved through the use of aluminium oxide 'step crystals' (recycled glass) throughout the wear layer which also delivers a clean and fresh appearance.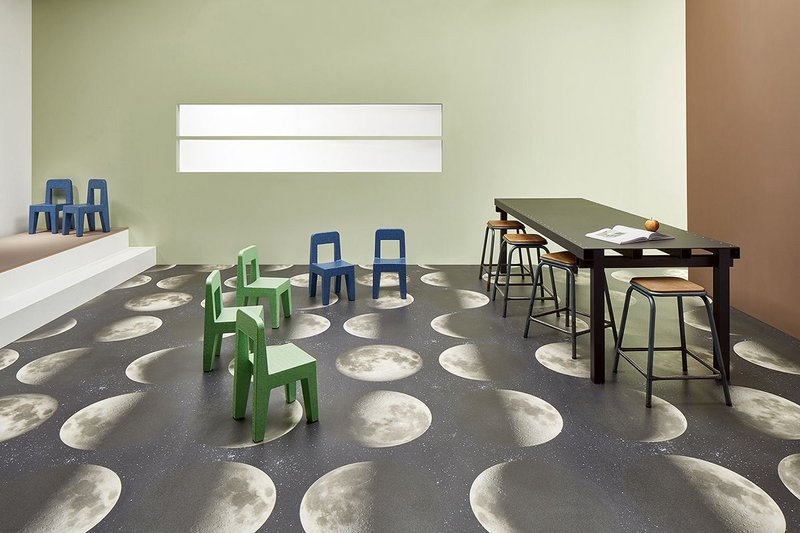 Surestep Moon digitally printed Forbo Step Safety vinyl.
No limit to the aesthetic possibilities
A design breakthrough, Forbo is pioneering a new digitally printed safety vinyl, with imagery and graphics reproduced in vibrant high resolution. Eye-catching Ice Cream and Moon designs demonstrate the virtually limitless potential for this bespoke service, particularly in retail and hospitality where visual appeal and the reinforcement of brand identity are paramount.
What's new for 2018?
The architectural feel of new Surestep Steel is right on trend. This extension to Forbo's comprehensive R10 rated Surestep product offer introduces four brand new smooth concrete looks, each with an alluring metallic shimmer.
A radical facelift for the ever popular Surestep Wood range has resulted in a modern array of wood looks in the safety flooring market as well as designs with an innovative embossed finish that further enhances their authentic appearance. Four appealing colourways can also be found in the newly extended Step Decibel range offering 17dB impact sound resistance.
There's a fresh and contemporary new colour palette for the core Surestep Original and 22 of the 33 colourways have been updated. Whilst Surestep Original products are perfect for general purpose areas with an increased risk of spillage, nine of the colourways are also available in R11 and R12 rated Safestep vinyl for perfect colour matching.
Designed primarily for wet and barefoot usage, Laguna has been refreshed and extended with a new brighter palette to suit a wider range of applications, and a new 'star design' is also available for barefoot areas.
Holistic approach to design
More than ever before, Forbo's international design team has curated a Step safety flooring collection that co-ordinates beautifully with other products in the company's extensive portfolio. Wood looks can be teamed up with Eternal vinyl; Surestep Original can sit alongside Sphera homogeneous vinyl and Marmoleum; Laguna floor coverings are the perfect complement to Forbo's Onyx wetroom wallcoverings. In some cases, the transitions are imperceptible, proving beyond all doubt that a safe floor need never be a dull floor.
For more information and technical support visit: www.forbo-flooring.co.uk/STEP
Contact:
01773 744 121
---