VIVIX rainscreen cladding by Formica Group has been specified at a new build school in Warrington by Ellis Williams Architects for its vibrant colours and energy efficiency. It's made in Britain too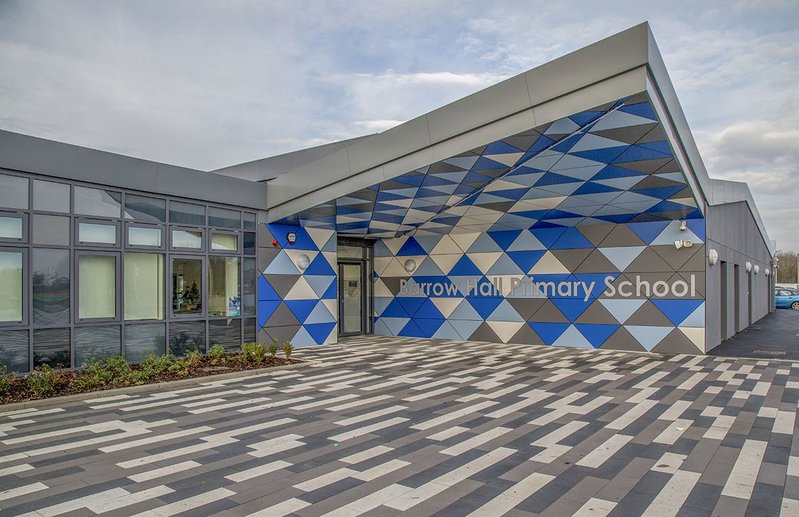 The new look Barrow Hall Primary School near Warrington designed by Ellis Williams Architects with its bright Formica Group rainscreen cladding.
Ellis Williams Architects (EWA) has specified VIVIX by Formica Group for the rainscreen cladding at its new-build Barrow Hall Primary School near Warrington. With consideration to occupant comfort and energy efficiency, the application of VIVIX panels to the exterior has helped meet the brief for the build to incorporate minimal mechanical ventilation, while also establishing a distinctive aesthetic character for the school buildings.
When Ellis Williams Architects (EWA) was appointed to take on the design of the school, it consulted with the school and local authorities to develop a design that avoided the pitfalls of existing building stock. VIVIX panels offer multiple moisture shedding pathways so that buildings stay dry and well-insulated. When used as part of a rainscreen ventilated system, VIVIX panels can contribute to a building's thermal efficiency.
The former Barrow Hall Primary School occupied buildings which were considered by the local authority to be in poor condition. For the new build it was imperative that consideration be given to good design that limits future maintenance costs. The durable properties of VIVIX panels offers a rainscreen cladding solution that is easy to clean and one that will maintain its aesthetic regardless of weather conditions or exposure to UV rays. Should the material need to be replaced, its lightweight nature and ease of application means less disruption to the running of the school.
Made in Britain, VIVIX panels for Barrow Hall Primary School were manufactured by Formica Group at its UK manufacturing plant, reducing on material transportation and the overall project carbon footprint. Furthermore, in this time of economic uncertainty, Formica Group, as a British manufacturer, is able to provide price stability on its products to UK businesses.
For more information and technical support visit: www.formica.com
Contact:
0191 259 3912
---