The practice is helping develop Nvidia Omniverse Enterprise open data technology, pioneered by animation studio Pixar, that will aid 3D collaborative work by architects and visualisation artists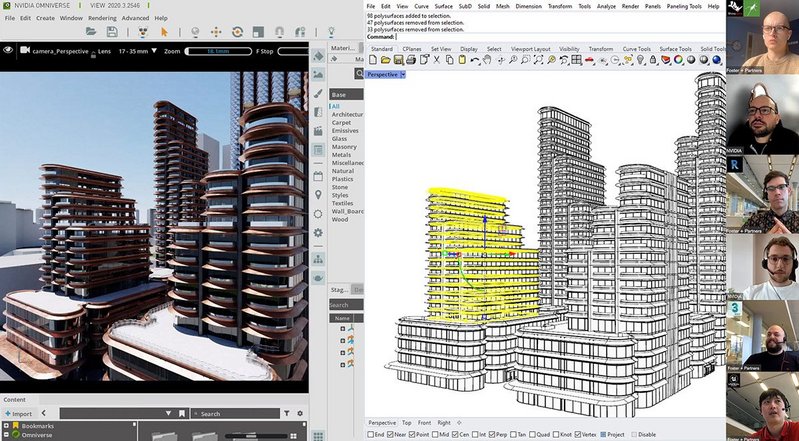 Omniverse aims to break down boundaries between 3D design and visualisation by enabling a seamless interface between the two disciplines
Open data technology pioneered by the animation studio Pixar is powering a 3D collaboration platform for architects and visualisation artists, developed with input from Foster + Partners.
Nvidia Omniverse Enterprise is in open beta testing and aims to break down the boundaries between 3D design and visualisation teams by enabling a seamless interface between the two.
The software exploits the universal scene description (USD) framework for 3D computer graphics data exchange, originally developed by Pixar, to allow designers and artists to collaborate on the same scene while working independently using their software of choice.
For the past two years, Fosters has been part of the Omniverse early adopters' programme, road testing different features in the software to help shape it for the architecture, engineering and construction (AEC) industry. It's part of a wider programme at the practice to improve design interoperability and enable real-time data exchange, version control and track changes. RIBAJ reported recently on the in-house design data sharing platform Hermes.
Martha Tsigkari, partner at Fosters' Applied Research and Development Group comments: 'We're trying to replicate a pipeline in the film and gaming industry, where many different parties and collaborators work together on designs and can quickly appreciate how they look. Our testing with Omniverse was on the design-to-visualisation pipeline, to see how quickly we could get photorealistic results as design changes are made in real-time, and appreciate how this can mould our design process and facilitate faster design cycles.'
Omniverse is compatible with visualisation software such as 3D Studio Max, Maya, and Substance Designer, and 3D design tools like Revit, Rhino and Grasshopper. Multiple design changes can be visualised simultaneously in real-time in the Omniverse viewer, allowing design options to be reviewed in parallel for faster design cycles.
According to Tsigkari, USD removes data preparation and conversion headaches associated with traditional design-to-visualisation pipelines whereby files must be exported and imported in different formats consecutively for different software platforms.
'In some cases, the design might have moved on, but the visualisation from previous versions was not yet finished,' she says. 'Software like Omniverse allows us to see the changes in real-time as they happen, removing that intermediate step. As we make design changes on buildings or urban developments, changing the materials or the lighting etc, the artists and designers can see them directly.'
Gamma Basra, partner and head of Fosters' film and visualisation team added: 'The quicker you can show the visualisation to the architect, the quicker we can go through iterations, the design changes and different options. It speeds up our whole workflow.'
Omniverse exploits Nvidia's top-of-the-range RTX Renderer to deliver photorealistic rendering using real-time ray tracing technology. This allows for complex simulations of light, weather, fog, smoke and fire etc. It is also able to handle multiple large datasets that less-advanced hardware might struggle with.
Fosters is considering how to expand its application of the technology, with the potential to incorporate physics engines and real-time simulation, or machine learning techniques that train the system to understand data commonly pulled through the system, such as on lighting or materials, to create faster simulations.
Tsigkari comments: 'It's not just what the system is offering us right now, but the potential we see to use it in a much richer way in future.'
Omniverse open beta currently has around 30,000 active users and Nvidia is working closely with around 100 companies to adapt it for specific industries. Fosters is the partner for architecture, engineering and construction.