By keeping everything on show, Q-railing's Easy Glass Pro balustrade system has helped turn a flagship BMW retail centre into an inviting destination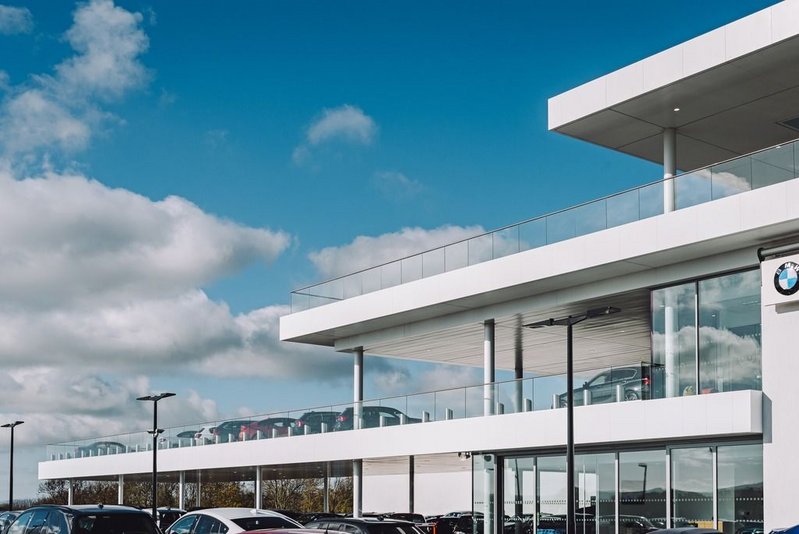 Cotswold Cheltenham BMW retail centre in Gloucestershire with Q-railing frameless glass railings. MDG Architects/Revival Developments.
Cotswold Motor Group's BMW, Mini and Motorrad retail centre in Cheltenham opened for business in a new building in 2017. It occupies a five-acre site on the outskirts of the town and covers 14,000 square metres, making it the biggest new-build for BMW in the UK. Its high-transparency facade and seemingly weightless upper floors have already made the four-storey structure by MDG Architects a local landmark.
Cotswold Cheltenham BMW contains huge areas of glass, behind which are displayed over 60 vehicles in the showroom. The architects wanted to ensure that the stock was highly visible, both from outside the building and from all points inside. By designing in uninterrupted views of the vehicles, the aim was to tempt in passers-by. To help achieve this, the Easy Glass Pro balustrade system by Q-railing was specified for the interior atriums and the terraces that wrap around the exterior.
From the start of the design process, the building was conceived as a destination in its own right. There are large open-plan spaces and a central atrium through each floor. There are three cafes and, whether enjoying refreshments or moving through the space, it was important visitors had clear sightlines to each distinct area of the showroom.
Despite having to navigate a huge stock of new and used cars, displayed inside and outside over several levels, visitors are able to find exactly what they want thanks to the well-lit, spacious setting and the transparency of the balustrades and safety barriers.
Q-railing's glass balustrades in the atrium and stairways are hardly visible. They create a clear panorama from area to area and floor to floor, making optimum use of the natural light from the glass-and-steel ceiling.
The solution provided at Cotswold Cheltenham BMW consists of 640 metres of top-mounted Easy Glass Pro balustrade and 205 metres of F-mount Easy Glass Pro - allowing an offset fixing away from the slab edge and the floor to finish flush with the top edge of the channel.
The glass infills consist of 15mm or 19mm toughened glass, depending on the location and loading requirements. A 48.3mm stainless steel cap rail provides extra hand support without compromising the view.
Q-railing balustrades carry the BSI Kitemark and are certified to BS 6180, giving the assurance of absolutely no compromise on safety.
For more information and technical support, visit q-railing.com
Contact:
01782 711676
---