Throughout 2016, BLANCO has been working to introduce stunning new products to the UK market. Here are some of the developments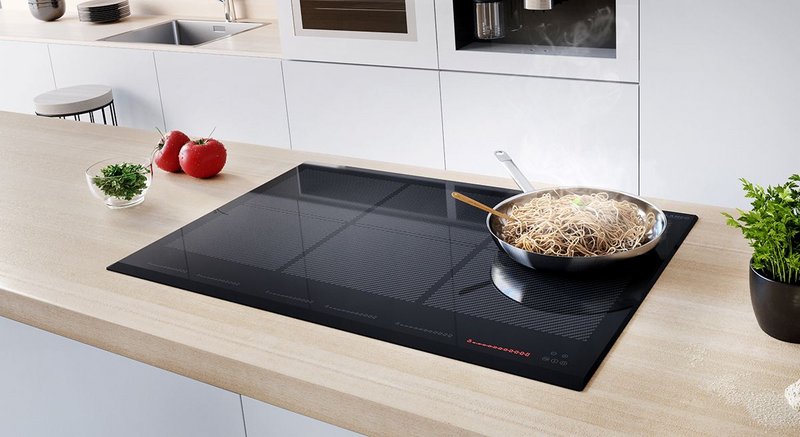 BLANCO's BH467831 induction hob
BLANCO's passion for perfection is reflected in the UK's most comprehensive portfolio of hobs, sinks, taps and extractor hoods. With a German pedigree, BLANCO is well known for its design flair and high quality products which cover all market requirements from the builders' merchant to the prestigious kitchen boutique. BLANCO now offers everything from the counter up and continues to develop new products.
This year BLANCO launched its new induction hob collection which is designed and built with BLANCO's renowned reputation for the highest quality and precision engineering. Leading the nine-hob line up is the high-end BH467831 induction hob, a 78cm-wide ceramic induction hob with six-zone surface cooking, sleek slider controls and automatic functionality.
Another BLANCO product that impressed in 2016 was the Subline 500-IF SteelFrame sink. The sink showcases an innovative material mix of stainless steel and Silgranit and is made from Silgranit PuraDur, an invincible material, while the extra-flat, modern stainless steel frame is what makes this sink set-up truly different. The Subline 500 sink comes in a choice of an IF or IF/A rim and is also available in the colours white or anthracite.
Today's kitchen designers and developers understand and recommend that an extractor hood is an essential part of any kitchen design. BLANCO manufactures one of the most comprehensive ranges of extractor hood solutions. The choice includes built-in models together with stainless steel and glass chimney hoods which not only provide efficient extraction and air movement but also add striking visual appeal to the kitchen.
BLANCO has also recently added the new Filtra Pro filter tap to its already extensive collection. By actively processing up to 6000 litres of filtered water before replacing the filter, the stylish BLANCO Filtra Pro delivers far more in terms of efficiency and cost than most other systems on the market.
The passion for perfection is certainly expressed in the BLANCO Culina-S tap; an exciting design with special visual focus. This exceptionally tall and elegant tap is notable for its magnetic hose cradle; whereby a magnet automatically releases the splash-free spray hose when needed and secures it again just as instantly when no longer required. A simple touch of a button will adjust the strength of the water flow from spray to a full flow. The tap spout has an extra wide rotation arc, offering several installation options with various sink configurations.
The combination of all the above BLANCO products showcases the company's knowledge and experience in innovative product development. When speaking about 2017, managing director of BLANCO UK Simon Hart comments: 'I'm really looking forward to continuing to grow and develop the BLANCO brand in the UK by pursuing the evolvement of innovative products with great design underpinned by the highest possible levels of quality and service.'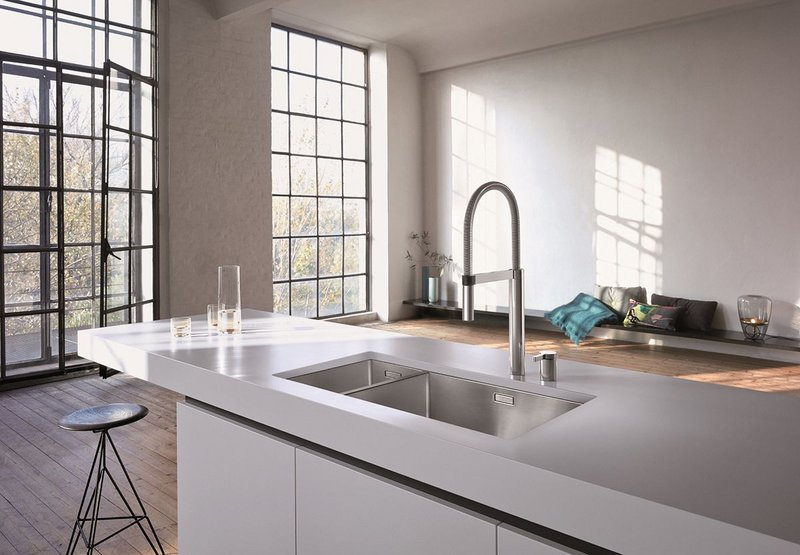 BLANCO's Claron sink with a Culina-S tap
For more information and technical support please visit: www.blanco.co.uk
Contact:
01923 635200
---