Futurebuild is the leading built-environment event for forward thinkers. It is where industry professionals meet, learn and do business. Register now for your free ticket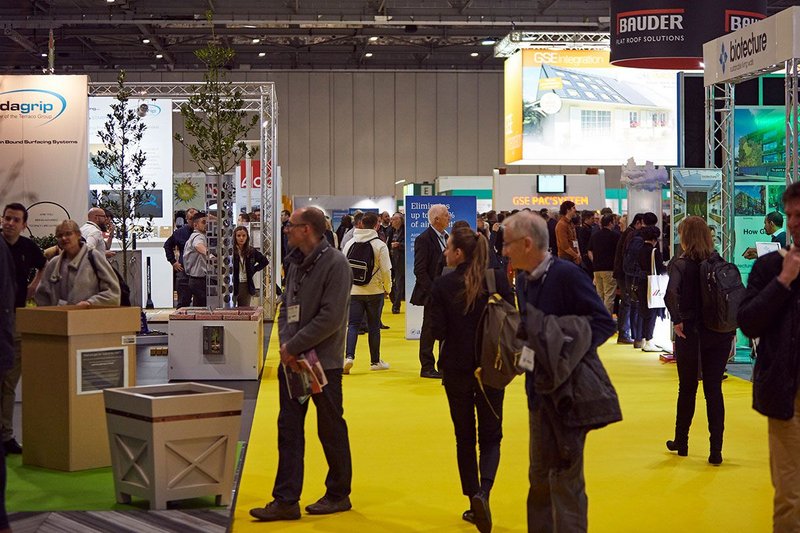 This year's Futurebuild runs from 5 to 7 March at ExCeL London. The event will focus on tackling the biggest challenges impacting the sector and provide architects with unrivalled insight and hands-on experience around the latest thinking, innovations and products. See the link below to register for your free ticket.
Visit RIBA Marketplace
The RIBA Marketplace, sponsored by Rockwool and Rockpanel, will be a key focal point at the event, providing networking opportunities for architects and building professionals. It will incorporate the RIBA Bookshop with its wide range of architecture and design-related books available to purchase, provide information about RIBA membership, RIBA Appointments and hiring architectural staff, as well as how to access architects and specifiers through advertising in The RIBA Journal. There will also be information on business services, including pensions and insurance. The RIBA Marketplace will be designed by Gundry + Ducker, after the firm's winning submission to an open-call competition for RIBA Chartered Members and Practices.
Time for Action: 500 hours of learning
Developed in conjunction with renowned, industry-leading partners, Futurebuild will provide an unrivalled education programme of over 500 hours of learning across an inspiring conference programme and 11 seminar streams - all completely free and CPD accredited.
The ecobuild conference, located at the centre of the event, will be a space where architects can be inspired to take action on the most pressing challenges by leading experts. With an overarching theme of 'Time For Action', the conference sessions will be collaborative forums where visitors can develop plans for implementing change and proposing action for a more sustainable future.
A total of 13 challenges will be tackled through the conference programme, including 'The Quality Challenge - why can't we build better buildings?', addressed by a panel including Robin Nicholson of Cullinan Studio, Ben Derbyshire of RIBA and Kath Fontana of RICS. Also being discussed will be 'The Health and Well-being Challenge - putting health and well-being at the heart of building design', with speakers including Oliver Heath of Oliver Heath Design and Jim Shannon MP of the All Party Parliamentary Group for Healthy Homes and Buildings.
Discover new and exclusive features
In addition to the RIBA Marketplace, Futurebuild 2019 will present many new and exclusive features, including ZEDfactory's LivShare project led by architect Bill Dunster, which provides students with hands-on construction experience while building affordable accommodation, and the Natural Building Area, which will provide free educational information and demonstrations.
As a UK government innovation partner, Futurebuild will be hosting the Innovation Zone with the Department for Business, Energy & Industrial Strategy (BEIS) and Innovate UK. BEIS will showcase the work of the Energy Innovation Programme and demonstrate how it is delivering the Clean Growth Strategy.
More key features at the event include Energiesprong's full-scale build demonstrating retrofit solutions, the Clean Growth UK networking cafe and Concrete Futures, where architects can explore innovation and new technologies.
Find product and material innovation in the Futurebuild Hubs
Helping visitors gain a truly immersive and in-depth experience across all areas of the industry, Futurebuild will feature six curated Hubs: Offsite, Buildings, Energy, Interiors, Materials and Urban Infrastructure, as well as the Waste Zone.
Each Hub will have a dedicated seminar programme exploring issues for each sector, including the RIBA session 'Delivering on sustainability with a greener RIBA Plan of Work' in the Buildings Hub Theatre. The Buildings Hub will cover all aspects of building, including new-build, retrofit and refurbishment.
The Materials Hub will bring together the latest advances and expertise from across the materials sector, uniting the latest innovations, research and understanding in mainstream materials, such as timber and concrete, alongside a spotlight on emerging alternatives.
New for 2019 is the Interiors Hub, in partnership with the International WELL Building Institute and sponsored by HermanMiller and Milliken. This is where the newest products, designs, emerging trends and latest guidance on health and well-being in buildings will be addressed. Discussions held as part of the Hub's seminar programme will include how buildings can advance human health, the WELL Building Standard and more.
The Waste Zone, in partnership with University of Brighton Responsible Futures, returns with new and expanded features for 2019. Curated by architect, academic and author Duncan Baker-Brown, the area will showcase how waste can be a valuable resource for industry. Central to the experience will be the Circular Economy Hub, which will take a unique beach hut format and feature a collection of hand-picked brands at the forefront of making the circular economy a reality.
Futurebuild 2019 runs from 5 to 7 March at ExCeL London. To register for your free ticket, visit: futurebuild.co.uk
---