The spectator sport of gaming is huge, and growing fast. Populous is looking ahead with its design for a gaming house for professional esports athletes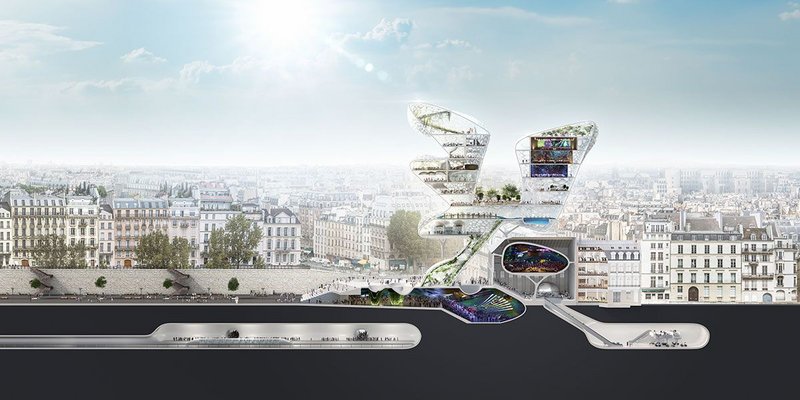 The idea of watching teams of pasty-faced teenagers hunched over joysticks blowing away imaginary baddies isn't everyone's cup of tea, but live esports has become a global phenomenon with competitions in vast arenas attracting fans in their thousands.
The final of the Intel Extreme Masters World Championship 2017, in Poland, drew 173,000 attendees – about 100,000 more than the Superbowl – and an online viewership of 46 million, over 10 million more than the Trump inauguration.
Staking its claim on this emerging field, architect Populous has revealed conceptual designs for a Gaming House of the Future, where professional esports athletes would live, train in dedicated 'battle stations' and unwind in rooftop gardens.
The city-based complex is spread across two towers and incorporates two existing buildings: a former cinema reconfigured to house a high-tech events amphitheatre, interactive exhibition and retail experience, and a former office that would provide a base for the team's business operations.
Most professional gamers retire by their mid-20s, often as a result of burnout or fatigue, so the complex is organised to encourage a healthy work-life balance with a clear physical divide between the training facilities in one tower, and areas dedicated to downtime and relaxation in the other.
The North Tower contains training and data analysis facilities including 'The Cube', where each athlete has a dedicated 'battle station' configured to meet their specific requirements. Above this, coaches, technical support staff and data analysts can monitor their progress through a one-way glass floor.
Fast food and takeaways will not be on the menu in the centre, instead athletes will follow a strict nutrition programme with meals prepared by chefs in a Refuelling Station. A swimming pool and rooftop 'mindfulness garden' provide spaces to relax and unwind.
The South Tower contains sleeping quarters, a lounge, gym and physiotherapy room; living spaces are open and flooded with daylight to counter the physical and mental fatigue effects of training in dimly lit rooms.
The large amphitheatre in the former cinema would host esports events with competition play viewed by fans in real-time on large screens.
Above this, the players would compete in 'The Egg', a hollowed-out section of the building supported on trusses.
With global esports revenues expected to surpass £1 billion by 2020, big brands sponsoring tournaments, and major sports organisations and celebrities getting behind events, this may be the time for architects to invade this space and start blasting out designs.