Geberit study helps architects turn functional washrooms into places that deliver respite, calm and well-being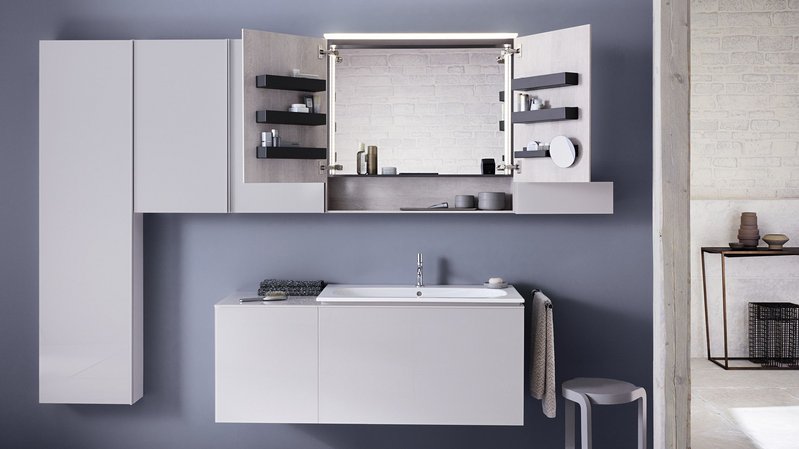 Geberit Acanto bathroom furniture.
Well-being is becoming one of the fastest growing priorities in design and the bathroom has an increasingly important role to play as an antidote to the pressures of modern life.
A study by sanitary product manufacturer Geberit has revealed that the average British adult checks his or her phone more than 56 times a day and spends, on average, more than six hours online. This sensory overload leaves many feeling stressed and struggling to find a sense of peace and balance in their lives. However, Geberit's research also revealed that, for many people, the bathroom represents a place of sanctuary.
Architects have the opportunity to deliver bathroom solutions for the home, hotel and office that can alleviate the excesses of our 'always-on' society.
While the main areas of focus in bathroom design typically include materials, textures, colours and patterns, there are other aspects that also warrant consideration.
Be sensitive to sound
Managing the acoustics within a bathroom or washroom space can ensure noise is contained both inside the room and behind the scenes. For example, installing acoustic innovations, such as decoupled pre-walls and acoustically optimised pipework, can make a significant contribution to the creation of a quieter, more relaxing environment.
Consider sight
Even the most beautifully designed interior spaces can have a negative effect if they are glaringly lit. Exposure to harsh light sources, especially in the middle of the night, can shock us and stimulate our sense of alertness, disturbing natural sleep patterns. Opt for smart shower toilets and cisterns with automatic orientation lights that cast a soft glow and guide the user around the bathroom space.
Combat smell
Often overlooked, scent has a strong effect on our experiences because it's processed in the olfactory cortex of the brain's limbic system. This can have a negative effect in the washroom where lavatory odours are generally masked using scented sprays. The latest odour extraction technology, on the other hand, can filter the air within the space to neutralise unwanted odours.
Tackle touch
A deep understanding of the importance of touch has allowed bathroom designers and manufacturers to adapt and embrace the ways in which we interact with our spaces and the technologies within them. From heated toilet seats and remote controls to hygienic, presence-detecting flush mechanisms and no-touch taps, bathroom features are becoming ever more user-friendly and tactile.
Geberit: A complete sanctuary
The potential for well-being is at its highest when the design of spaces is informed and enriched by considering all four senses. To download Geberit's free Science Behind The Sensory Space guide, visit geberit.co.uk/science
For more information and technical support, visit: geberit.co.uk/bathrooms
Contact:
01926 516800
---