Karndean's Kaleidoscope collection creates unique effect for Harbourside eaterie Aqua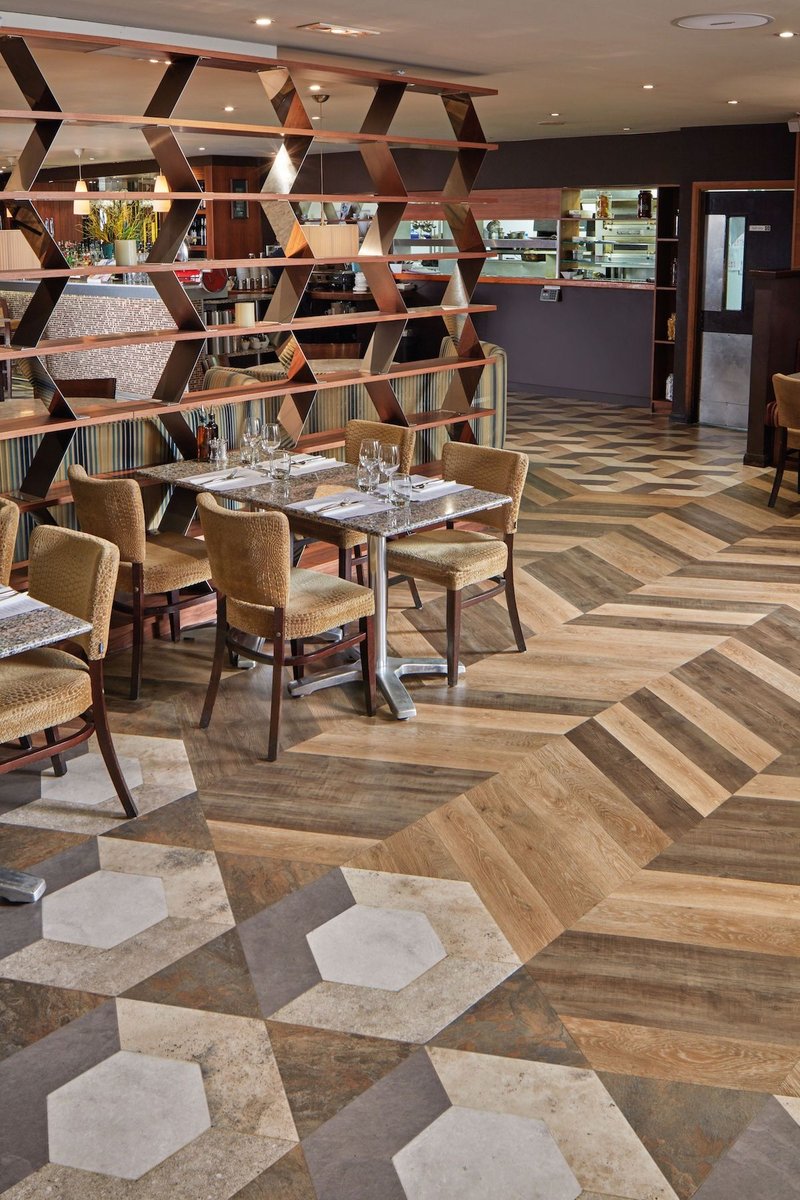 Aqua Restaurant Group looked to the UK's market leader in luxury vinyl flooring, Karndean Designflooring, to create a truly unique floor design for its latest refurbishment.
Based in the heart of Bristol's bustling Harbourside, Aqua appointed Simple Simon Design to undertake its interior design and Bath Contract Flooring as its flooring contractor. With shapes and patterns high on the design agenda, Simple Simon Design specified Karndean's new Kaleidoscope collection throughout the 100m2 space.
Incorporating Kaleidoscope shapes – Apex, Hexa, Pyramid and Pennon – and bespoke Karndean cuts, Simple Simon Design split the restaurant and bar into four key areas, each with its own individual floor design. To meet the technical specification required, Karndean's Art Select and Da Vinci ranges were specified in the main bar and restaurant, with both offering R10 slip ratings and 0.7mm PU coated wear layers.
Alongside various wood and stone designs from the established Art Select, Da Vinci and Knight Tile ranges, the restaurant also features the clean, pale stone effect of Art Select Fiore and the striking dusty pale brown tones of Knight Tile Mid Limed Oak, to name but a few.
'Although we had to accommodate high traffic when specifying the right floor, we ultimately wanted the decision to be design led,' explains Simon Jones, designer at Simple Simon Design.
'Karndean offered us the wide-ranging product portfolio, flexibility and intricate shapes required to bring our geometric design to life. The result is a striking floor design, which not only captures the imagination but also offers opulence.'
Kaleidoscope by Karndean Designflooring pays tribute to the theme, the only limit is your imagination. Designed specifically to offer unparalleled flexibility for interior designers and flooring contractors looking to create a unique floor design, Kaleidoscope features six designs as standard – Cubix, Pennon, Apex, Pyramid, Tripoint and Hexa.
It contains popular shapes and patterns, such as hexagons, chevrons and cubes, that can be cut in a number of colour combinations across Karndean's established wood and stone designs. The collection also introduces block colourways, giving designers the ability to specify bright colours against wood and stone for added visual interest in commercial and residential spaces.
Matthew Speck, head of commercial sales, says: 'With the floor design being an integral part of the concept, it's no surprise it's being talked about as much as Aqua's modern Anglo-Italian cuisine. Aqua is the perfect example of how our Kaleidoscope can achieve a new level of floor design, allowing complete freedom for unique shapes, sizes, colour combination and patterns.'