Glazing Vision's rooflights help to create a breathtaking terrace in San Francisco bay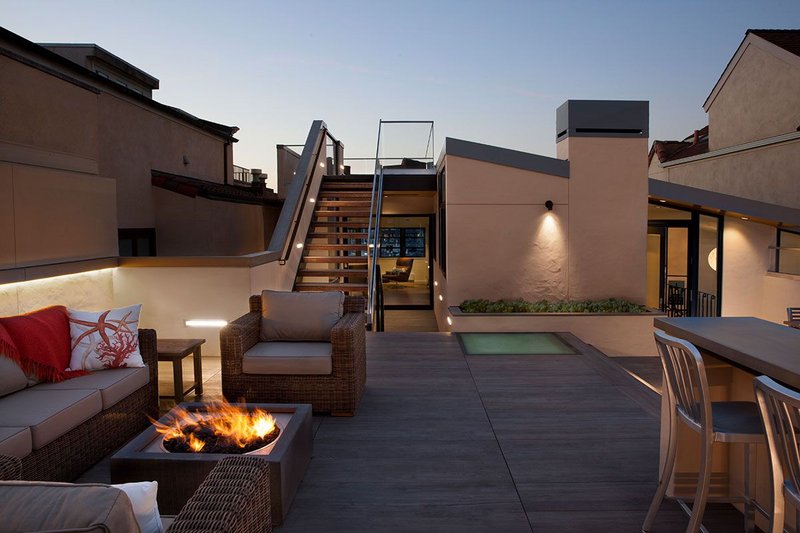 Glazing Vision rooflights at a new terrace project in the USA.
Glazing Vision Flushglaze walk-on rooflights have been specified by ODS Architecture for a multi-level roof terrace that forms part of an extension to a period bayside house in San Francisco, USA. Planning constraints restricting the placement of new windows necessitated the use of rooflights to illuminate the bedrooms and bathrooms located below the roof deck.
Imported from the UK, Glazing Vision's Flushglaze rooflights were specified for several reasons. First, they could be installed flush with the terrace floor. Second, they have a frameless aesthetic. And finally, they can withstand heavy foot traffic while remaining weathertight. They can also incorporate different surface finishes, ensuring privacy for the rooms below.
The main deck features three rooflights, each with a sandblasted glass finish. The latter ensures privacy and diffused daylighting, as well as provides improved slip-resistance. Glazing Vision's sandblasted glass achieves a pendulum test value (PTV) of 50 as standard – well above the low-slip potential risk threshold PTV of 36+. Meanwhile, the 'crow's nest' viewing platform at the top of the house is fitted with a single 1700x800mm Flushglaze rooflight incorporating a fritted finish. Covering 40 per cent of the glass, the screen-printed frit pattern provides high levels of slip-resistance (up to a PTV of 60), in addition to ensuring excellent daylight transmittance. The resulting roof terrace is testament to extraordinary teamwork of the client, architect and contractor.