Heat pump solution for low-temperature networks maximises building efficiency and offers compliance and ease-of-installation benefits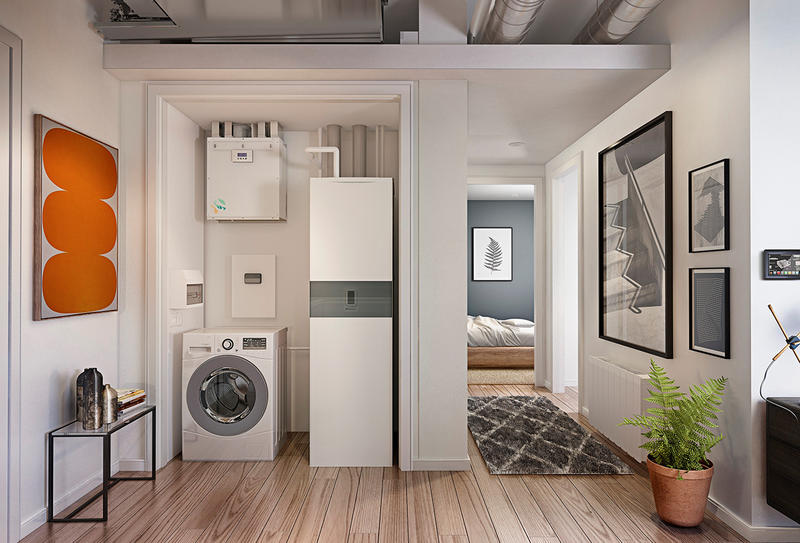 As the landscape of UK cities evolves, building regulations such as Part L are getting stricter to drive lower carbon developments and ensure targets such as net-zero CO2 emissions by 2050 are met.
Traditional high-temperature heating and ventilation systems are not operating effectively within a fabric-first approach. Instead, reduced air permeability is highlighting system losses that trap waste heat in corridors, lowering overall system efficiency and resulting in a larger than required plant to heat demand ratio.
Building designers are having to look for better performing and increasingly efficient solutions.
The Zeroth Energy System was designed by Glen Dimplex Heating and Ventilation (GDHV) in collaboration with residential high-rise apartment developers to ensure its performance was fit for purpose and it achieved stricter renewable compliance while being financially and practically feasible.
To be a best practice alternative to traditional systems, the new solution needed to have:
Increased system efficiency.
Significant benefits around compliance.
Reduced heat loss from communal pipework.
Flexibility around the specification of plant, emitters and controls.
Compliance with the set standard for prefabricated utility cupboards.
Simplified installation to reduce time on site.
Ease of service and maintenance for the end user.
A cost proportionate to that of current specified systems.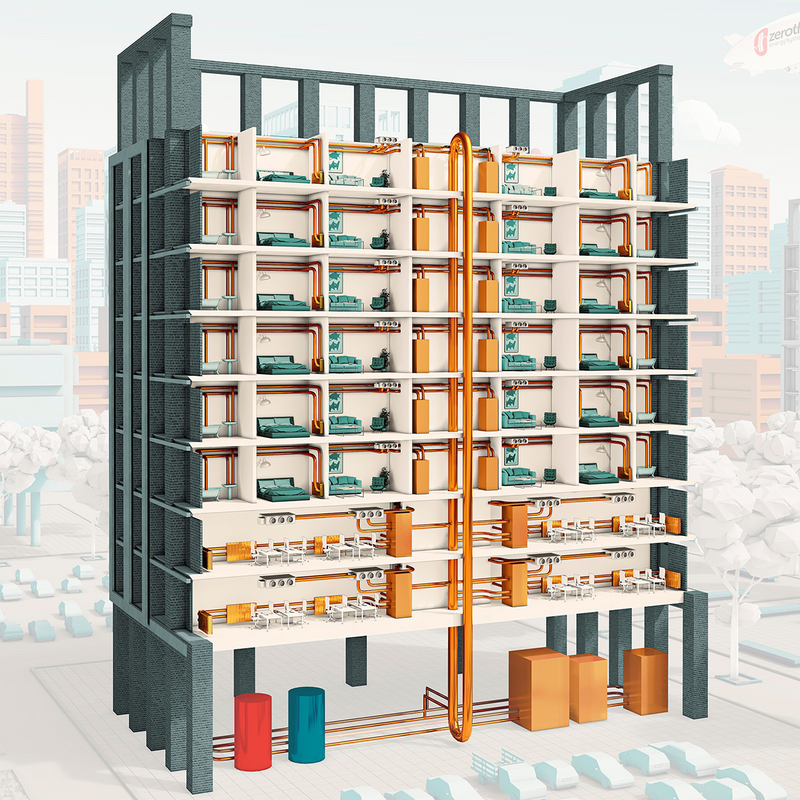 The Zeroth Energy System is a communal network designed as an alternative to traditional high-temperature solutions that offers heating, hot water and cooling services. It comprises a compact heat pump and water cylinder in each apartment that is connected to a central low-temperature (ambient) water loop, with an energy source housed in a central plant room. The ambient loop can also be fed from a ground loop/district heating system.
The system provides industry professionals with a communal solution that offers:
Significant benefits in achieving compliances.
Specification flexibility on the plant, emitters and controls.
Comfort cooling through a two-pipe system.
Improved performance through greater efficiencies and reduced heat loss.
Simplified installation to reduce costs and installation times.
Ease of maintenance through intelligent design.
Capital expenditure (CAPEX) savings, including savings on carbon tax.
As part of its service, GDHV works closely with architects and specifiers throughout the construction process, from specification and pre-planning through to design, quantity surveyor discussions and installation and commissioning.
The company provides a fully supported maintenance package for each Zeroth installation via its UK network of service engineers. It can be offered direct to the tenant or end user or to the building's facilities management contractor.
GDHV is dedicated to the design and development of sustainable heating, ventilation and air conditioning (HVAC) solutions for commercial and residential projects. Its team of specialists understands what is involved in specifying compliant HVAC systems and is on hand to help find the most effective solution for individual projects. It offers advice on applying these solutions to architects' designs, using an in-house team of engineers.
The company provides a range of CPD presentations, including one on the benefits of low-temperature networks and the Zeroth Energy System, which can be delivered in person or virtually.
For more information and technical support, visit gdhv.co.uk/heat-pumps
Contact:
gdhv.contracting@glendimplex.com
---