Harbour Lofts regeneration development in Poole, Dorset required on-site renewables and presented limits on what could be installed on the exterior of the building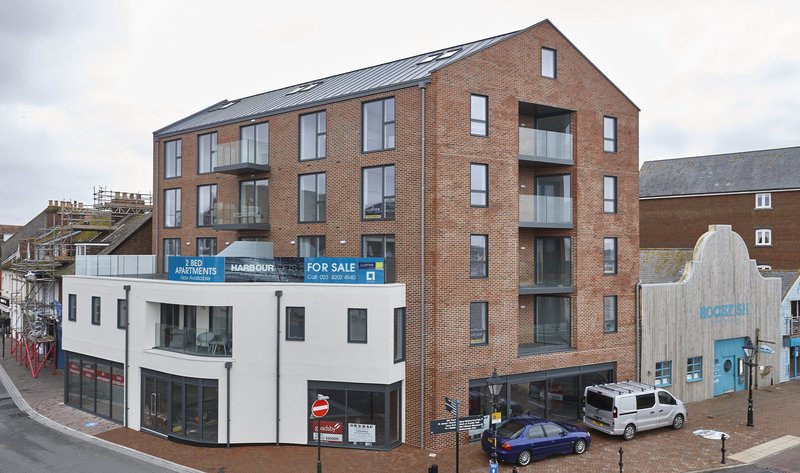 The Harbour Lofts development features nine, one and two-bedroom apartments.
The Zeroth Energy System has been specified at the Harbour Lofts regeneration project in Poole's historic quayside in Dorset.
The site was acquired in 2016 by property group Acorn and it was clear a traditional heating system would not meet the carbon performance required. Restrictions on what could be installed on the exterior of the building also limited the options for a suitable low-carbon heating solution.
Thermal & Acoustic Solutions, specialists in building regulations and compliance, were contracted to work with Acorn to find a solution.
The Zeroth Energy System was designed by Glen Dimplex Heating & Ventilation (GDHV) in collaboration with key residential developers. It is an ambient network system of water-to-water heat pumps that can provide hot water, heating and cooling while minimising heat distribution losses often seen in buildings with traditional heating systems.
For the Harbour Lofts project, experts from Acorn and Thermal & Acoustic Solutions visited a GDHV demonstration system in Ireland, where a fully functional rig replicates how the system performs in a live environment.
The purpose-built mini testing block consists of individual pods that represent rooms in an apartment with a variety of emitters. The pipework is left exposed to demonstrate heat loss. The facility gives an insight into the flexibility of a system that allows future reconfigurations or connections to different energy sources or district networks.
The central loop of the Zeroth Energy System is designed to run at 25oC, a significant reduction from the 80oC of a traditional high-temperature system, reducing heat loss by up to 90 per cent. Addressing heat loss through intelligent design significantly improves the energy efficiency of the system. The specification of low carbon plant and internal air source heat pumps make this a highly compliant system with low carbon output.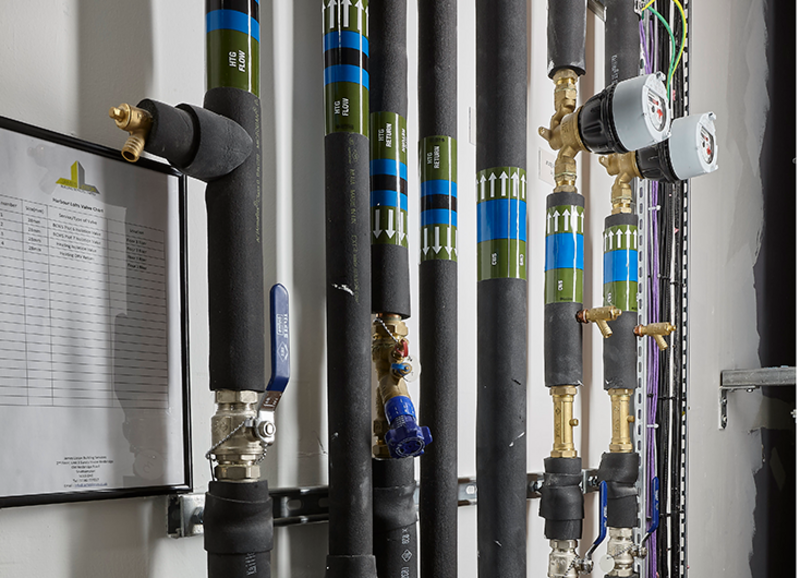 The Zeroth Energy System: An advanced communal ambient loop solution using in-apartment heat pumps to provide building services to residential apartments.
The Zeroth Energy System is not simply a solution that offers design freedom by keeping the heating distribution out of sight. Through reductions in the heat loss of a building, the system presents the end-user with lower energy bills and a low-carbon energy supply. Green credentials are fast becoming an important selling point for aspiring homeowners.
See how the Zeroth Energy System can benefit your next residential or mixed-use development project at gdhv.co.uk/case-studies
Book an accredited CPD to assist with the design and specification of the Zeroth Energy System at gdhv.co.uk/cpds
For more information and technical support, visit gdhv.co.uk
Contact:
0344 879 3588