Since the government pulled back from its zero-carbon ambitions, the industry has taken the initiative on sustainable office design and management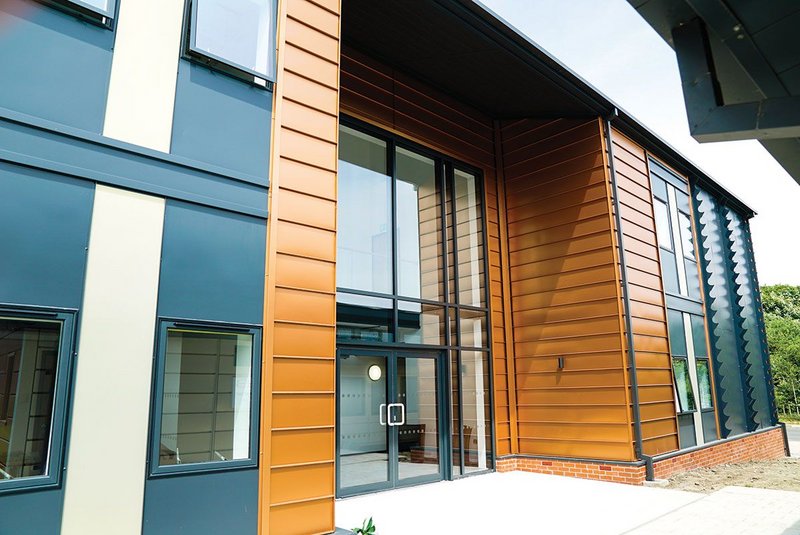 Lower technology costs are making energy positive office spaces, such as Active office, a real possibility.

Credit: Peter Cook
This could have been a milestone year for zero carbon development. In 2008 the Labour government set a target for all new non-domestic buildings in the UK to be zero carbon from 2019, but it was dropped four years ago.
So is sustainability back on the agenda? The government's 2018 industrial strategy suggests it might be, with the prime minister's pledge to 'at least halve the energy usage of new buildings by 2030' and the construction sector deal. It is also reviewing whether energy performance certificate (EPC) data could help drive energy efficiency in buildings, and consulting on Part L of the Building Regulations. Meanwhile, London's Sadiq Khan has signed the international Net Zero Carbon Buildings Declaration, which sets a target for new buildings to be zero carbon in operation by 2030. Greater Manchester has set out its plan to require all new buildings to be net zero carbon by 2028. The UK Green Building Council has launched Advancing Net Zero to define and drive net-zero carbon buildings – operational emissions and whole life carbon.
For the office sector, high energy consumption has focused business minds on how buildings operate. Rising environmental priorities, the changing demands of a fast-moving market, investor sentiment and the risk of stranded assets are among the factors playing into this focus. In the absence of a clear and stretching route within national policy, the industry itself is evolving passive design approaches, standards and renewable energy technologies.
Evolving passive design
Engage the architect early to reap the sustainability benefit, clients are told, but life doesn't always work that way. As a client that doesn't habitually commission buildings, the Royal College of Pathologists had appointed its design team by the time architect Bennetts Associates joined to work on its brick-faced, eight storey headquarters. Recently completed in Aldgate, east London, its flexible spaces can accommodate conferences, receptions and exhibitions as well as desks, and it offers a friendly public face.
There was a planning requirement for the building to target BREEAM Excellent. Although joining relatively late, associate director Rob Bearyman says it brought its own aspirations for energy performance. 'We wanted it to be robust and sustainable,' he says.
When optimising environmental performance and flexibility, it is important not to neglect the value that lies in giving character to spaces
The 4,500m2 building has a double-height reception area with full-height windows and, above, large span spaces and a triple height void in one corner to bring natural light deep into the plan. The building management system opens and closes windows for natural ventilation and night purging, as part of a passive cooling strategy. Intensively used areas, like the 200-seat lecture theatre, have passive chilled beams.
The concrete foundation slab of a building previously occupying the site has been re-used. It is topped by a concrete structure with exposed coffered concrete slabs, the latter adopted for passive cooling and the internal aesthetic. The architect carried out research to refine the design of the coffered slabs to maximise the surface area of the concrete. 'We did quite a lot of work to get the weight down and arrive at the correct profile,' says Bearyman. Its solution uses 0.19m3 of concrete per m2, against 0.3m3 for a flat slab, almost half the embodied carbon, and Bearyman adds: 'It performs better and becomes a feature as lighting has been added to every coffer'. When optimising environmental performance and flexibility, it is important not to neglect the value that lies in giving character to spaces, points out Peter Fisher, director at Bennetts Associates. 'There is a need to retain generosity,' he stresses, 'or we just end up
with efficient but bland universal spaces.'
Such evolutions in passive design can appear quite subtle. 'They build on what has been done before, and are tweaked to context,' says Fisher. 'But they don't radically change.' At King's Cross, developer Argent's new buildings routinely achieve an Outstanding BREEAM rating. Its 11-21 Canal Reach, now under construction, continues the approach with passive design measures, although its proximity to a railway line rules out fully natural ventilation. The project was also the subject of embodied carbon research, carried out with Sturgis Carbon Profiling. Like other buildings at King's Cross, it will be able to access the site-wide district heating network, but a 1.5MWe fuel cell, will supply most of its heating, hot water and electricity.
Bennetts Associates was involved early in this project, which has allowed it greater influence over operational energy performance. 'It gave us the scope to persuade the client to carry out TM54 analysis,' says associate Ben Hopkins. CIBSE's technical memorandum TM54 sets out how operational energy for a building can be estimated accurately, to address the gap between design and performance. It was used for full energy prediction modelling. 'When TM54 is applied properly it works well,' says Fisher.
'With Design for Performance buildings on the market, others will have to improve to compete. It will drive the market through new build'
The drive for verification
One industry initiative is going further to close the performance gap for new office buildings, by using the development process to deliver verified performance in use, rather than purely building regulations compliance. Some of the biggest names in UK real estate are backing Design for Performance (DfP), an initiative drawing on the model of Australia's NABERS energy rating. The initiative, which is supported by 22 developer and other industry partners, has been prompted by questions surrounding the transparency of asset performance. 'Many buildings have been highlighted for achieving high standards of sustainability in their design, but rarely do these assets live up to their claims when occupied,' says Sarah Ratcliffe, programme director at initiative sponsor and property network, Better Buildings Partnership. In Australia, NABERS has driven overall market improvement, affecting both new and existing stock. 'DfP has a clear trajectory to net zero carbon,' points out Ratcliffe. 'With DfP buildings on the market, others will find they have to improve to compete. This will drive the market through new build.'
To date, DfP has carried out market research and a pilot programme involving six new build and refurbishment projects. The pilot provided the first UK test of the approach, which relies on such checks as advanced modelling, independent design review and ultimately measurement and verification of the occupied building. The pilot revealed the urgent need to target performance in use throughout the development process, and the potential benefits of doing so, including better plant sizing, smarter buildings, better building commissioning and management and ultimately better quality buildings.
The process is important – both to help limit the performance gap at first occupation, and to ensure buildings continue to perform well and respond to the needs of occupiers. Ratcliffe explains: 'The office market is going through a seismic shift and this is changing its occupational profile – understanding occupiers and how they use the office is fundamental to making buildings perform well – in terms of efficiency and investment performance.' DfP, which includes advanced modelling, replicates as-built structures and their contexts to assess how a building and its services would respond to a range of uses, loads and weather. The independent design review advocated by DfP allows models to be objectively interrogated and enables the modelling to drive the design, not vice versa.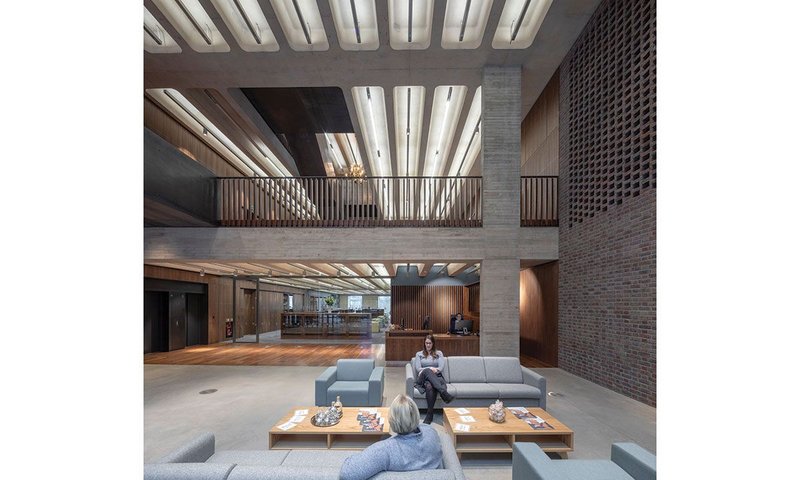 The concrete soffits at Bennetts Associates' Royal College of Pathologists are not only elegant – they contribute to the building performance too.

Credit: Peter Cook
The pilot programme also picked up on collaboration, points out Ratcliffe: 'We know the industry is incredibly fragmented, but the pilots further highlighted this. The delivery of outstanding performance requires a clear focus on outcomes by all disciplines, from investor and developer through to architect, engineer, contractor, agent and occupier. This need for connectivity in the design of the building, its services and ongoing management is critical.'
Following the pilot, last year the initiative entered a four-year phase to develop a rating system with seven 'pioneer' developers fully implementing DfP on at least one project in their development pipeline. Consultants Arup and Cundall have been appointed as DfP delivery partners, and MEP firms and architects are showing interest. 'It is a major change in mindset, but the industry is going to demand it,' says Ratcliffe. 'There is quite a lot to be done in upskilling architects and engineers – as an industry we're trained to deliver buildings that are designed well, but this does not translate to buildings that perform well. This is no longer good enough for developers and property owners who are beginning to demand better buildings.'
The industry may not be celebrating the delivery of the 2019 target, but these moves are, as the saying goes, steps in the right direction.
---
Moving to Active Offices
The future workplace could generate energy from sustainable sources and store it. Technology to generate renewable energy is already being incorporated into developments, but storage is far less commonplace. But with lithium ion batteries now being trialled in locations from Arsenal Football Club to Whitbread's Edinburgh Premier Inn, you could be forgiven for thinking this is today's must-have eco-technology.
Economics have made lithium ion batteries more attractive, says Joanna Clarke, architect of the Active Office for SPECIFIC Innovation and Knowledge Centre, an academic and industrial research consortium based at Swansea University. 'The cost of the technology has come down and the reduction in feed in tariff makes it a smart option.' Clarke has worked on SPECIFIC's Active Buildings projects; these include the Active Classroom, which has two large salt water batteries, and the Active Office, which has lithium ion batteries.
The Active Office was funded by Innovate UK with support from Swansea University and the European Regional Development Fund through the Welsh government. Completed last summer, it is a demonstration building that showcases the potential for energy positive office space. In common with SPECIFIC's other projects, it predominantly taps into the potential of solar energy, incorporating a photovoltaic roof and hybrid photovoltaic thermal (PV-T) tubes on the walls. The roof, from BIPVco, comprises thin-film solar cells bonded onto pre-coated steel roof sheeting. Its curved design shows off the product's flexibility, says Clarke: 'It really opens up possibilities in design'. Around a quarter of the building's southern elevation is faced in 40 Naked Energy VirtuR (PV-T) tubes. Integrating all this technology into a building's architecture is relatively straightforward, says Clarke. 'You can combine them into cladding and fenestration quite easily, and the plant room simply needs to be sized to suit the storage systems. The really clever part is the integration into the building services strategy.'