Regeneration of the magnificent Grade I listed Piece Hall in Halifax has been made possible with Hardscape paving and landscaping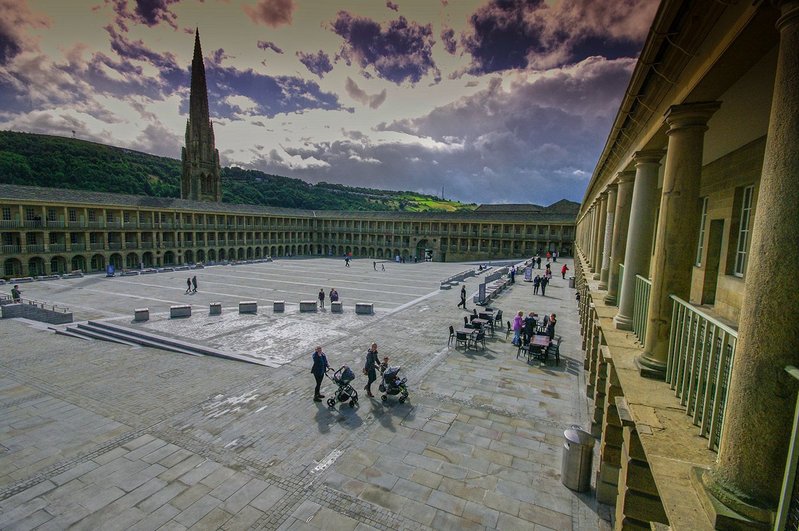 5,500 square metres of Forest Pennant paving and setts was used for the central courtyard
As part of a £19million conservation scheme, the Piece Hall has undergone a major transformation to revive the cultural, commercial and civic centre of Halifax, West Yorkshire. Dating back to 1779, The Piece Hall was originally built to support the trading of 'pieces' of cloth. The historic site is one of the last remaining examples of eighteenth century architecture of its kind.
Landscaping materials supplier Hardscape played an integral role in the regeneration project, working alongside Gillespies landscape architects and GRAHAM Construction to restore the central courtyard to its former glory.
Supported by Calderdale Council and a number of key conservation and heritage foundations, the redesign includes three levels of shops, independent start-ups, restaurants and businesses. Widely recognised as Yorkshire's most important secular building, the regeneration of the Piece Hall was a major undertaking for all involved.
Hardscape was tasked with bringing Gillespies' architectural vision to life, transforming the courtyard to create an attractive, open and accessible central square for both residents and visitors to congregate. The landscaping needed to provide a contemporary and flexible space that could host a seasonal programme of events and festivals and accommodate an increased footfall.
As the project was supported by the Heritage Lottery Fund, it was of paramount importance that materials were sourced from within Europe and that the style, colour, texture and finish would be sympathetic with the original design of the main building. Hardscape provided a range of premium landscaping products to complement the site's heritage and enhance the original eighteenth century design. This included six bespoke water features and more than 40 granite and timber benches, which would be enhanced by atmospheric lighting.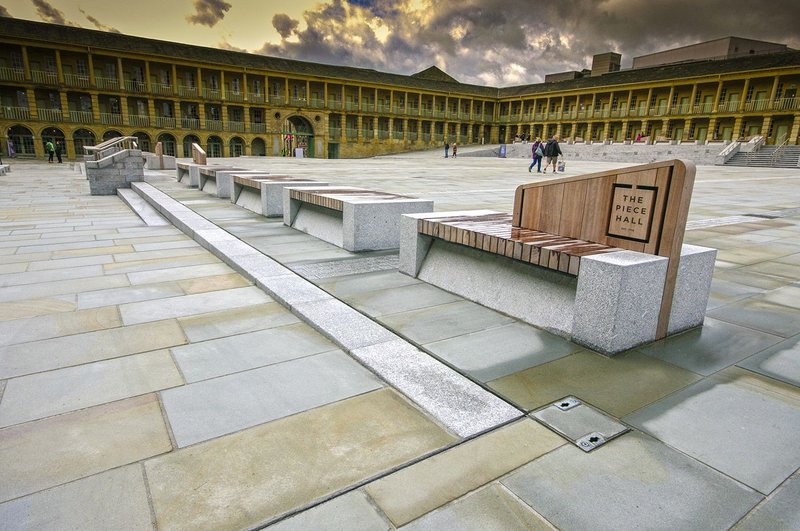 Hardscape created over 40 granite and Iroko timber benches which enhance the public space of the Piece Hall
Hardscape supplied 5,500 square metres of Forest Pennant paving and setts for the central courtyard. This high quality Pennant sandstone is locally sourced from the Forest of Dean and tied in perfectly with the original eighteenth century design. Hardscape supplied Forest Pennant setts in two formats, the first being 100mm cubes, and also in 150mm wide setts with fettled edges to give the appearance of a traditional tumbled sett. Portuguese granite setts were also used in the areas surrounding the North West and South East water features. Here Hardscape supplied a blend of four Portuguese granites and also Carlow Irish Blue Limestone. Portuguese Alpendurada Granite steps were installed around the central square to provide an elegant frame for the Forest Pennant paving, leading up to the main building.
Hardscape also provided 12 solid granite benches and 40 Iroko timber-topped granite benches, featuring a galvanised steel framework, which was left exposed beneath the Iroko timber to reveal the Piece Hall logo. The benches are illuminated at night by a set of unique light fittings, which provide added atmospheric effects to the already dramatic setting. Drawing together lighting engineers, fountain designers and landscape architects, Hardscape designed and detailed six water fountains. Each fountain was constructed out of more than 50 bespoke designed Alpendurada units.
During the early planning stage, Hardscape invited the GRAHAM Construction team to visit their quarries and manufacturing facilities in the Alpendurada region in Portugal. Here they were able to gain a better understanding of how the material is quarried, manufactured and prepared for shipping.
The installation process was complex because every part of the enclosed courtyard was under construction throughout the contract which meant there was no space for storage of materials. As groundworks completed in different parts in the courtyard, these areas began to open up for paving. Hardscape had to respond quickly by arranging the delivery of materials required for that specific section. To facilitate this, Hardscape worked closely with GRAHAM to build individual schedules by dividing the courtyard into four quarters which enabled the quarries in Portugal to co-ordinate the speedy manufacture of materials, as and when required.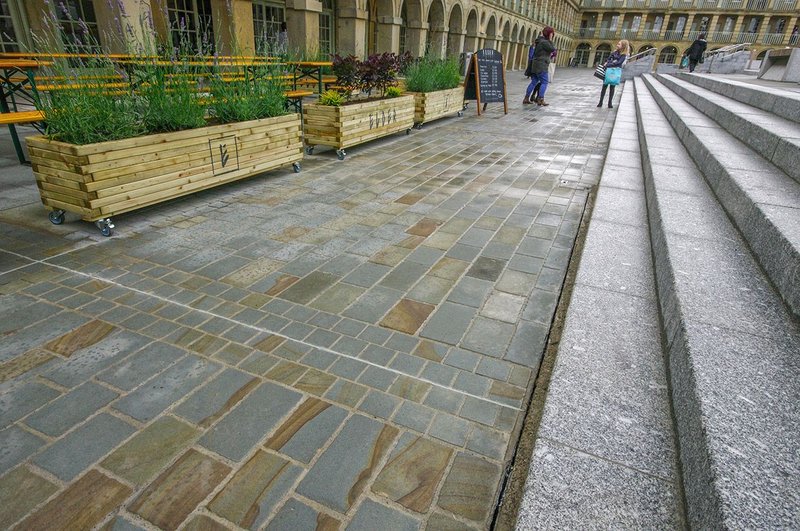 The redesigned Piece Hall includes three levels of shops, independent start-ups, restaurants and businesses
The Piece Hall's new look was revealed at a grand opening ceremony in August 2017. More than 22,000 people walked through the gates for the event and the feedback was resoundingly positive.
Mathew Haslam, managing director at Hardscape, said: 'The regeneration of the Piece Hall provides a new shared space to bring the local community together and we hope the new courtyard will continue to inspire this spirit of collaboration for years to come. The final result is breath-taking and we are proud to have been involved in preserving such an iconic treasure of British heritage.'
Nick Horton, managing director of Forest Pennant added, 'This is the single largest area of Forest Pennant paving ever laid and it is stunning. Specified for its complementary and indigenous properties, our Pennant sandstone harmonises with the building fabric of the Piece Hall and proves the value of considered public realm investment. I wish to thank my team at Forest of Dean Stone Firms and all at Hardscape for delivering such a powerful space.'
The Piece Hall is now open for business and there is already a packed programme of festivals and outdoor events set to take place throughout the year.
For more information or technical support visit: www.hardscape.co.uk
Contact:
01204 565 500
---