Dow becomes first company to attain a Green Guide Rating A+ by BRE Global for extruded polystyrene (XPS) roofing insulation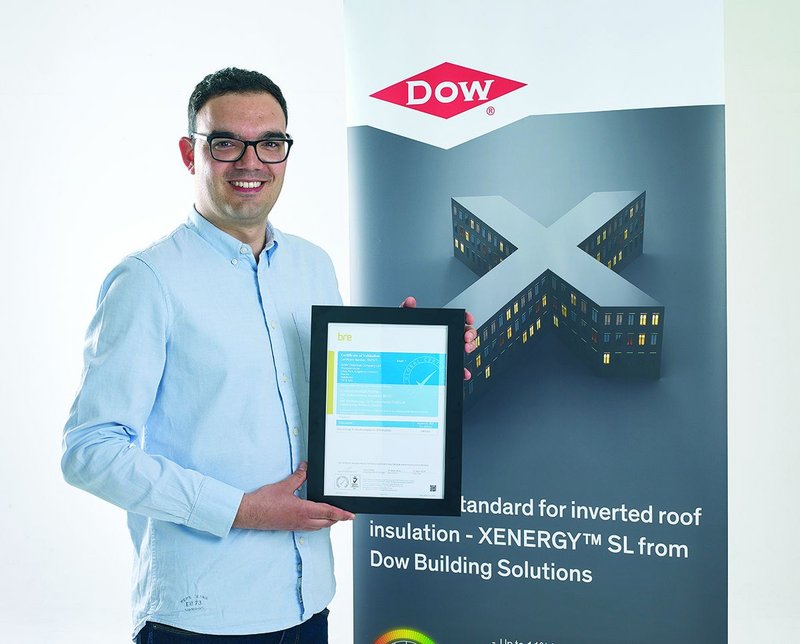 Joan Ferrer, technical services, Dow Building Solutions
Dow has become the first company to attain a coveted Green Guide Rating A+ by BRE Global for its extruded polystyrene (XPS) roofing insulation product XENERGY SL. This certification further supports the performance credentials of the Dow Building Solutions product, launched last year, making it the only XPS to achieve this internationally recognised certificate.
BRE Global is the international provider of BREEAM, the world's first sustainability assessment method for buildings, which takes into account all materials used in the building and its performance during the building life cycle. XENERGYTM SL will help projects achieve improved BREEAM ratings due to its high performance, as recognised by its attainment of the Green Guide Rating A+.
XENERGYTM SL is a flame-retarded, XPS roof insulation product, which achieves significantly improved lambda insulation performance delivering a Global Warming Potential (GWP) of less than five.
By using CO2 as the blowing agent and adding infra-red blocking particles to scatter and reflect heat radiation within the foam board used for XENERGYTM SL, lambda values have been decreased by up to 11%.
The result is reduced heat transfer during winter to keep a building warm, as well helping to keep it cool in the summer.
XENERGY SL - the first XENERGY product available in the UK - is designed to offer highly moisture-resistant flat roof insulation at reduced thicknesses versus conventional XPS alternatives. XENERGY SL offers a reduction of up to 4mW of thermal conductivity in various thicknesses. It was launched to meet demand from architects and specifiers for a product with improved thermal performance of inverted roof insulation. It also fulfils their need for thinner materials which can offer greater design possibilities, including lower parapet heights.
The product is manufactured at Dow's facility in King's Lynn, Norfolk, where a wind turbine is used to generate renewable energy for the company's manufacturing processes. This has resulted in a 13 percent decrease in the site's electricity bill and contributes to Dow's commitment to meeting its sustainability goals by 2025.
Joan Ferrer, technical services at Dow Building Solutions, said: 'This outstanding achievement shows the great performance of XENERGY, both by the material's technical properties and by its cradle to grave life cycle when used in a building.'
For more information and technical support visit: www.styrofoam.co.uk.
Contact:
020 3139 4000
andrew.baud@teamtala.com or harriet.mountford@teamtala.com
---