Sustainability, flexibility and nature are helping hospitals achieve a preventative approach to care
'Overcrowded and clapped-out buildings in need of a makeover, if not a bulldozer.' That was how NHS England chief executive Simon Stevens described much of the NHS estate in The Telegraph recently. Behind that statement lie the continuing financial woes of the NHS, where deficit is commonplace, and funding shortfalls and high levels of service demand are causing trusts to keep services running by using money diverted from capital projects.
Sustainability is therefore key to the NHS' own wellbeing. Its future depends on reshaping health and care services to meet social, environmental and economic resources to cope with growing patient demand. Its strategy for the future puts a greater emphasis on prevention and wellbeing, while dismantling barriers between GPs and hospitals, health and social care, allowing care services to become more localised, and supported by specialist centres of expertise.
Although much of this is ultimately aimed at reducing hospital visits, buildings still matter, says Jerome Baddley, unit head at the Sustainable Development Unit (SDU), which is backed by NHS England and Public Health England. 'They're an important part of the overall system and are resource-intensive.'
As well as being significant users of energy, hospitals have a broad influence on the environment, says Baddley. 'They not only provide healthcare, they are often the biggest procurers and employers in the areas they serve, so they can have a positive effect on wider determinants of health and can be a catalyst for wellbeing. For example, by promoting sustainable travel, a hospital can limit local air pollution'.
A new report from the SDU highlights the potential for both new and existing health buildings to deliver broader benefits through an integrated approach. 'There are huge opportunities in hospital infrastructure, particularly if trusts look beyond the hospital boundaries,' says Baddley. One example of that approach is a community energy scheme developed by the University Hospitals of North Midlands NHS Trust. It is looking to raise £450,000 of ethical funding to buy and install 1,200 solar PV panels at seven hospitals, producing sustainable electricity for their use, a return for investors and a community fund to alleviate cold and damp in local homes occupied by fuel poor residents suffering lung and other health conditions.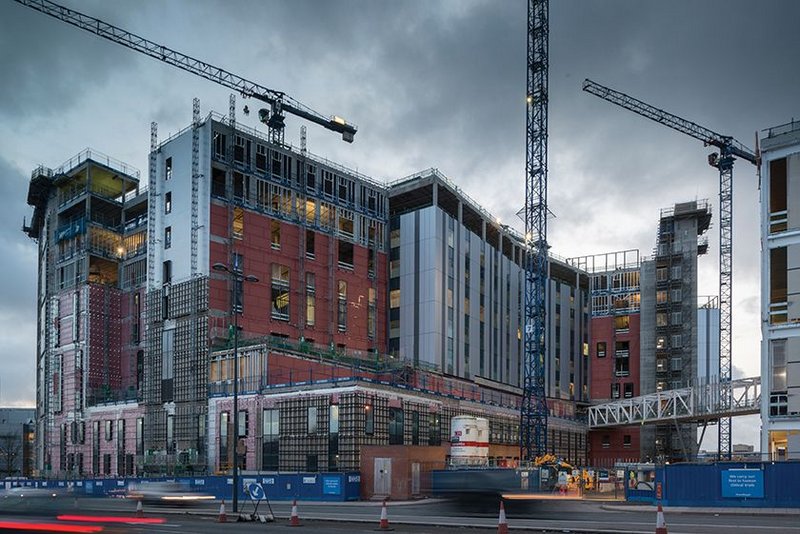 Royal Liverpool University Hospital under construction: a future component of regeneration.
Bench-to-bedside
Royal Liverpool and Broadgreen University Hospitals NHS Trust has a different way of maximising the sustainable impact of its new Royal Liverpool University Hospital.
'This is a building the size of a small town in a city,' says David Lewis, partner with NBBJ, which is working with HKS on its design. Under the slogan 'Transforming healthcare, regenerating the city', the 94,000m² acute hospital is designed to engage with its context, notably linking the city centre to the nearby Kensington area. An accompanying health campus will be built on the adjacent site of its 1970s predecessor. 'That will help in the area's regeneration, creating wealth,' says Lewis.
This is part of a shift in hospital ethos, he adds. 'The idea that a hospital is a place that you go to only when you are ill is changing. We're seeing a move towards wellness, and a trend for hospitals and science buildings to come together.' The trend, described in the terms translational medicine or bench-to-bedside, brings universities and their medical research teams physically closer to patients.
Today a ward; tomorrow outpatients
Changing healthcare practices and patient demand have made resilience and flexibility key design priorities. The 12 storey Royal Liverpool has 646 bedrooms above its 19 operating theatres and acute services. The two are separated by a 6m high floor of building services, which also provides access for a potential fleet of robots, helping to make the hospital 'robot ready'.
Social space has to be part of the mix, as it is for offices and other buildings, says Lewis: 'The days when an atrium was frowned on for using clinical space are gone'. In Liverpool, the staff restaurant is in not dark corner but on the top floor, with a roof terrace that gives city views.
Single bedrooms are more flexible than open wards, as they can be occupied by men, women or children, while locating office space alongside more technical areas can facilitate later conversion. 'We do a lot of proof of concept,' says Lewis. 'We show clients how layout options can produce efficiencies, like reducing walking distances for staff, and there's a neuroscientist on our team who outlines behavioural factors.'
At Sheffield Children's Hospital the new wing is also designed for change. Avanti Architects has planned the extension in modules, so an outpatient department can become ward space, or single bedrooms turn into consultant rooms. 'It's an approach that we've used elsewhere,' says Avanti director Duncan Finch, notably citing projects in Northern Ireland.
The wing contains a reception area, outpatient department and wards, as well as a two-storey children's 'play tower'. Delivery is scheduled for this year, followed by a refurbishment of part of the existing hospital.
The NHS trust aims to refurbish the rest of the building over time, and the extension will aid that, explains Finch. 'The existing hospital provides accommodation in a single line, but the addition makes it circular so allows for upgrading. It makes better use of the existing building. For true sustainability, it is important to facilitate change.'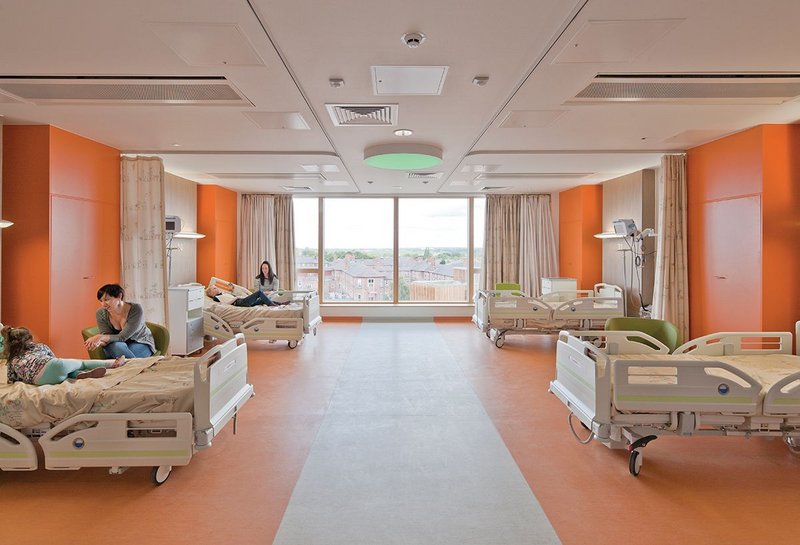 Alder Hey Children's Hospital: low cills give little children a big window to the world.
Energy and wellbeing
Eco-features in new hospitals vary but they share a common aim: to limit energy consumption and promote wellbeing. Sheffield's extension is naturally ventilated, with bedrooms having louvres that can be operated by the building management system or patients. 'Often hospitals are sealed, but this gives users control and makes the bedroom a more pleasant and domestic place, while giving children a safe way of operating ventilation,' explains Finch.
The extension's eco-credentials come from its green roofs, a link to Sheffield's district heating system, interstitial blinds to manage solar gain, and low impact building materials and site approaches. 'It's not showy,' says Finch.
At Alder Hey children's hospital in Liverpool, however, a range of technology including heat pumps, combined heat and power, and photovoltaic panels generate around 60% of power consumed. 'They're all straightforward systems, but there aren't many hospitals that have them all at the same time,' says Ged Couser, architect director with BDP.
Alder Hey Children's NHS Foundation's 60,000m² PFI hospital caters for 270,000 patients a year, with six wards containing 270 bedrooms, a critical care unit, 16 operating theatres, A&E and outpatient departments. The hospital is described as a health park, which expresses more than a green setting, says Couser. 'We developed the concept with the client – social, environmental, and the ability to get into the fresh air.'
The building's three 'fingers', extending out from the atrium concourse, connect with the park to maximise daylighting, views and fresh air, although the building does have air conditioning. Open play decks at the end of each ward bring nature close. 'They give patients access to the outside, while maintaining the comfort of the ward behind,' says Couser. The visual connection with nature continues through the building with glazed sliding bedroom doors. The doors were developed for this project with doormaker Axis, which now markets them under its Flo-MotionR brand, so are large enough to allow access to beds and equipment, while being easy for children to open and close.
Well designed health buildings can transform the patient experience. Art also plays a part; lead project artist Lucy Casson has created artworks and designs for signage and glass balustrading. BDP is now working on another healthcare building in Liverpool, the Clatterbridge Cancer Centre, which will apply lessons from Alder Hey. This includes landscaping, although Clatterbridge's urban building has winter gardens and landscaped terraces instead of a park. 'Projects like these are showpieces, but some elements can be incorporated into other projects,' says Couser.
---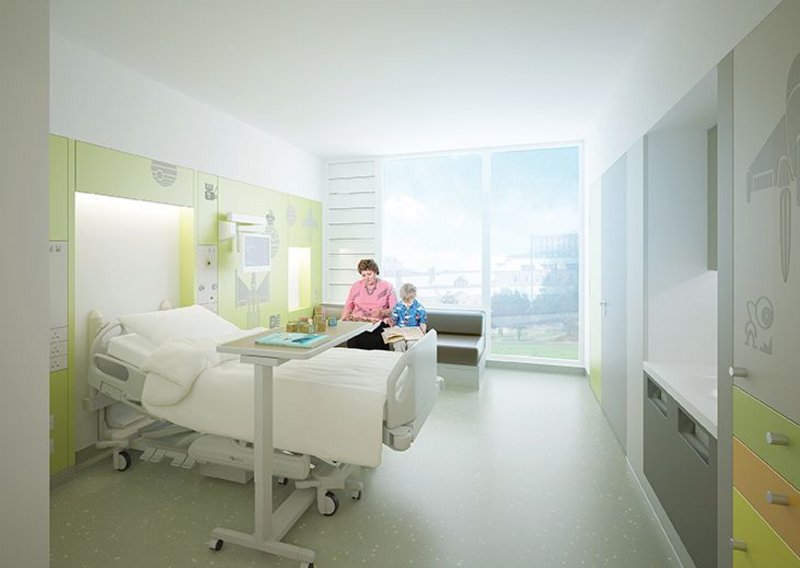 Avanti Architects' new ward at Sheffield Children's Hospital is designed for flexibility.
35 WAYS TO SAVE ENERGY
The SDU estimates that energy efficiency measures in health facilities across England have produced cumulative savings since 2007 of around £1.85 billion. 'Over time it gets more challenging. We will need to be more creative in identifying and valuing the wider returns from more complex or expensive capital projects, although there is still low hanging fruit,' says Jerome Baddley, the SDU's head of unit.
Its report, Securing Healthy Returns, highlights the benefits of integrated thinking and provides 35 examples of proven effective measures that could collectively deliver savings of 1m tonnes of carbon and £414m a year by 2020. More than half of those 35 interventions relate to buildings (see table below).
Current government grant funding of £320 million for district heating could make this an attractive option, with hospitals providing anchor loads. Although district heating is a big investment, it could also attract match funding through local enterprise partnerships.
Combined heat and power (CHP) offers major savings but factors including decarbonisation of the electricity grid and supply or price fluctuations could change the picture in the future. Hospitals procuring gas CHP may also need to plan over the longer term for diversification to low carbon fuels, such as green gas. And CHP can have a broader impact and health value, says Baddley. 'It offers potential to feed into or start a local district heating network, linking to fuel-poor or hard to heat housing, turning a health infrastructure investment with a short term financial and environmental return into a community infrastructure project with lasting social value and health returns.'