Norway's dramatic and dominating landscape offers designers inspiration and materials which they are only too keen to harness in sustainable ways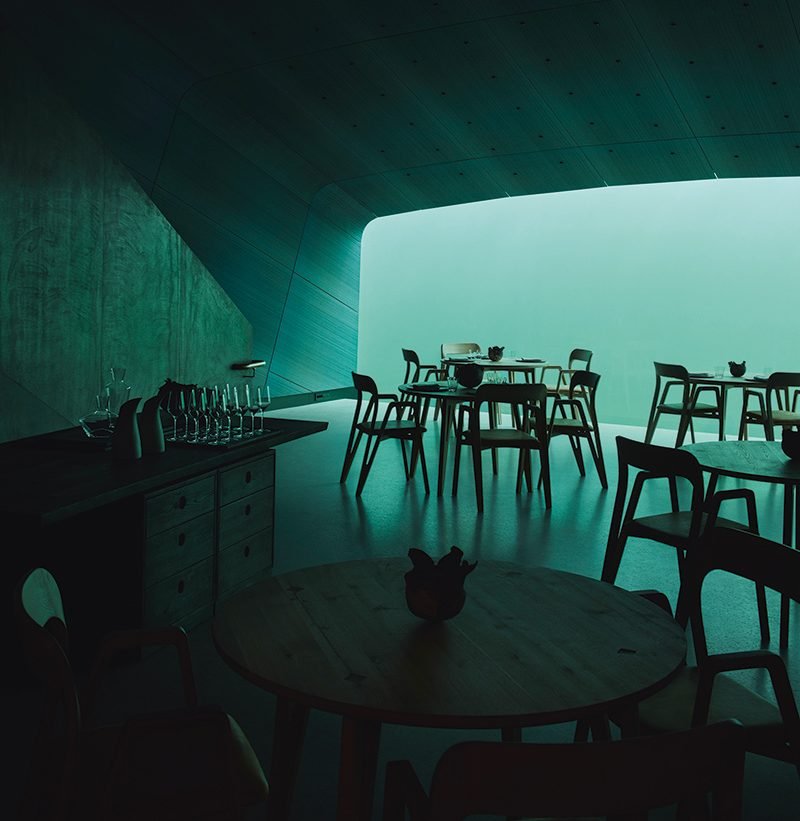 Under, Snøhetta's undersea restaurant in southern Norway.

Credit: Ivar Kvaal
It's no wonder Norway was twice a location in the most recent James Bond film, No Time to Die. Its frozen lakes, vast forests, mountains and Atlantic coastline provide sublime cinematic possibilities with a crisp light perfect for filming. It has long been a landscape of creative inspiration.
It also inspires design. At an event at the Hadeland Glassverk showroom that landscape came to London, albeit shaped and reformed into architecture and products. Speakers from some of Norway's top design firms discussed how the light, wood, rock and water of its landscape inspire and give form to design, making Norway's vistas visible well beyond the fjords.
Glass manufacturer Hadeland Glassverk has drawn inspiration from the richness of Norwegian light, and its shimmer through water and ice, for more than two and a half centuries. 'We are close to the elements,' says head of design Maud Gjeruldsen Bugge, adding that key raw ingredients – wood, water and sand – are plentiful across the country.
It is not only the physicality of landscape but also its poetry that shapes Hadeland's glasswork, with one of its most symbolic designs hanging above the main stage of the Snøhetta-designed national opera house. 'It is inspired by the movements in water,' explains Gjeruldsen Bugge of the 7m wide striped design of 5,800 mouth-blown, hand-sanded crystal glasses and 8,000 LED lights.
'We have some of the world's best glassblowers; we have kept these skills core,' she continues, describing Norway's oldest industry manufacturer not only as a process of production but also a continuation and evolution of technical craft, describing Hadeland's HQ as 'a mix between studio and factory'. It has a third component, an archive of 34,000 pieces made since 1762, each of which can be remade or referred to for inspiration.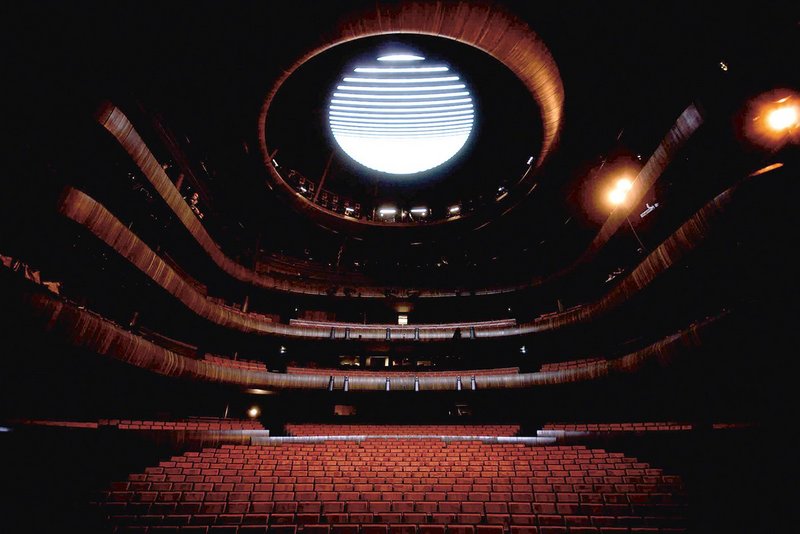 Hadeland Glassverk's installation in Oslo's national opera house.

Credit: Ivar Kvaal
Fed by the landscape
The forests draped across Norway benefit from the long light of its summer months and provide the shadows from which Norse trolls and folklore stories emerge. Furniture company Eikund is similarly drawn to story telling, with a desire to recover Norway's modernist past through wooden craft. 'We wanted to bring back mid-century pieces that had been lost or forgotten in hidden cellars,' explains Jørgen Tengesdal, Eikund's CEO, 'so we track these down and collect fabulous original drawings made by hand in the 1950s and 60.' He describes this process as a treasure hunt, with the discoveries reborn as 21st century oak or walnut, the two woods Eikund uses. Norway's trees grow with such pace and force there is no need for replanting, he explains, but Eikund's approach to sustainability is embedded in the desire to create pieces that last for generations.
Two buildings discreetly nestled in Norwegian forests highlight the poetic way such furniture can converse with the historic landscapes from which they were born. Woodnest by Helen & Hard and Snøhetta's The Bolder are cabin retreats offering vantage over landscapes that have inspired so much painting, prose, and music – perhaps future works will emerge from artists in Eikund chairs gazing into deep views.
The picture windows of Woodnest and Bolder frame seasonal shifts: mirror-like waters reflect iridescent sky with, under it all, the brute force of geology, erupted stone long cooled and calmed into the nation's backbone. 'It took eight million years for the Larvikite magma to harden,' says Thor-Anders Lundh Håkestad, CEO of Lundhs, which sees in natural stone not only a depth of history, but a 'building material for the future.'
Currently, 60% of Lundhs' quarried stone finds its way into high-end kitchens. The company is keen to emphasise the breadth of possibilities the material can offer architects, but it is no surprise that the rich surfaces of Larvikite and Anorthosite stone are desired by those who specify spaces of culinary luxury, not least because they are extremely durable and maintenance free. This was put to the test when Lundhs invited skateboarders to one of its quarries to ollie, grind and slide over the stone, leaving no trace.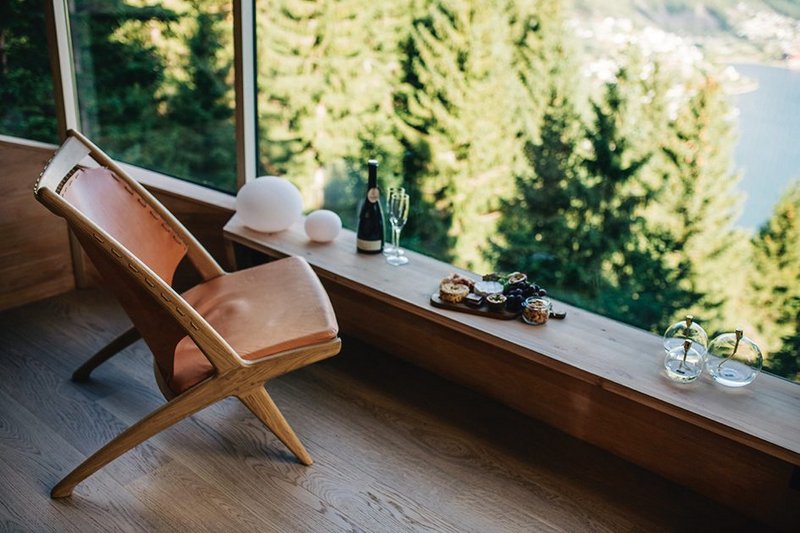 Classic Eikund Norwegian chair design. Bottom Traceable, durable stone from Lundhs.

Credit: Ivar Kvaal
Protecting nature
Visitors to Oslo may stay at The Thief, a hotel designed by Mellbye Arkitektur Interiør, overlooking the Oslofjord and Renzo Piano's Astrup Fearnley modern art museum. Lundh's stone is specified on all the hotel's floors and surfaces of heavy footfall and daily use, and on its facade. As a natural stone, energy is required for excavation, but not for processing, binders or colouring that processed products would demand, and it's that innate deep strength that not only protects it from stain and damage, but blends it seamlessly into surrounding landscapes.
'Every piece of stone is traceable from quarry to installation, and we can provide EPDs to give information on its footprint,' explains Håkestad, stating not only that the firm plans to have a 100% use rate of all quarried surplus aggregate within 3-5 years, but also has a commitment to explore how to reuse and ensure a life value of its material.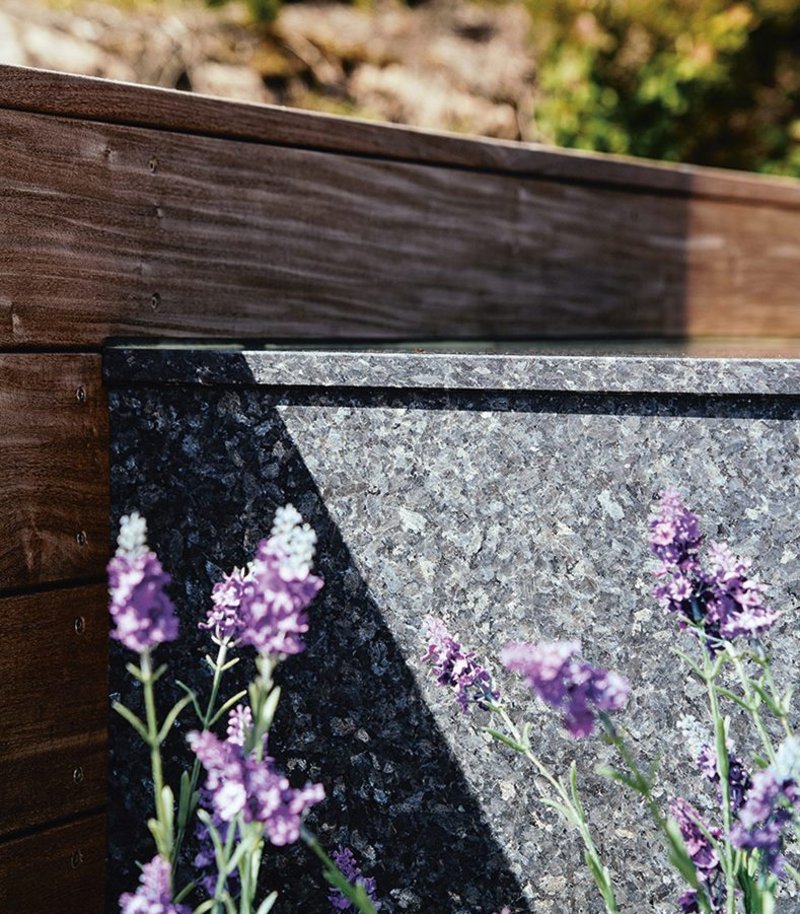 Credit: Ivar Kvaal
Up and under water
Water is central to Norway's natural and cultural histories, both the surface and depths beneath. Snøhetta takes both as its site in a unique architecture which sits both above and below the waters of Lindesnes, southern Norway. A restaurant – simple in idea, though complicated in ambition and execution – Under is a project that comprises 'nature, marine biology and architecture' says Heidi Pettersvold Nygaard, the firm's senior interior architect.'
'Experience from our previous projects was not particularly relevant – I mean, how many of us have actually built underwater before?' she asks, explaining that knowledge from local offshore and tunnelling industries aided the design of a 35m long wooden-plank formed concrete tube that contains a highly-specified, predominantly timber interior. Pettersvold Nygaard describes it as a 'building within a building', structurally and externally: a wooden-plank-formed concrete tube, submerged at 20° after being craned into place from the nearby deepwater harbour. Pettersvold Nygaard has created an internal design language 'to help the visitor understand the building and feel safe,' with a sightline to the entrance from all areas, reassuring guests of a route to escape. It's perhaps more a psychological than practical safety device as the 25cm thick 11m by 3.8m window, formed of acrylic, is designed to withstand underwater pressure.
Light and action
Behind Norway's landscape is energy. The nearby lighthouse is regularly smashed by 25m high waves, yet the space is designed to be calming. Working with Kvadrat, Snøhetta developed acoustic panelling inspired by Norwegian cross-weave patterns. It not only achieves the desired acoustic performance but delivers an immersive 24m gradient of yellow, light pink, orange, brown, blue and deep turquoise, reflecting the atmosphere of descent from daylight to seabed.
'If the wind makes waves, or the rain hammers down, the water's surface appears as a chandelier with prisms changing with the weather conditions,' Pettersvold Nygaard told the audience at Hadeland Glassverk's London showroom – the rich Nordic light, so inspiring to the glassmaker's designs, penetrating the depths of Norway's water as much as it dances through its trees and glistens the coarseness of its stone.
Find out more from our partners: Hadeland Glassverk, Lundhs, Eikund