Architectural installation Chiaroscuro #1, created by Pareid, showcases the London practice's technique for turning human hair into a felt-like fabric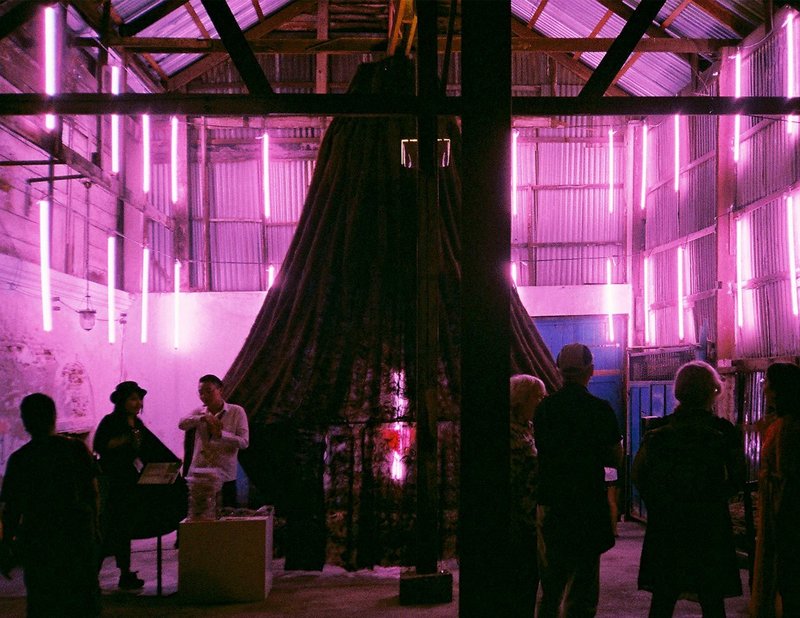 The sculpture installed at Bangkok Design Week features a similar felt to that produced for the London project.
If the idea of making small talk with your hairdresser makes you shudder, perhaps you should pay a visit to the Gina Conway Aveda Salon in London where a unique architectural installation promises to open up intriguing avenues for conversation.
Somewhere between a sculpture and a piece of architecture, Chiaroscuro #1, designed and installed by Pareid Architecture as part of the London Design Festival, takes the form of two sinuous columns covered in a fabric made from human hair retrieved from the salon floor.
The piece was created to highlight the strange relationship people have with hair, which is simultaneously cherished for its beauty – even retained as a keepsake – but also considered unpleasant and a form of waste once snipped off.
Pareid co-founder Déborah López tells RIBAJ: 'We have a tendency as a practice to be attracted to materials that people are often disgusted by. We wanted to use hair to generate something sinuous and tactile that breaks away from the idea that hair is disgusting once it leaves your body.'
The studio was also keen to address concerns around resource over-consumption and production and material waste, and to demonstrate how hair can be intelligently recycled. Research suggests that around 6.5 million kg of waste human hair is produced in the UK alone every year.
Pareid worked with the Green Salon Collective, a circular waste reduction and management business serving the hair and beauty industry, to source the hair and identify ways to process it. In collaboration with a design collective in the US, they developed a special machine that turns hair clippings into the felt covering the artwork.
'We are currently exploring how the properties of the material could make it suitable for acoustic or fire panels because it's currently quite difficult to identify effective fire-retardant materials, and this seems like a good option,' says López.
Pareid's research into architectural applications for hair dates back several years. In 2019, it installed a small-scale pavilion made of human hair machined into textile for Bangkok Design Week. The project explored how hair samples could map levels of pollution across different areas of Bangkok, with those containing larger quantities of heavy metals indicating higher levels of toxicity. Another version of the sculpture, known as Foll(i)cle, was exhibited at the Spanish pavilion at the 2021 Venice Biennale.
Locating the new sculpture in a salon, the very setting from which it was 'mined', exposes the general public to opportunities around what is normally considered waste. It is arguably also a more interesting subject to chat about than the latest episode of Love Island or how Arsenal are doing in the league.
Chiaroscuro #1 is free to view at Gina Conway Aveda Lifestyle Salon, 62 Westbourne Grove Rd, London W2 5SH, 17-25 September.