Bobrick's extensive selection of hand dryers addresses common noise, energy efficiency and design challenges across a range of building types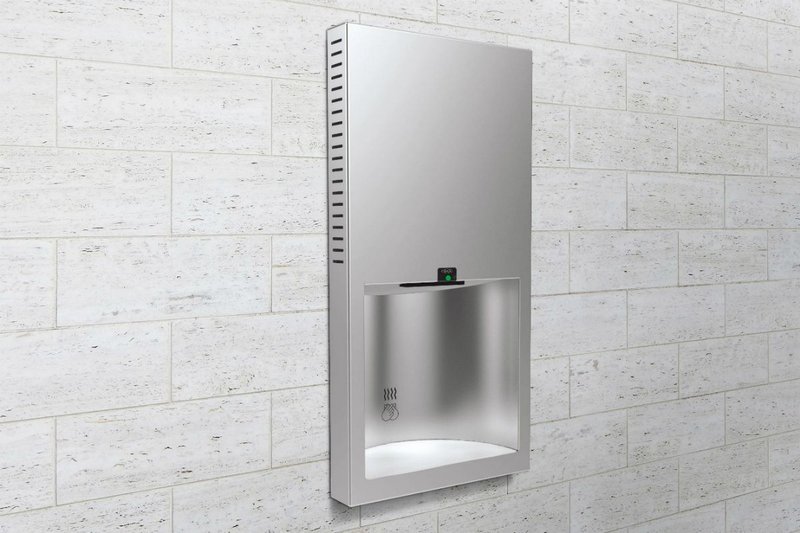 The Bobrick B-3725 TrimLineSeries recessed, low-profile hand dryer features a deep drying alcove.
Washroom accessories manufacturer Bobrick's warm-air hand dryers are suitable for washrooms in a broad range of settings, from busy transportation centres and high-end projects to workplaces and schools.
B-3725 TrimLineSeries recessed hand dryer
Perfect for prestige or upscale facilities where design and hygiene are priorities, the TrimLineSeries recessed hand dryer is distinguished by its low-profile design and deep drying alcove for capturing dripping water.
B-7125 InstaDry high-speed hand dryer
Featuring an industry-best energy consumption of only 200 watts, the InstaDry high-speed hand dryer is ideal for high-traffic applications, such as transportation centres and stadiums.
QuietDry Series hand dryers
Bobrick's QuietDry Series hand dryers are designed for moderate traffic projects, such as commercial office buildings and schools, where design, noise and accessibility compliance are priorities. Choose from the low-noise TerraDry (B-7188/B-7180), low-profile TrimDry (B-7128/B-7120) or the sleek styling of DuraDry (B-778/B-770).
For more information and technical support, visit: bobrick.co.uk
Contact:
020 8366 1771
---