Has the government's U-turn on school buildings shut the door on quality design and SMEs?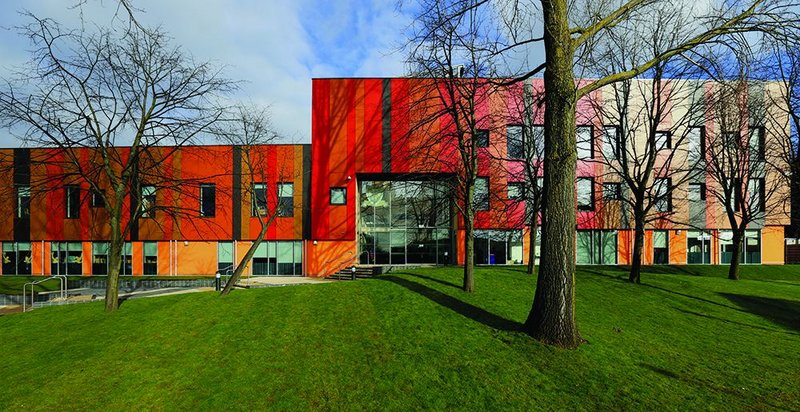 dRMM's RIBA award-winning St Alban's Academy in Birmingham – one of the last schools to be procured under New Labour's BSF programme.
Three years ago education secretary Michael Gove scrapped Labour's ambitious Building Schools for the Future (BSF) programme, condemning its wastefulness, poor management, and unrealistic belief in iconic, high-specification designs to transform educational outcomes.

Today the pendulum has swung to the other extreme, with cuts to public and private investment ushering in a new wave of austerity. The state's focus now is on teaching to raise achievement, with a greater reliance on refurbishment or extensions and leaner newbuild designs with less space, built for much less per square metre.

The change in tack has not been easy for the industry. The Priority School Building Programme (PSBP) – the coalition government's replacement for BSF, set up to rebuild or refurbish England's most dilapidated schools – was delayed several times. This left scores of projects unable to get off the ground and arch­itects without work to chase. The scheme remains controversial: some architects feel its emphasis on design standardisation will create a wave of identikit schools with little personality, and tendering large batches of schools under PSBP threatens to exclude smaller practices. Elsewhere, the free schools programme, which is centrally funded but outside local authority control, has been criticised for shoehorning schools into unsuitable locations and buildings, irrespective of local demand. And across the secondary schools sector architects are ­reporting confusion over procurement, with different agencies and routes to tender, and apparently conflicting design standards. Tom Coward, founding director at architect AOC, explains: 'For smaller and medium-sized architects it can be difficult to know what is ­going on, with so many different frameworks and procurement routes, while pressure on ­delivery and cost is changing the way design decisions are made ...There are still opportunities but it is a very competitive marketplace. The days of £20m BSF schools are long gone – it's more about complex refurbishment or extensions under smaller budgets,' he says.

PSBP is the largest state school building programme, with £2.4 bn of funding administered by the Education Funding Agency (EFA), the Department for Education's main delivery body. The programme covers 261 schools that require either complete or substantial rebuilding.

Since PSBP was launched in July 2011, several changes have caused procurement delays. The PF2 public/private procurement model was planned as the main source of funding but the weakened economy put off investors, leaving the government with a £1bn shortfall and around 150 schools in jeopardy. June's comprehensive spending review bridged the gap by adding £1.3 billion of capital funding.

Since then, the EFA has awarded contracts for the first £400m phase of directly-funded batches across England, with a further £300m second phase expected soon. And shortlists have been announced for two batches of PF2-funded schools worth a total £242m in Hertfordshire, Luton and Reading and the North East.
BSF-built schools were mostly designed independently, costing millions in consultancy fees and creating buildings Michael Gove has described as 'not fit for purpose'. Under PSBP he aims to cut procurement costs and improve build quality using PSBP to promote design standardisation. The EFA has launched three baseline designs for schools, including a 1,200-place fingerblock secondary school and a 1,200-place superblock secondary school, each compliant with the EFA's 'output specifications' – criteria for school buildings that the Agency says will be rigidly applied to bidders' proposals.

The shift in approach means design intelligence is now more focused on how a building is put together than the subtleties of ­context or specific user needs, with architects and contractors working together to develop kit of parts schools using either standardised components or off-site panellised systems.

'The BSF school projects we were involved in were designed to have a tangible benefit for parents and community groups in deprived areas, but these concerns have now dropped,' complains Michael Spooner, associate director at architect dRMM, which built the RIBA National Award-winning St Alban's Academy in Birmingham. 'Now there is a 15% reduction in available floor area, which means being very creative if you want to include non-essential but valuable spaces – a multi-faith prayer room, or larger dining hall ... I understand the government wanting lean, efficient schools but they can be very idiosyncratic places, they need to respond to communities and context, as well as different ways of delivering education,' he says.
Maybe schools won't have as much personality they did 10 years ago, but perhaps some had too much and things got out of hand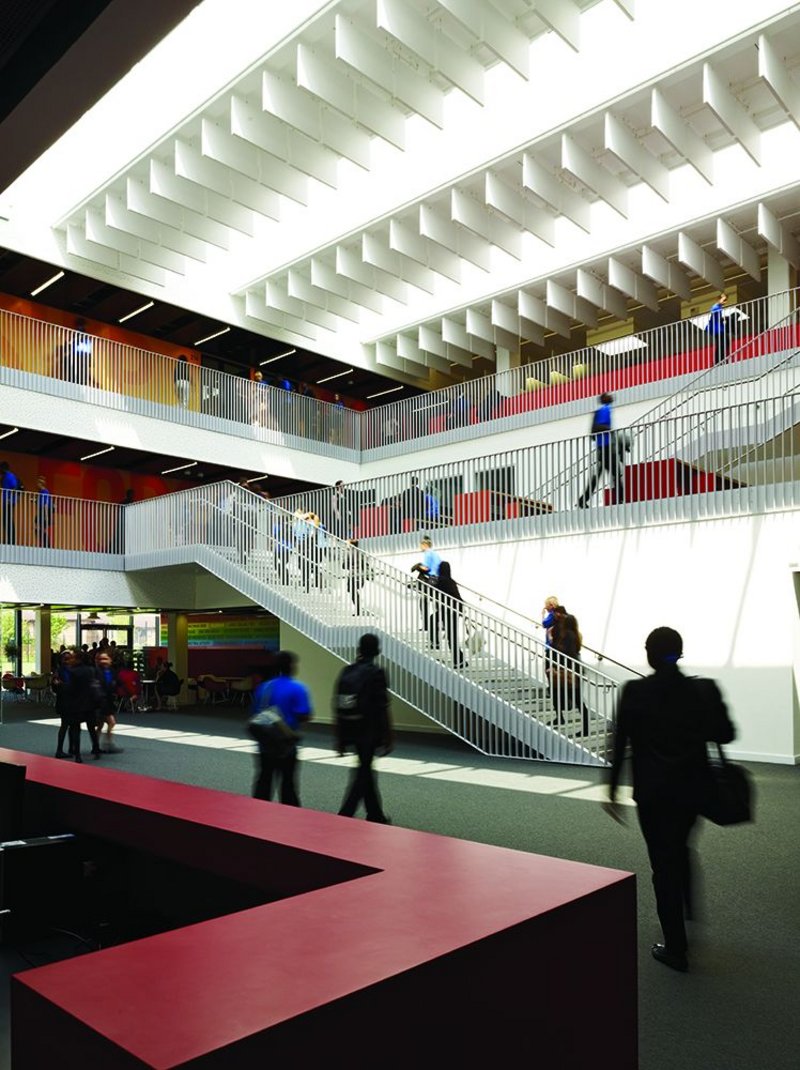 AHMM's Dagenham Park School – 10,000m2 of prefabricated buildings in London delivered for £19m.
A different view is held by Paul Monaghan, director at Allford Hall Monaghan Morris (AHMM), which worked with Laing O'Rourke to develop an off-site manufactured structural system and facade for the equally well-received £22.6m Dagenham Park Church of England BSF school in Essex: 'The impact of new schools can only be positive: it requires architects to devise more tricks to improve environments. Our work with Laing O'Rourke was one of the most interesting research projects we've been involved with in terms of looking at how to maximise factory production to get a better product. Maybe schools won't have as much personality they did 10 years ago, but perhaps some had too much and things got out of hand,' he says.
PSBP's emphasis on large batches of contractor-led projects will ring alarm bells for the many SME practices keen for a slice of its work. The EFA's deputy director of design, Mairi Johnson, has said that to qualify for work architects will need to be large enough to take on entire batches of 8-10 schools. The only other option for small firms is to convince a contractor to take them on as part of a design team.

'Different SMEs will have very different experiences,' says dRMM's Spooner. 'If you are already a trusted quantity and aligned with a contractor with an appetite for PSBP work you'll be well positioned. Most smaller firms haven't the appetite because of the lack of smaller batches and poor organisation – last year we suffered endless postponements to the release of work, baseline schemes and bulletin area schedules.'
While the state is exercising tight control over designs under PSBP, it has a much lighter touch with the free schools and academies it funds, whose end users get the final sign off.

There are 174 free schools across the UK, more than double this time last year, and a further 250 are due to open by September 2014. Free schools are set up from scratch, which can take much longer than a regular school conversion, and there is no clearly defined route for how ­architects can get involved.

'Routes into projects seem to be varied and complicated,' says Tom Coward at AOC, which designed the Langley Hall free school in Berkshire. 'An existing relationship with a contractor, a school, or a piece of land might get you the job. I know of a project that was originally planned for housing and the architect ended up picking up the job when it became a free school because he knew the landowner.'

Many free schools are run by religious groups, which account for a third of projects to open this year, while others have been spearheaded by education trusts or parents' groups.

Coward says the free school concept is good news for architecture as it makes it instrumental to projects, adapting existing structures in innovative ways and helping end users work out their priorities and define what is achievable within a limited budget.

However, the programme has been criticised for adapting buildings considered unsuitable to be schools and some architects have even reportedly resigned from commissions, feeling unable to put their name to projects. Roger Hawkins of Hawkins\Brown has slammed some standards for acoustics and ventilation on projects and a frequent lack of concern for environmental impacts and life-cycle costs, leaving a potential legacy of high energy bills.

Architects are increasingly looking towards the thriving independent schools sector, which accounts for around 7% of work in England.

With responsibility for their own bud­gets, private school clients tend to think harder about the design options, responding to the local context and making the most of existing buildings through refurbishment or extension. But independent schools may be quite risk averse when it comes to commissioning new buildings and can prefer to stick with what they know. 'Open market tendering for this type of work is also very competitive and can be difficult for small practices,' warns dRMM's Spooner. 'These schools get a lot of free design work through competitions, sometimes involving 10 or more different architects, making challenging odds.'

Allies & Morrison has worked on several independent school upgrades including a elegant gabled extension to the 19th century Brighton College boarding school, which opened last year.

'Under BSF, and potentially PSBP procurement, the budget point was disassociated from the point of delivery of education, which meant an inevitable conflict of interest,' says A&M partner Paul Appleton. 'But there are new ways of looking at procurement that don't force you down the traditional route and don't go as far as giving the contractor complete control.'

The Brighton College extension used a form of design and build contract, but with A&M nov­ated to the contractor, which Appleton says avoided many issues associated with traditional D&B, including over-value engineering.

'Ultimately, the people running a project are more important than the contract at any school, private or public. An ambitious head of department at a local authority can drive forward a ­really unusual and rewarding building. It's not the programme that makes successful building, it's the people supplying it,' he concludes.